Looking at the forecast wondering what kind of outerwear to wear for the upcoming season?  Here I've gathered up 5 key coats that will not only keep you cozy and warm but look good too!  Everything from classic peacoats to edgier jackets, there is something here for everyone.
1.  The Peacoat.
Double Breasted Wool Blend Skirted Peacoat
You can never go wrong with a classic peacoat in any color.  The beauty of a peacoat is that it is not only extremely warm but can also be worn with a variety of outfits such as a dress and tights, paired with jeans and a cute tee, or combined with an oversized sweater, leggings and boots.
2.  The Puffy Coat.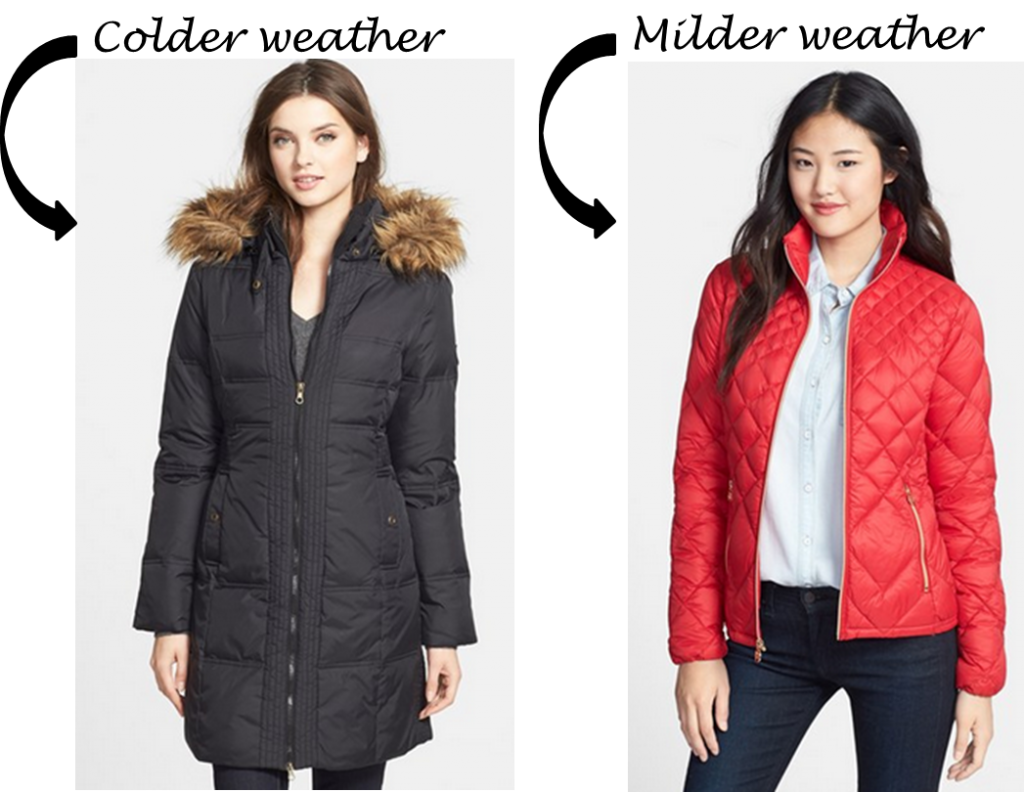 Faux Fur Trim Quilted Coat                   Snap Front Quilted Down Jacket
A good puffy jacket is a staple in any closet no matter what the winter climate is in your area. These jackets are great for those who are in extreme cold as well as mild winters because of the variation of thickness.  You can also play around with the length of puffy jackets, from cropped to ankle-length.
3. The Utility Coat.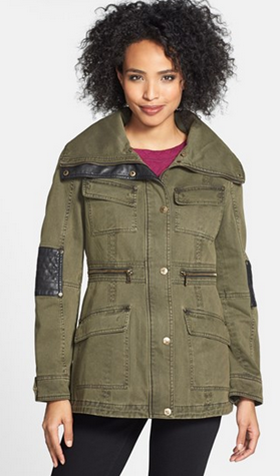 What I love about the utility coat trend is that it can be worn for so many different occasions.  Grab it on the way to brunch, wear it while out shopping, or even dress it up with some nice over-the-knee boots.  I love the army green color as it works as a neutral color and this particular jacket has a quilted liner for added warmth and a detachable faux fur hood trim.
4. The Asymmetrical Oversized Coat.
Double Face Wool Blend Coat with Knit Collar & Leather Trim
I am obsessed with this jacket.  It has so many elements working in synergy.  The faux leather sleeves add an edge to the coat while playing with various textures.  Adding to the mix of textures is the wool base and a knit neckline.  To top it all off is an asymmetrical closure which I love.  Wow, talk about a sophisticated and chic coat!
5. The Leather Coat.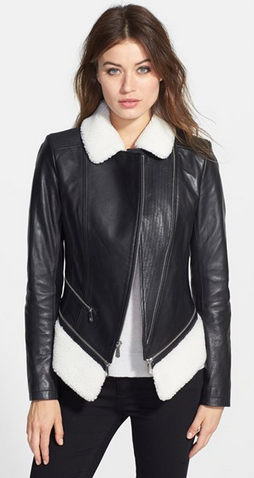 'Kit Kat' Faux Shearling Trim Leather Jacket
A collection of coats would not be complete without a leather (or faux leather) jacket!  This particular jacket is right on trend with the edgy shape and the asymmetrical front zip-closure.  The bonus? The fact that it is lined in the faux shearling adding not only warmth but also fun detail to the jacket.
Ready to face the winter now? No one said you couldn't be warm AND stylish!  Which coat is your favorite for the season?