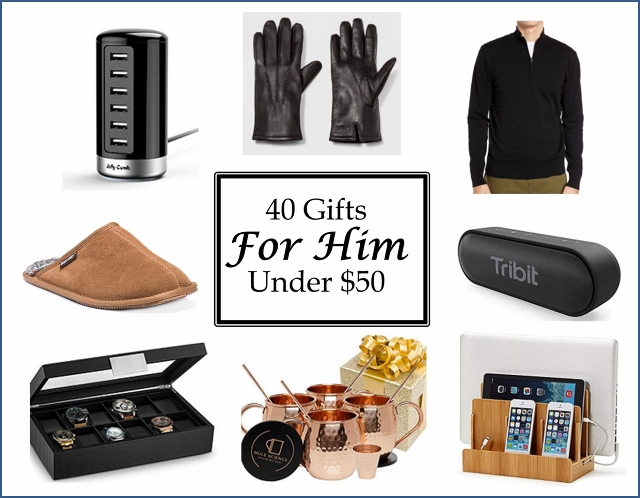 40 Gifts for Him Under $50
Sometimes the most challenging people to buy Christmas gifts for are the men in my life such as my husband, dad, and brothers. Here I rounded up 40 great gift options for the guys in your life, including some items I have gifted my hubby in the past and other items he recommended. I'm thinking he may have been hinting at what he personally wants this Christmas! lol
I divided these into categories and themes so this can apply to any man in your life. Just click on an item picture or link to shop. Please feel free to contact me with any questions!
For the Techie
Technology and techie gadgets are always a great gift option for anyone, but this was a category my hubby was extra excited about.
The Apparel Guy
Whether you are shopping for someone who has great fashion sense or no fashion sense at all, apparel is always a good gift option.
The Adult Beverage Connoisseur
For the man who enjoys his fine wines and liquor or likes to entertain, these are all great gifts for any home bar.
The Coffee Drinker
Growing up my dad was always a coffee drinker, and now as an adult my mornings start with coffee for my husband and I.
Miscellaneous Gifts
Here are some miscellaneous gifts that I loved but did not have a specific category for including some books and kitchen stuff. Any one of these make an amazing gift!
Is grilling a skill your guy is trying to perfect? This book about grilling is a great place to start!
Starting and ending each day on a positive note is so important and healthy for anyone, so why not give the gift of prayer? The book "One Minute Prayers for Men"could really make a difference in a man's life.
For the person who likes to work on projects that use power tools and screws, this is the perfect gift. This magnetic wristband holds small things like screws and bits on you while you work. I could've used this when building my outdoor sectional!
Got a guy who enjoys cooking? An apron like this one is a great addition to anyone's cooking or grilling accessories.
A beard grooming kit such as this one is special for someone who takes pride in a well-groomed face and includes beard oil and trimming scissors.
It is deer hunting season so for those guys (and ladies) who enjoy hunting and cooking their catch, the book "The MeatEater Fish and Game Cookbook" by Steven Rinella is an amazing resource for them!
Everyone needs a toiletry set, and this one comes with a travel toiletry bag to store your body wash, deodorant, and more. Why not also add a bourbon flavored lip balm too?
Got an NFL football fan who also likes to grill? This is a 4 piece set of grilling utensils that has your favorite NFL team's emblem on it!
Monthly Subscription Boxes
Another great gift idea is a monthly subscription box such as the Dollar Shave Club and BirchBoxMan. With these your gift comes all year long!
Hopefully you found a gift for all the guys on your Christmas list!
If you are looking for more holiday inspiration:
Stay tuned for a holiday gift guide for her and for kids as well as a guide for stocking stuffers!