DIY Outdoor Sectional Couch
Fall always brings to mind very specific thoughts: hot chai tea lattes, cozy sweaters, snuggling around a bonfire or wrapped up in a blanket on our patio. Over the summer while working on putting together a comfortable and fun patio to hang out on we realized we needed to have adequate seating for the large parties we host throughout the summer and fall. What better seating than an outdoor sectional couch?! A new patio set easily runs $2,000-$3,000 which seemed outrageous to me so I looked into what it would take to build a DIY outdoor sectional from scratch. About a week later I created this!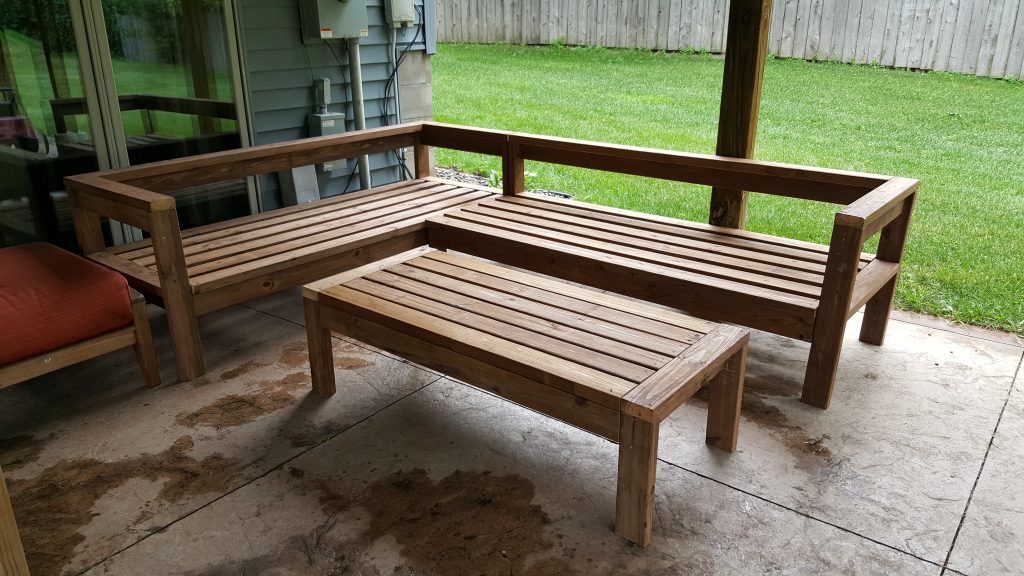 Here it is in all its pillow and cushion glory!
Believe it or not this couch was built entirely with 2×4's which makes it sturdy and cost efficient. The structure is actually two separate couches, one full couch and one partial couch, meeting at the corner and I downloaded the plans from Ana White, who builds incredible furniture and often provides plans. Plans for the full couch are here. The plans were easy to follow, the build went smoothly, and I finished both pieces of the sectional couch in 3 days (would have been two but I had to buy an additional piece to finish). The plans for the second part of the section, the partial couch, can be found here.
If you are a first time builder newbie, scroll down to the bottom to see some first time builder tips from my own experiences 🙂
We ordered and purchased these 2×4's from our local Home Depot and decided on using pre-treated cedar toned wood to save time by not needing to stain the wood. I used a miter saw to cut the pieces according to the plans. If you do not have access to larger tools such as a miter saw some places will cut the wood for you, and there are also some stores that have miter saws to rent.
Here are the all the plans used for this outdoor furniture collection, via Ana White:
Skip to the bottom to shop cushions and pillows for this sectional!
Tools Used:
Saw (circular or compound miter saw) This is a well priced compound miter saw
Compact Drill (I use this one)
Impact driver (I use this one)
Measuring tape
Square
2 1/2″ decking screws
2 1/2″ pocket hole screws
Pencil
Wood glue (I use this wood glue)
Printed plans
Chalk
The Build
Here are all of the pieces laid out for the full couch. When we started I was not sure if I wanted to build both pieces of the sectional so I started with the full couch then bought the pieces for the partial couch after the full one was complete.

Started out cutting all the pieces according to the plans. Remember this phrase: Measure Twice, Cut Once! I explain more of this importance later but trust me, you will thank me later if you always measure two times before making any major cuts using your miter saw.
I also used chalk to label the finished cut wood so I would know which piece was which (didn't do this at first and then was constantly measuring and remeasuring pieces when trying to assemble).
All pieces are cut!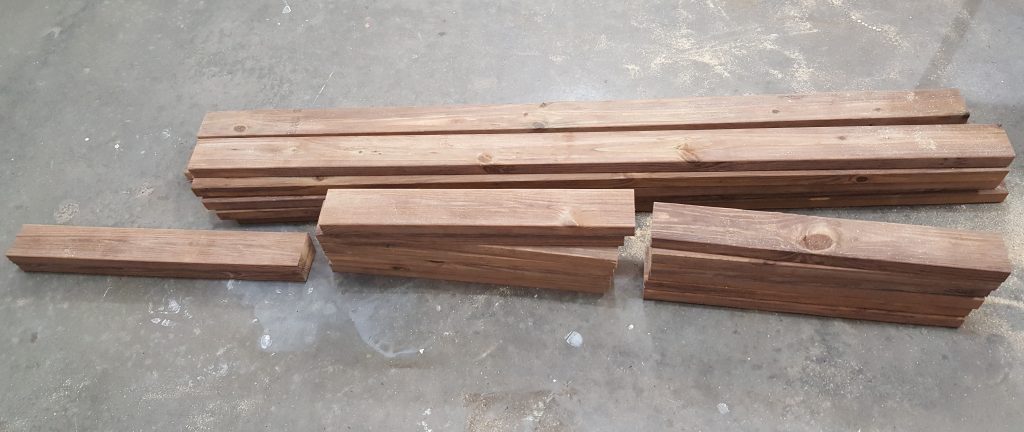 After reading through the plans completely just follow them step by step. I feel it is helpful to lay the pieces out as they will be assembled to make sure it makes sense, everything fits, and all pieces are there. I chose to predrill the holes to make it easier to drill in the screws, but it may not be necessary.
If you have access to an impact driver for putting in the screws I would highly recommend it as it makes the drilling process easier. For the first day I used a regular drill not realizing we had an impact driver (go figure) and it was tough to get the screws to go in. The second day was a totally different build as using the impact driver made screwing the pieces together 100% easier. Definitely kicking myself for that one!
According to the plans I started building the seat frame first.
Building the seat frame was simple and quick, just be sure to consistently use a right triangle and level to make sure everything is square and level otherwise you'll end up with a wobbly couch! Here is the completed frame.
Next was building the arms. Here are the two assembled sides/arms.
Now just attach the arms to the seat frame. Again, highly important to make sure everything is square and level. You can see below what the three completed pieces look like assembled before attaching together.
Attaching the seat slats was very easy and I used a couple pieces of scrap 2×4 to evenly space out the slats. You just screw the seat slats down to the seat frame.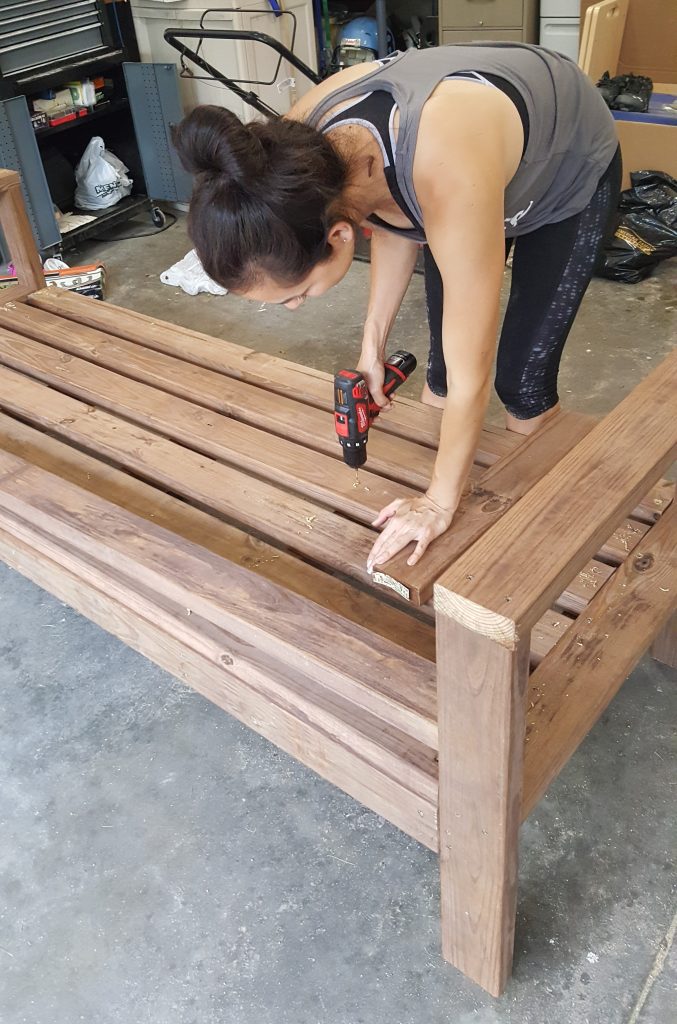 Excuse the messy garage, we were also working on renovating the garage at the same time! Photos and post of an amazing pallet wood garage wall to follow.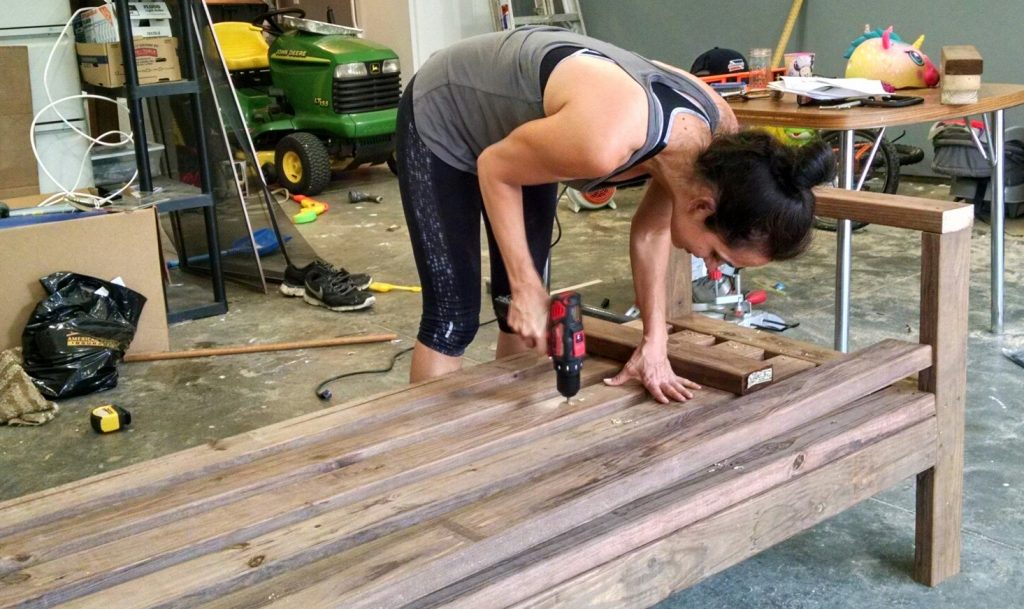 Last part is the back! This is the only place we used pocket hole screws. First time ever using a Kreg Jig and after reading through the instructions it was pretty easy! We chose to also add the optional support pieces to the back and under the armrests for aesthetic purposes as well as extra support. I do not have any pictures of me attaching the back and support pieces but it was easy to do. I point them out in the picture below.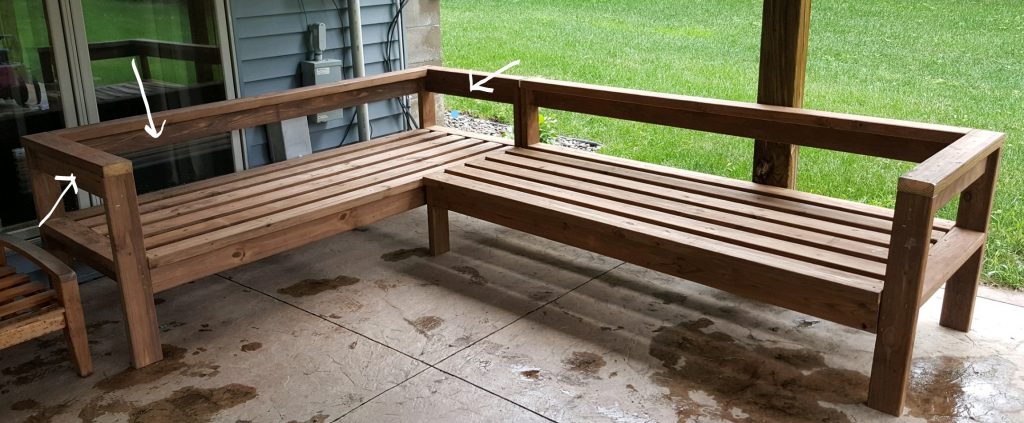 Unfortunately I did not capture any pictures of the first full couch by itself, but you can see below how the two couches fit together.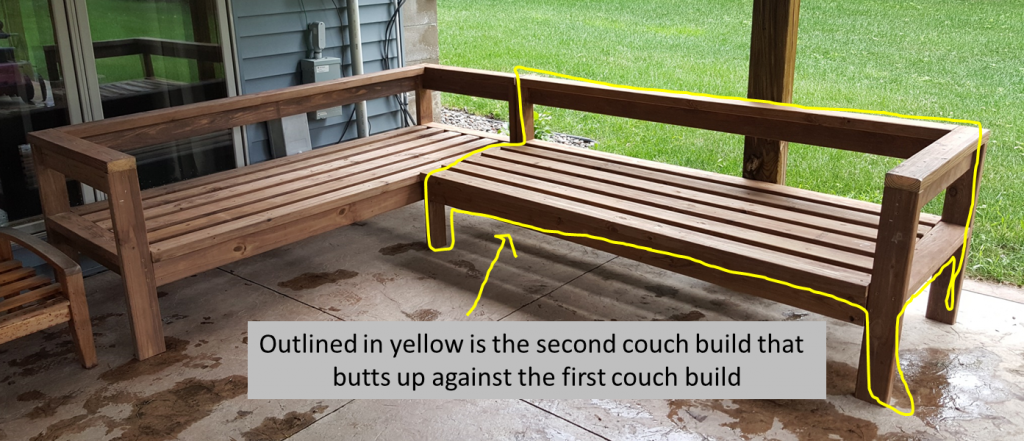 And that's it! This would make a great outdoor couch by itself with having both armrests however we want an L-shaped sectional so we built the second couch the next day. The plans for that build are here.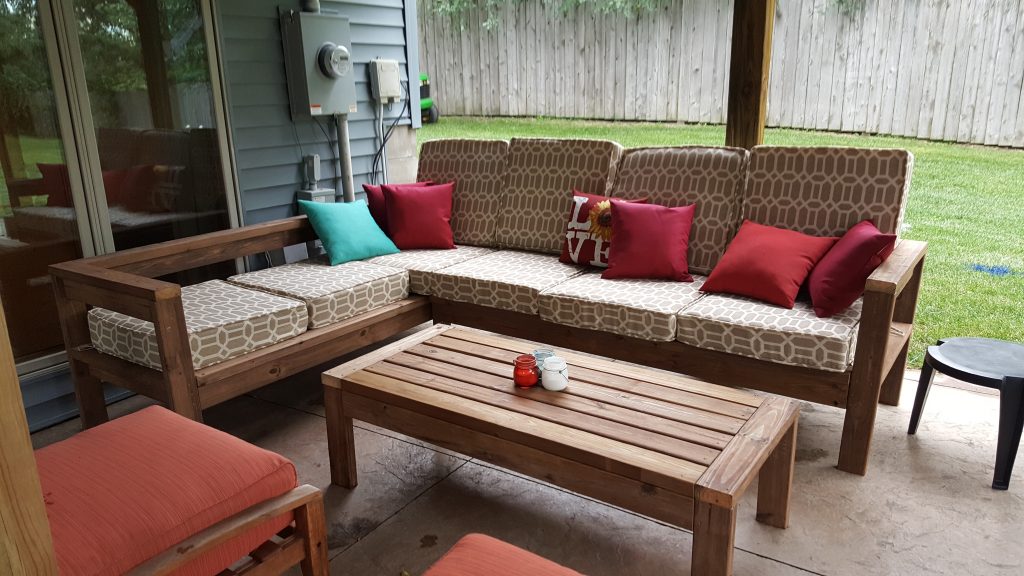 Decorating
Ana used 25×25″ seat cushions for her couch and outdoor pillows, however we could not find any we liked locally so instead we went with 4 deep seat outdoor cushions and 2 25″x 25″ seat cushions and they have worked out great! Not able to link the exact cushions we used however these cushions are a great option and I also included similar cushions below. The pillows were found here and here . Have fun decorating your new sectional couch!
My Amazon Cushion Picks
Outdoor Pillows
Amazon Outdoor Pillows
Target also has some great outdoor pillow options, click here to browse their selection.
DIY Coffee Table Plans
Did we finish there? Of course not! Once we set the couch up we realized it really needed a coffee table and it just so happened that Ana White also created a coffee table that matched the couch! That build took only half a day and looks so great with the set. You can find those plans here.
Please note: Here I am covering the build of only the full couch. If you are making the partial couch that is the second part of the sectional I realized the plans are missing one piece of wood on the cut list. It is missing (1) 28 1/2″ piece so please be sure to add that to the plan.
First Time Building Tips
If this is your first time building something using plans, here are some tips I would recommend:
Of course, always SAFETY FIRST.

have the correct safety gear such as eye protection and know how to operate the tools and machinery, especially the miter saw.

Always read through ALL of the plans before starting a build.

I like to picture how things come together in my mind until it makes sense.

Be sure to have all of the tools out and ready to go
MEASURE TWICE, CUT ONCE!!!

 Meaning anything you are planning to cut with the miter saw be sure to measure it twice before cutting! Trust me on this!
This is a big one if you want to avoid making cutting mistakes and needing to buy more lumber. It may seem simple, but it is amazing how many times I'll be slightly off on a measurement that I was so sure was right.

Have extra screws

mistakes happen, and when they do you may end up sacrificing a screw or two. The worst thing is to be in the groove drilling in screws when suddenly you run out and have to stop everything!

Print out the plans so you can write on them

I like having a physical copy as opposed to looking on my phone or tablet because I can jot down thoughts, ideas, and changes I've made to the plan for future use and in case I need to adjust anything.
All right! Hopefully this post helped if you were thinking about building your own DIY outdoor sectional. I talk a lot, but really when it came down to it this build was pretty simple, did not take a lot of time, and turned out amazing!
If you build this or you like me sharing about different builds please let me know in the comments below and share pictures of what you have built!
Thank you and good luck!