3 Simple Outfits for Fall
Fall is by far my favorite season of the year and so much of that has to do with the outfits and accessories that come with this cooler season.  The season full of layering, combining textures and colors, and transitioning some summer items into cooler weather attire.  I put together three outfits for fall that would work for weeknights, weekends, and weekdays by using a combination of familiar fall favorites such as booties, scarves and sweaters in addition to a few items you may not associate with fall such as lace and cooler colors.  As you read and look below imagine how YOU would wear the various clothing items and accessories.
1. Dinner with Friends.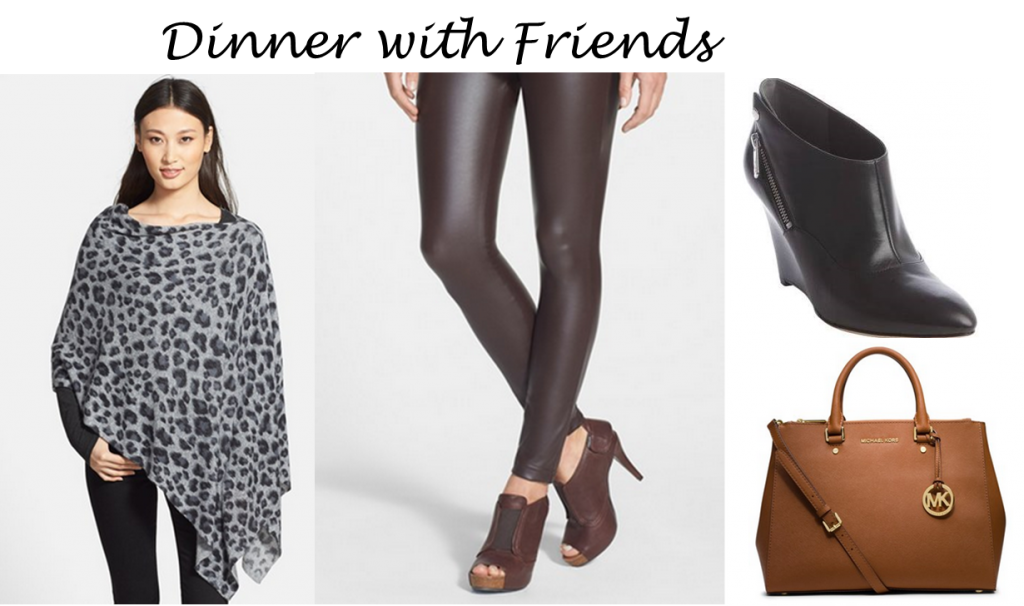 Paw Pattern Poncho  –  Leatherette Leggings  –  Frankie Wedge Bootie  –  Large Sutton Satchel
Talk about an effortless yet chic look! The Paw Pattern Poncho is perfect to keep you warm in the chilly air as you walk to and from your dining spot and lightweight enough to keep on while in the restaurant.  The faux leather pants are comfortable, flattering, and dress up the attire.  The black booties? You already know they will be comfortable because of the wedge heel and the added zipper detail compliments the leggings.  To add warmth to the attire is the neutral brown satchel, which can be carried across the shoulder for longer walks or on the arm for shorter distances.
2. The Weekend.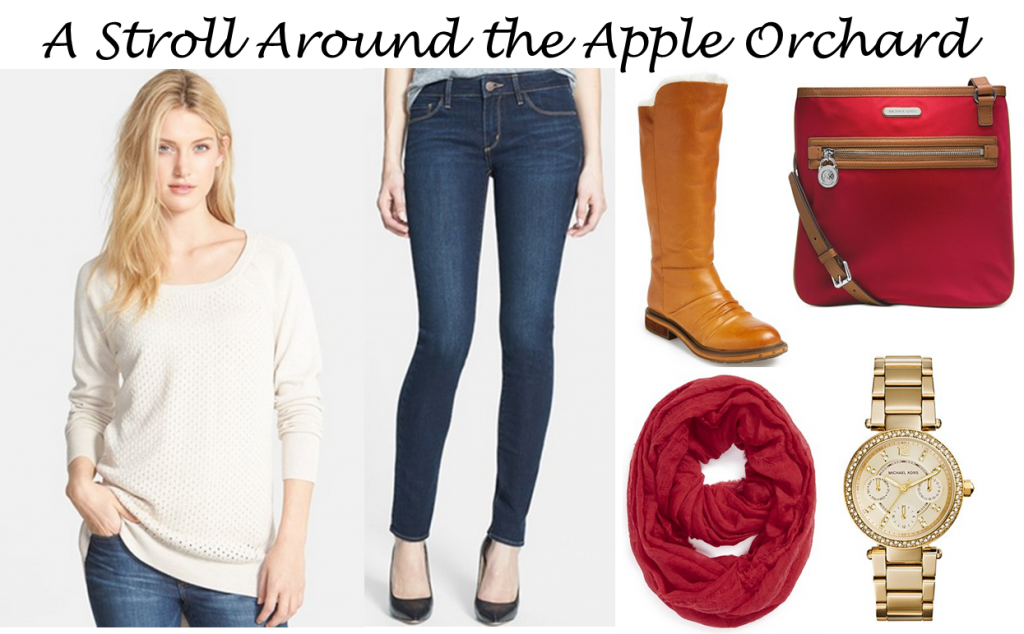 Tunic Sweater  –  Treasure and Bond Skinny Jeans – Raptor Leather Tall Boot –  Kempton East/West Crossbody – 'The Ringer' Infinity Scarf– Mini Parker Gold-Tone Watch
Nothing screams fall more than taking a stroll through the local apple orchard or farmers market to take in the beautiful scenery while gathering up some fall themed apples, pumpkins, and squash.  This outfit is very casual with the comfy loose sweater, the skinny jeans, and the brown riding boots for comfortable walking.  The red scarf and matching crossbody bag add that deep red color that is synonymous with the fall season.  All that's missing from this wardrobe is a mug of hot apple cider!
3. Evening Night Out.
 Boat Neck Sheath Dress – Faux Leather Jacket – Kevlin Bootie – Caleb Clutch – Le Vian Jewelry
This evening look is absolutely stunning and very fall appropriate with the popular fall color cranberry, as well as the black peep toe bootie.  The black leather jacket is edgy with the zipper detail and the tight fit but is softened by the feminine lace of the dress, a perfect combination for a fall night out.  I love adding the leopard print clutch as a neutral to tie the entire outfit together.  The jewelry? You can't go wrong with a matching set that combines the gold and black from the outfit. Score!
This season is all about layering, combining typical warm-weather items with cooler weather attire, and using purses and boots/booties as great accessories.  Here were three outfit ideas that are great transitions into the cooler season.  I love that each of these outfits are made up of accessories and items that can be mixed and matched to create many more fall outfits.  I know I am excited to try a few of these combinations out this week!
What are some of your favorite outfits for fall?  Do you prefer booties or boots for your fall footwear?