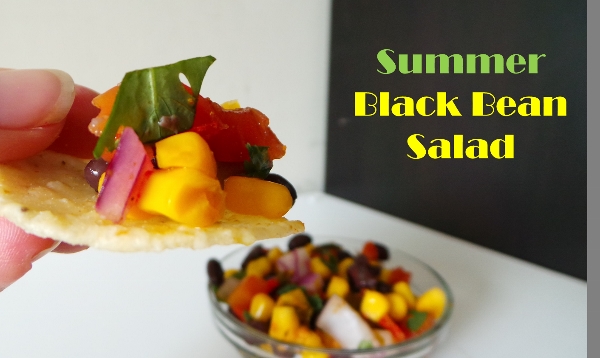 Are you all feeling the heat and humidity like I am? Here in Minnesota the storms have been hitting hard which means the humidity is high and also my hair is CRAZY a bit frizzy. Which all (except the hair) leads me to put together quick, simple, and refreshing meals and snacks. Enter my favorite side dish, black bean salad. A roommate of mine in college introduced me to this dish many years ago and have loved it ever since .
The beauty of this dish is it is low cost (which is how I managed to eat it in college) and extremely healthy as well with ingredients like black beans, corn, and cilantro. In fact, just this morning I read an article about the health benefits of black beans- incredible what a good choice in healthy foods can do for your body and health. We like to eat this with many different meals as a side or as an alternative to salsa and goes great with an iced chai latte.
Ingredients*:
1 can black beans, rinsed in cold water

1/2 of a medium red onion, roughly chopped

1 can of corn or about 1 1/2 cups of frozen corn (using frozen chills the salad really quickly)
1 diced tomato (sprinkle with salt and let sit after dicing to draw moisture, then drain. No need for a soggy salad!)
1 red bell pepper, chopped
about 2 tbsp of chopped cilantro
2-3 tbsp of lime juice salt and pepper to taste diced jalapenos (if you want some heat. I would except the kiddos are not real fans of it being too hot!)
*Outside of the black beans and corn you could change up the ingredients to fit what you have on hand. Other variations I have made include avocados, green bell peppers, green onions, etc. The options are endless!
To make: In a large bowl begin pouring in all of the ingredients. I love using a glass bowl and having the kids help with this dish because you can see the layers of ingredients in the bowl. My daughter says it looks like a veggie rainbow. No specific order but here is what we did: We first poured in the rinsed black beans, then added the other veggies on top.
Then added some chopped cilantro and red onions, along with everything else.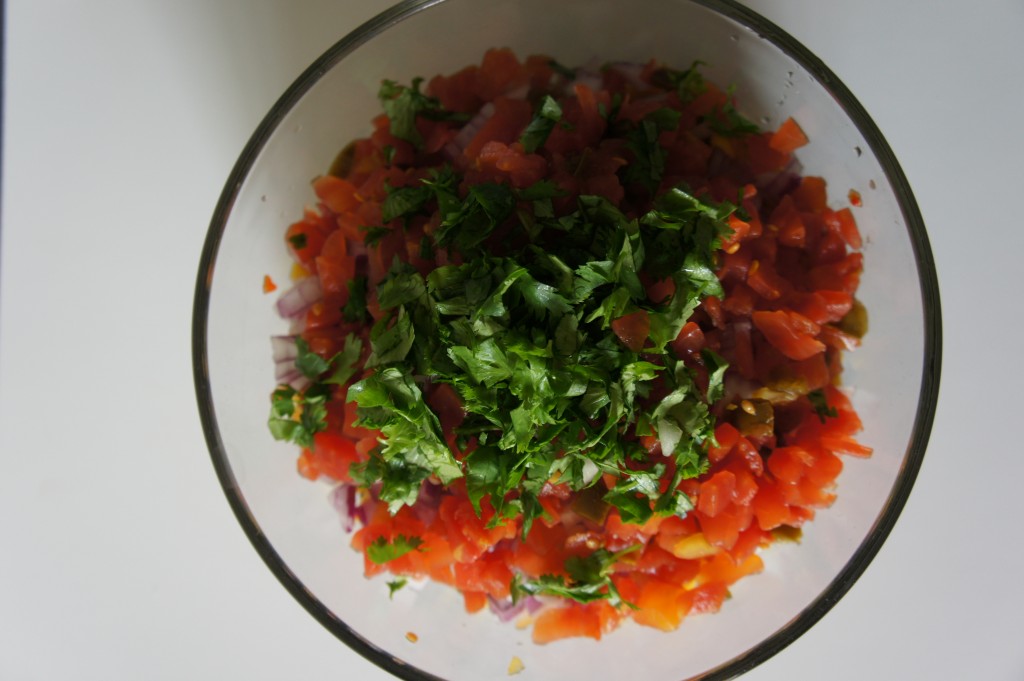 I love how it looks from the side.
Now the kids' favorite part- mixing it all together! After mixing it up, we covered it and put into the refrigerator for about 30 minutes to chill. Or if you used frozen corn you could eat it right away.
You can pour it all into a nice bowl for people to dip into with tortilla chips or pour the black bean salad into small individual bowls for each person to dip into as I did here.
We've used this dish as an alternative to salsa as well as an addition to our fish tacos. The salad is great by itself or else with chips. This dish is also perfect for traveling to a party or BBQ.
That's it! Simple as that and so incredibly yummy while also being good for you! Do you have a favorite summer dish that you go back to over and over? Do you have a healthy dish that's tasty and also refreshing? Let me know in the comments!