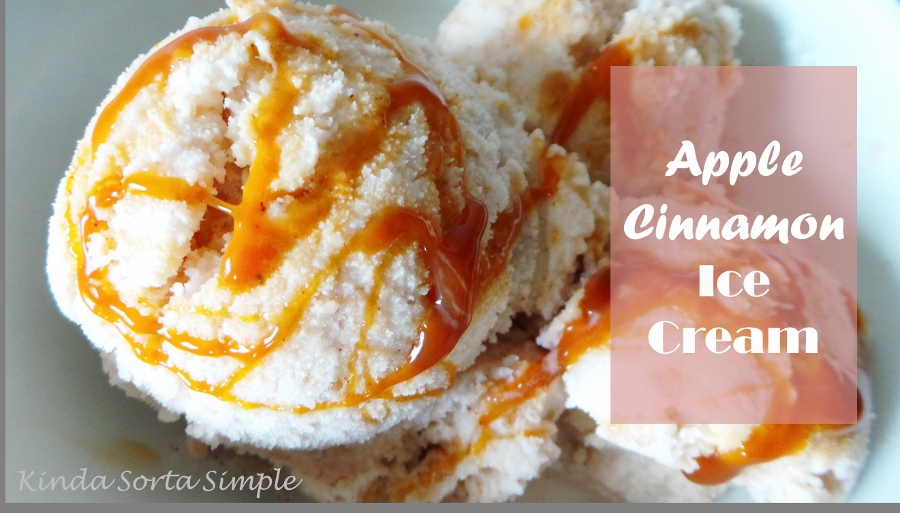 Tis the season for everything apples.  Apple donuts (thanks local apple orchard), caramel apples, apple pie, the list goes on for the unlimited amount of tasty foods that incorporate apples.  As the kids and I were brainstorming on what we should do with the newly bought bag of apples sitting on our kitchen counter, my oldest came up with a brilliant idea.  Ice cream. We decided to try using apples and cinnamon to make Apple Cinnamon Ice Cream to go with some Mountain Dew Apple Dumplings (recipe here) we had baked.  It was quite experimental at first but it ended up being a hit!  The flavor was just right, with little bits of softened apples in each bite.
It was a pretty quick recipe.  We chopped up the apples into super tiny pieces, cooked them down in a pan with butter, cinnamon, and sugar and then let it cool in the fridge.  Meanwhile we mixed up the usual ingredients for regular vanilla ice cream with the addition of a few shakes of cinnamon.
We then let the ice cream maker do its magic!  About 5 minutes before the ice cream was done we added the apple bits, let it incorporate and mix, and ta-da! Apple Cinnamon Ice Cream!
Turned out so flavorful and the bits of apple were soft from cooking them down.  Was tasty alone but then we added it to some apple dumplings and it just enhanced the flavor of the ice cream.  A bit of caramel drizzled on top took the dessert over the edge. SO. BAD. Yet SO GOOD!
Tasted amazing as an addition to the apple dumplings.
Here is the recipe for the Apple Cinnamon Ice Cream.  The ingredients for the base of the ice cream are according to our ice cream maker which is a 1.5 quart Oster, so be sure to adjust to your particular ice cream maker's instructions.

Apple Cinnamon Ice Cream
Author:
Kinda Sorta Simple
Prep time:
Cook time:
Total time:
This homemade ice cream uses cinnamon sugar with cooked down apple bits to make a flavorful dessert perfect for fall.
Ingredients
1 apple, cored and peeled (I used Granny Smith but any sweet apple will do)
1 tbsp butter
¼ c brown sugar
cinnamon
cinnamon sugar mix to taste
Ice cream base:
1½ c whipping cream
1 c sugar
1 c whole milk
1 c half and half
1 tsp vanilla
dash of cinnamon
Instructions
Cut up the apples into tiny pieces, melt butter in a medium saucepan, then add apples along with brown sugar, cinnamon, and cinnamon sugar mix. Cook for about 2-3 minutes while stirring constantly, until apples are cooked down and tender. Remove from heat and allow to cool, then store in the fridge to thoroughly cool while making the rest of the ice cream.
For the ice cream base follow the instructions of your own ice cream maker, with the addition of a dash of cinnamon. Pour the mixed base in the ice cream maker and allow to mix for about 30 minutes or until desired consistency is met. About 5 minutes before the ice cream is done pour in the apple mixture and allow to mix throughout.
Serve immediately or if a harder consistency is desired place in freezer for about an hour.
What ice cream flavors have you tried that were a little out of the ordinary?  How else do you like to eat your apples?