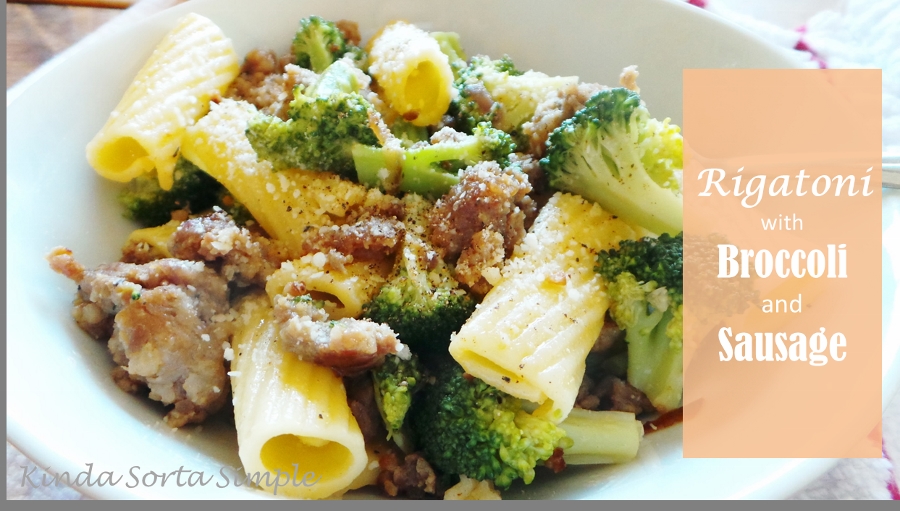 Rigatoni with Broccoli and Sausage
You know how sometimes you want to eat something for dinner that is relatively light, tasty, and does not take hours to make ?  This rigatoni with broccoli and sausage is the perfect blend of all of those things using one pot and chances are you probably have most if not all of the ingredients to make this simple dish. This is also the perfect time for a lighter meal since so many fall dishes are typically very heavy.
The other thing about this dish that is perfect for busy nights is that it uses only one pot as mentioned above.  Yes, a one pot dish!  You can use the same pot to cook the rigatoni noodles, the broccoli, as well as the sausage.  A dish that has me washing less dishes later? Sign me up for that recipe!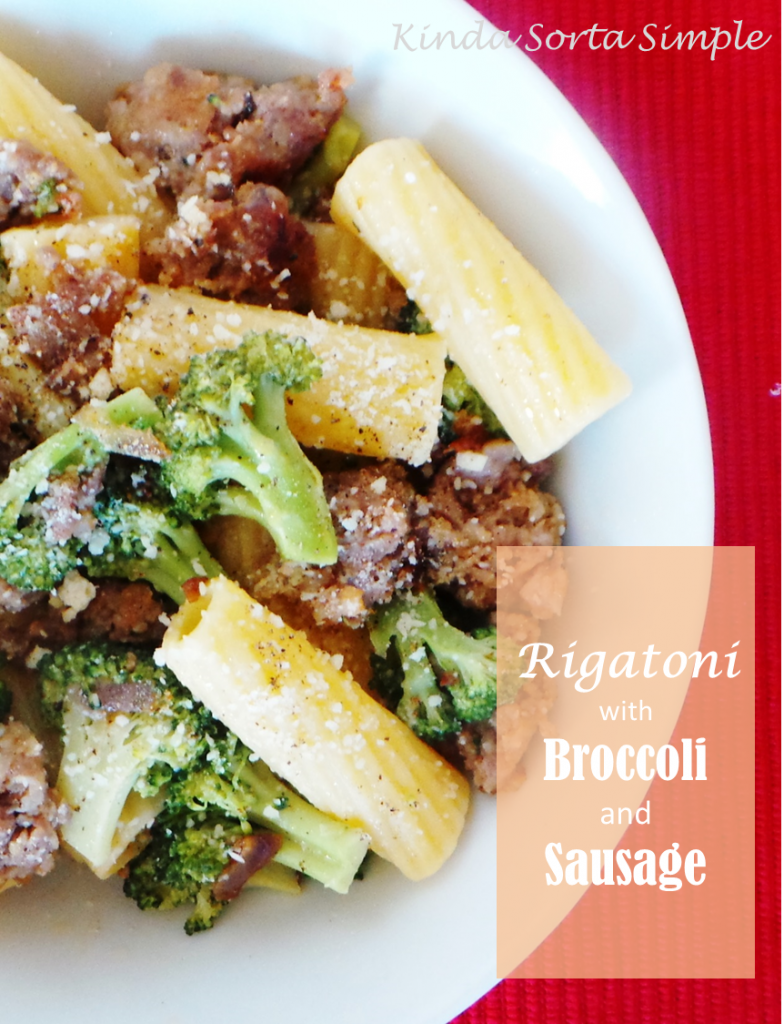 This recipe is very kid friendly both in taste as well as in preparation.  My kids like to help with preparing and washing the broccoli and combining the oil mixture.
The recipe starts out with cooking the pasta with the broccoli.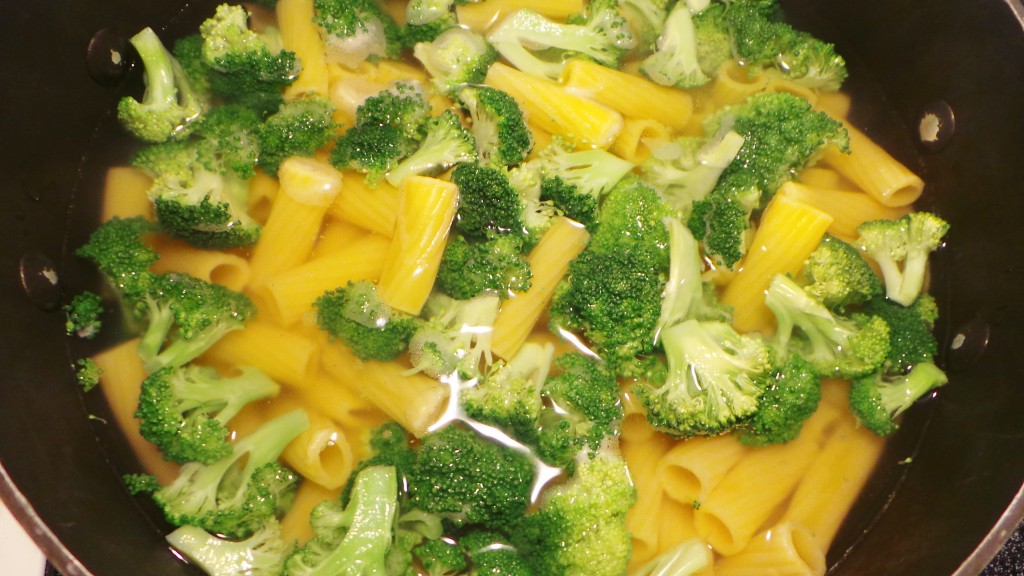 Next is browning sweet Italian sausage which adds a depth of taste and makes it oh-so-flavorful.
Here it all is wonderfully combined!  You can dish it up all super fancy or, if you are like me, I believe it is called a one pot dish for a reason so on to the table the pot goes!  Everyone can dish themselves up directly from the source.
The grated parmesan cheese on top adds the right amount of saltiness to complete the meal.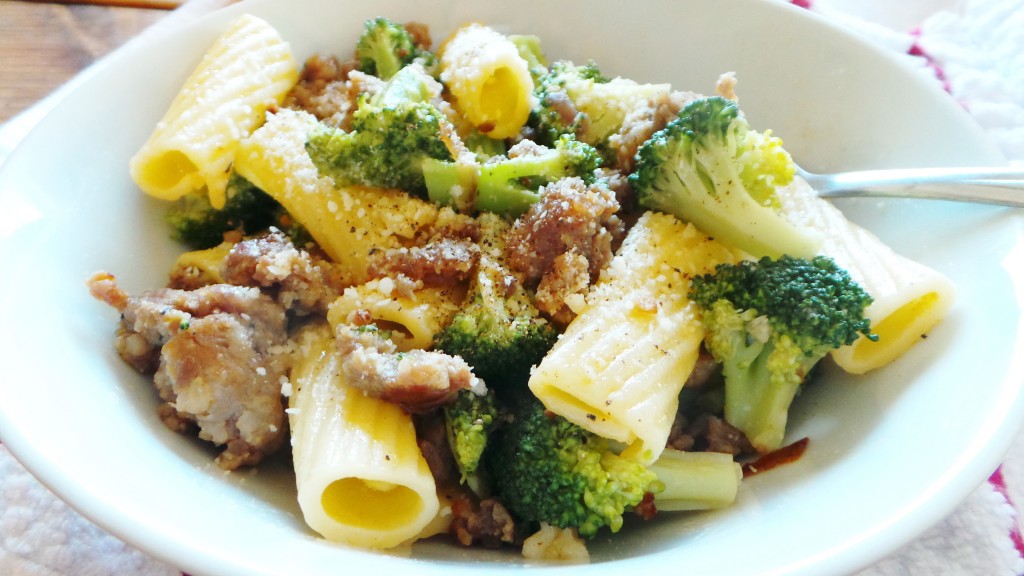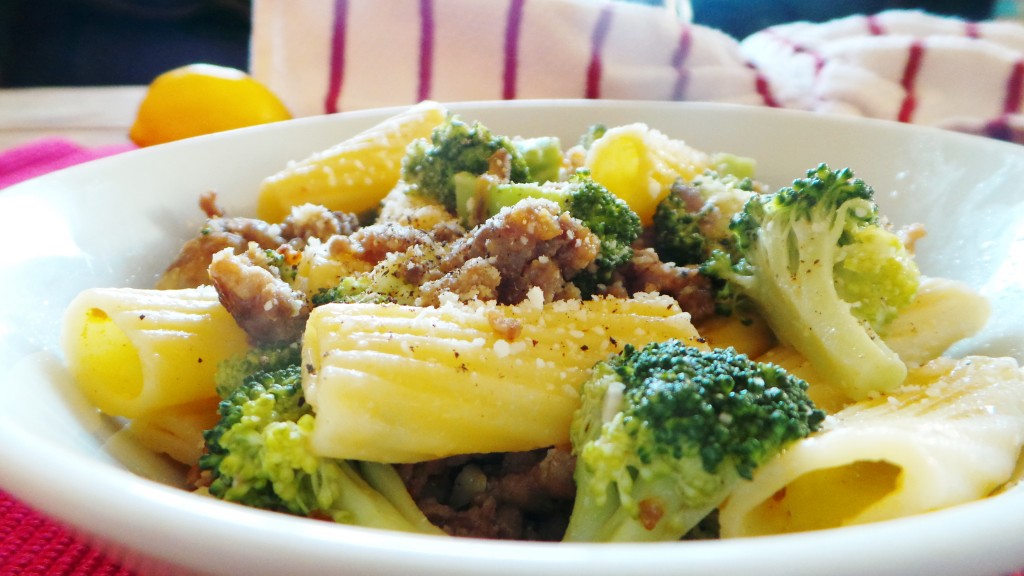 Ready to try this one out for yourself?  If you are looking to have a light meal that the whole family will enjoy I recommend trying this one!

Rigatoni with Broccoli and Sausage
Author:
Kinda Sorta Simple
Prep time:
Cook time:
Total time:
This is a light and tasty dish that uses many ingredients you may already have in your pantry to create a flavor that is sure to have your family asking for more!
Ingredients
1 lb rigatoni
2 heads of broccoli, cut up
1 lb sweet Italian sausage, casings removed
¼ cup olive oil
¼ tsp salt
1 small red onion, sliced thinly
2 tbsp garlic, minced
½ tsp garlic powder
¼ tsp pepper
2 tbsp lemon juice
1 tbsp lemon zest
½ cup sun dried tomatoes
Parmesan cheese to taste
Red pepper flakes to taste
Instructions
In a large pot of salted boiling water cook rigatoni according to directions. About 2 minutes before pasta is done pour in the broccoli florets, cooking until they are bright in color and tender. Reserve about 1 cup of the pasta water before draining the pasta and broccoli then set aside.
In same pot cook sweet Italian sausage, breaking it up with a spoon as it cooks, until browned, about 8-10 minutes. After first 4 minutes of sausage cooking, add red onions to the pot, stirring to combine.
Meanwhile, in a small bowl whisk together olive oil, salt, garlic powder, garlic, pepper, lemon juice, and zest. When sausage is cooked through add the reserved pasta water to deglaze pot, scraping up the brown bits from bottom of pot. Remove pot from heat and add pasta, broccoli, oil mixture, and sun dried tomatoes to the pot, then toss to coat.
Serve immediately with grated parmesan cheese and red pepper flakes to taste.
How have you used Italian sausage in your cooking?  Have you tried any light recipes in the midst of all the heavier fall season dishes?