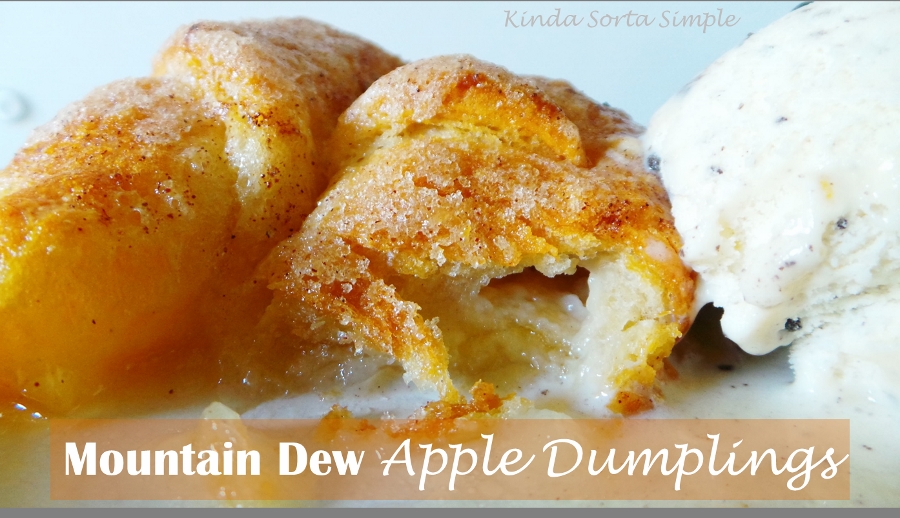 Mountain Dew Apple Dumplings
You know when you have that list of ingredients for a dish and there's that ONE ingredient that just does not seem to fit it?  You know, "one of these things is not like the other".  This is definitely one of those recipes.  We recently visited our local apple orchard and came home with an entire bag of amazing apples.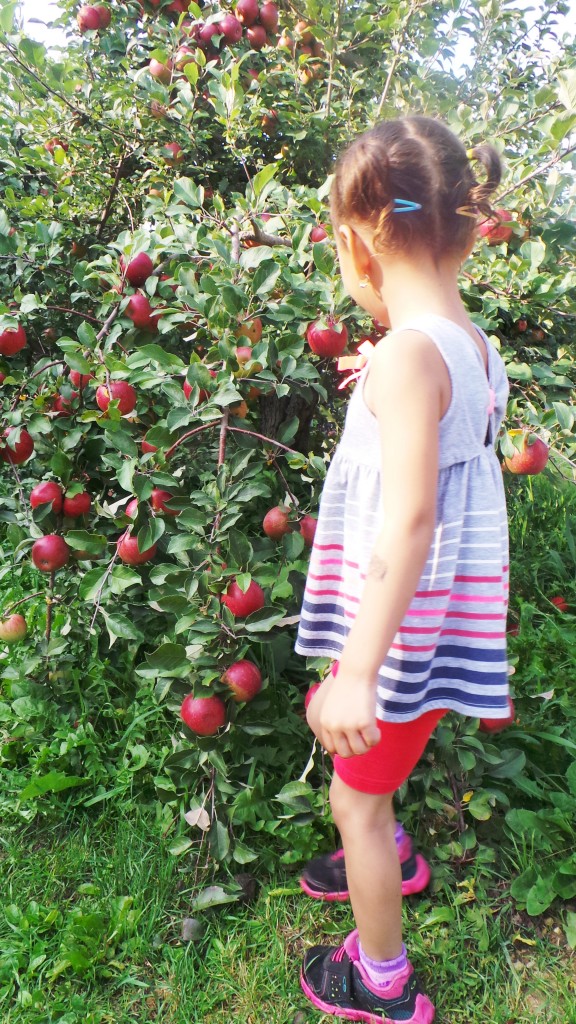 Naturally the question was which yummy apple recipe should we bake first? My immediate thought was apple dumplings.  So sweet, so flavorful, good apple dumplings are crispy on the outside while soft and gooey on the inside.
So what is the black sheep of the ingredients you ask? Brace yourself…. Mountain Dew. Yes. That beverage you probably consumed too much of in high school and college, the drink that is electrifyingly yellow, the soda you grab when its late and you need something to wake you up. Mountain Dew.  What's crazy is it is exactly what makes this recipe so amazingly mouth-watering and I would never omit it from this recipe. Behold…..
Mountain Dew Apple Dumplings.
The crust is nothing more than cresent rolls from the store.  The kids helped with this dish, working on rolling the apples up in the dough and placing them in the 9×13 baking dish.
Yes, I could have made some homemade pie crust dough but in all honesty I think the crescent rolls give this dessert the perfect texture of flaky awesomeness.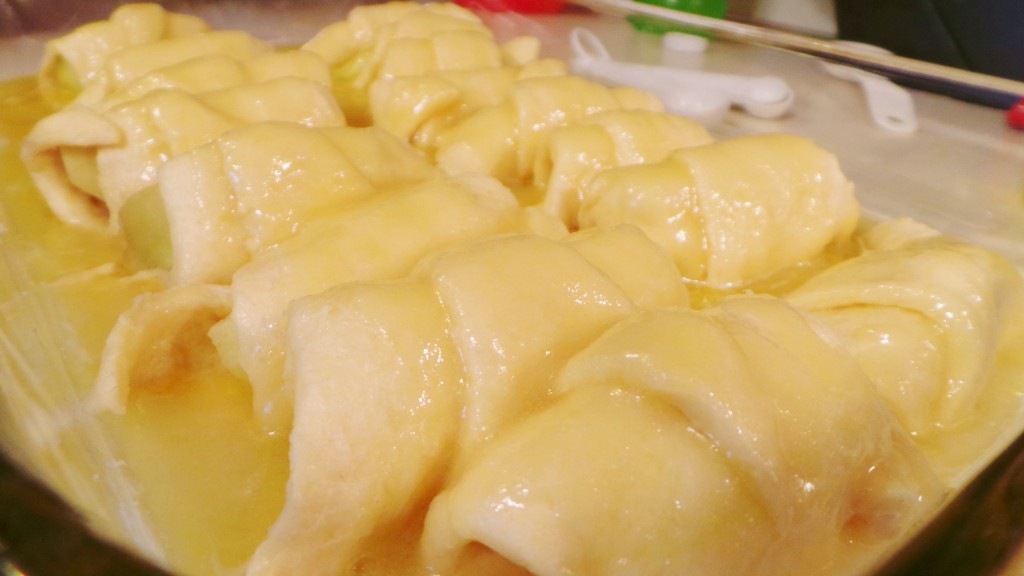 Mmmm… look at that cinnamon sugar goodness…
Here they are out of the oven, with a few dumplings already MIA.
These are now ready to be served hot with a side of ice cream, even though my husband says it is just as good without it. (I say everything is better with ice cream, but that's just me).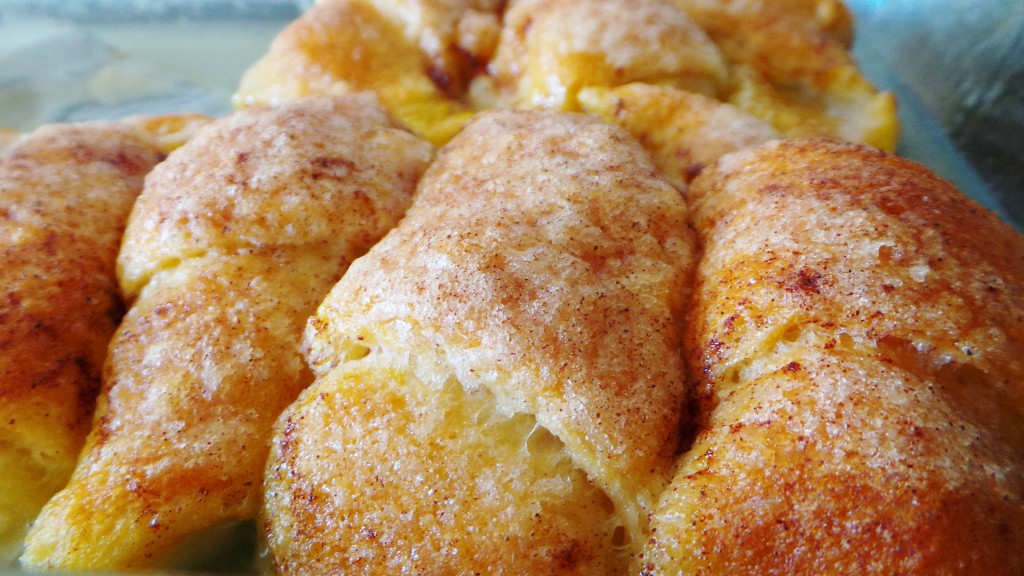 I probably went a bit overboard with the butter and Mountain Dew, hence the large amount of excess liquid left in the pan, but this was perfect to drizzle over the dumplings and ice cream right before serving.  Healthy? Goodness no.  Yummy? A resounding YES!
You'll have to excuse the choice of ice cream here.  When I first baked the apple dumplings we had not yet made our run to the grocery store for vanilla ice cream so I made due with what we had: cookies and cream.  It tasted amazing nonetheless!
Let's see how it looks on the inside.
Exactly as I had hoped, a perfectly crispy crust with a gooey center. Absolute heaven.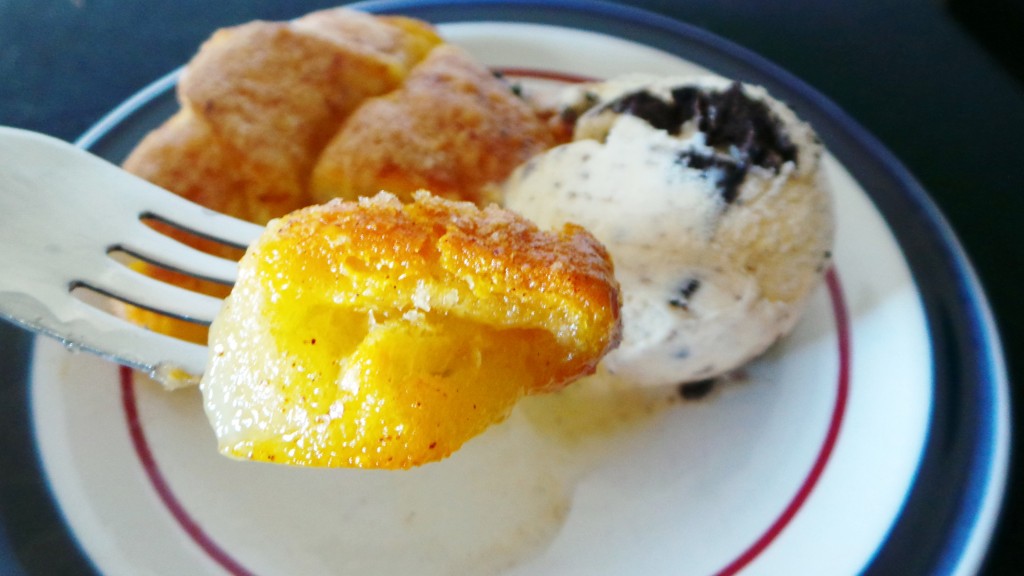 Later that night we made homemade Apple Cinnamon Ice Cream to go with the apple dumplings. WHOA.  There are no words to explain how awesome it tasted. Double dipping in the apple dessert realm? Yes please.  The recipe for the Apple Cinnamon Ice Cream is coming soon so stay tuned for that complimentary treat, which also goes well with other desserts such as apple donuts and apple pie.
Be prepared for how easy this recipe is.

Mountain Dew Apple Dumplings
Author:
Kinda Sorta Simple
Prep time:
Cook time:
Total time:
These apple dumplings are simple and easy to make, while being very flavorful. Crispy on the outside and gooey on the inside, the apple dumplings use Mountain Dew and crescent rolls to make them irresistable.
Ingredients
2 Granny Smith apples, peeled and cored
2 cans crescent rolls (16 total rolls)
2 sticks of butter
1½ cups sugar
1 tsp vanilla
1 can of Mountain Dew
Cinnamon sugar mix to taste
Instructions
Preheat oven to 350 degrees. Butter bottom of 9x13 baking pan. Cut each apple into 8 slices then roll each slice up in a crescent roll. Place rolled apples in buttered baking dish.
In a medium sized pot melt remaining butter then add sugar and vanilla, stirring just to combine (mixture will be somewhat lumpy, no need to dissolve sugar). Pour over apple dumplings. Then pour Mountain Dew along the edges of baking pan and down the middle (between rows of dumplings). Sprinkle tops of dumplings with cinnamon sugar mix.
Bake in oven at 350 degrees for 30-40 minutes, watching for the tops of the dumplings to brown. Dumplings are done when tops are light-medium brown and are crispy to the touch.
Serve hot with ice cream. Optional: pour remaining liquid from pan over dumplings and ice cream.
What are some ways you use apples in the fall season?  What are your favorite baked desserts that have an unexpected ingredient?