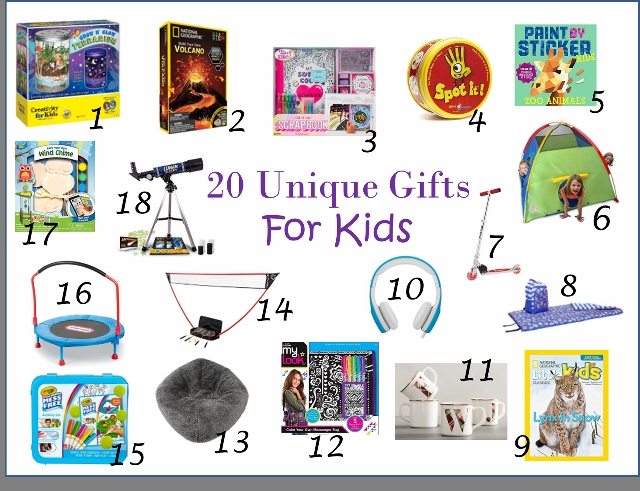 I absolutely love gift shopping for kids and with having four children of my own plus lots of nieces and nephews I have definitely done my share of shopping for kids of all ages. My goal for this particular gift guide is to share gift ideas that are creative, crafty, educational, or physically entertaining instead of the usual toys. Everything I have included here are kid approved by my little ones. You can click on any item or in the descriptions below to shop. Be sure to read to the end, I added 2 additional gift ideas not on the gift collage. Enjoy!

Starting with this really neat Terrarium because I think this is what we are giving our girls this Christmas! Kids can grow their own plants creating a great experience.
Science fun where kids get to build, and erupt, their own volcanoes with this Volcano Science Kit! Also note this is from National Geographic, a name so many of us are familiar with.
This Color Me Crazy Scrapbook is a gift my sister gave my daughter last month and she has been working on it every day since! Comes with a scrapbook and fun art supplies.
Ever play the game Spot It? So much fun yet incredibly simple, my kids always have a blast playing this game!
Remember Paint by Number? Well these Paint by Sticker books use the same concept but are more fun and less messy! There is also a calendar option! These are an absolute favorite of my kids. 
Kids love playing in tents, and this Kids Tent and Playhouse is great for indoors and outdoors and guaranteed to provide hours of fun! 
Last Christmas we bought each of our girls a Razor Scooter and they used them ALL SUMMER LONG! This Razor Scooter is even cooler with light up wheels.
Sleeping bags are always a favorite for our kids, whether it be for a sleepover in their room or at their Grandma or Mimi's house. This one includes a backpack used to hold the sleeping bag or their toys.
Kids love receiving anything in the mail especially magazines! This National Geographic for Kids magazine is great for learning and exploration every month.
Children's headphones have been great to use when traveling to watch a movie on our iPad. This one includes volume control and SharePort technology so two people can listen to one tablet.
You may think a coffee mug is an odd thing to include in a kids gift guide however my kids love drinking hot chocolate and hot apple cider during the winter months, and even more in their own Initial Mugs!
My girls love coloring and love carrying their things in bags, and this gift combines the two! My daughter received this My Look Color Your Own Messenger Bag for her birthday and started coloring it immediately!
Bean bag chairs are always comfy to sit on and are great for in a kids bedroom. This fuzzy one is super cozy and this one has a pocket to fill the bean bag with their stuffed animals!
My kids received a badminton set this past summer and loved playing each other and friends! This Badminton Set is easier to set up and will be lots of fun.
Having little kids, markers always scare me because of the potential of a major mess and stains. Enter Crayola's Mess Free Marker Set! These are so much fun and no need to worry about marker on the walls.
Kids love jumping on anything from beds to furniture and this Little Tikes Trampoline allows the kids to get their energy out in one place!
The kids love creating things and even more when they can enjoy their creations throughout the years. This Wind Chime Wood Owl and Paint Set allows kids to paint, build, and then hang their wind chime.
A classic gift for kids is a telescope they can explore the night sky with.
Some Other Ideas:
19. My daughters received this very unique and amazing gift last Christmas where they had their drawings transferred on to a wearable dress! Picture This Clothing also has shirts, doll dresses, and adult dresses available to create.
My daughter Jaeda's masterpiece

Proudly wearing her dress
20. Subscription boxes are a fun gift kids can enjoy every month. Here are some options I found online.
Hope these have been helpful and have fun shopping for the kids! Please feel free to email me if you have any questions.
Shopping for a guy in your life? Check out my 40 Gifts for Him Under $50 Gift Guide for some great ideas! Or click on any of these links below for more gift ideas and inspiration: