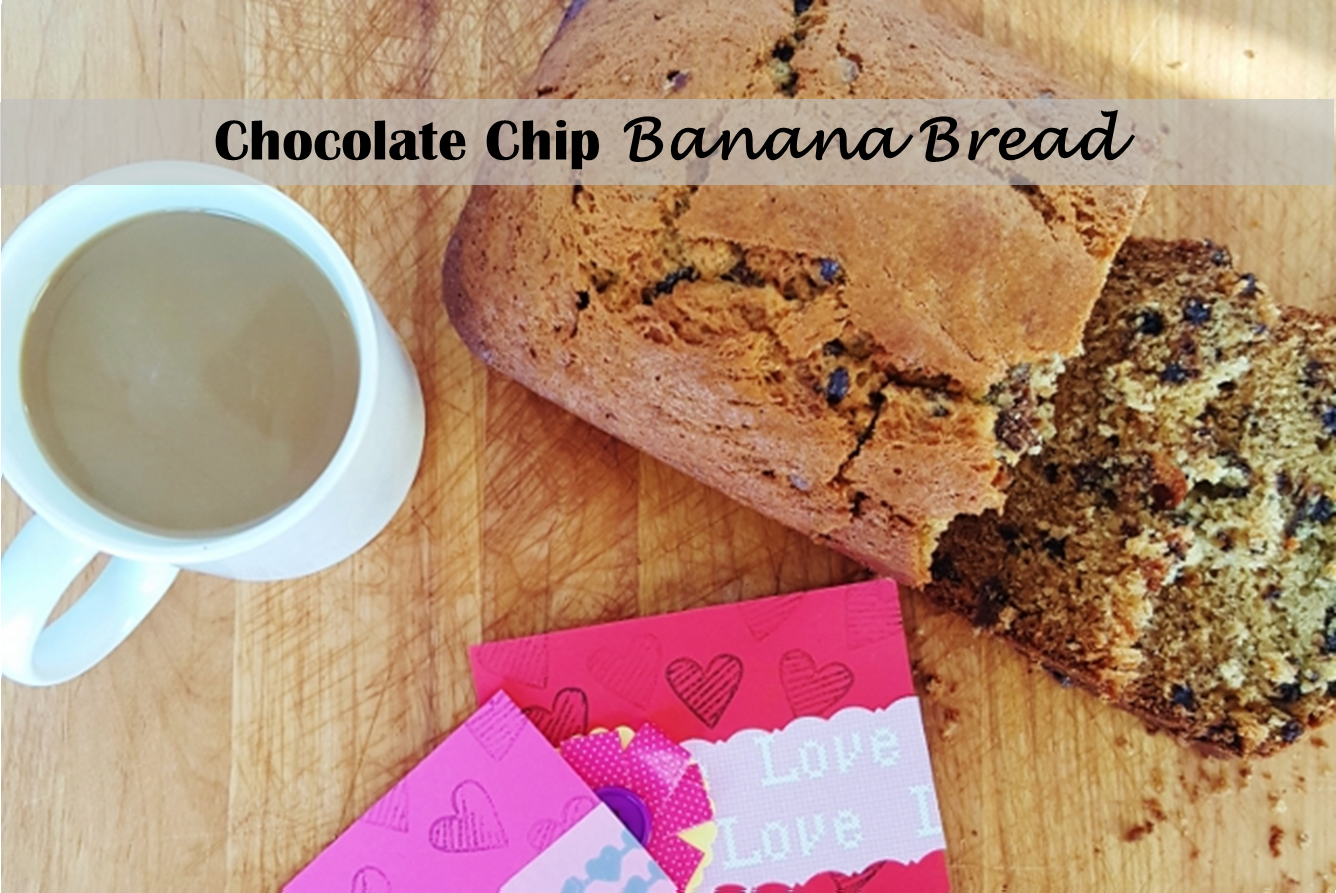 Chocolate Chip Banana Bread Recipe
Today is Valentine's Day and I know that means different things for a lot of people. Maybe it is a special day for you and your significant other to proclaim your love to each other with chocolates and flowers, maybe it is a perfect day for you and a group of friends to indulge in a grand dinner and dessert at a fancy restaurant, or maybe it is a love-filled day spending time with your kids baking cookies and cuddling in pajamas. Whatever Valentine's Day means to you, it can only be even better with a slice or two or five of warm, delicious, out of the oven Chocolate Chip Banana Bread! It is simple, quick to put together, and can be made with ingredients you probably already have! Even if you do not have super ripe bananas, many grocery stores have a few bundles or single bananas put aside that are starting to turn that magical brown color that screams BANANA BREAD!
This Chocolate Chip Banana Bread would make a great gift to give someone on Valentine's Day, or any day for that matter! Wrap it up in some plastic wrap or a clean dish towel, wrap a ribbon around it, and I guarantee this gift would make anyone happy.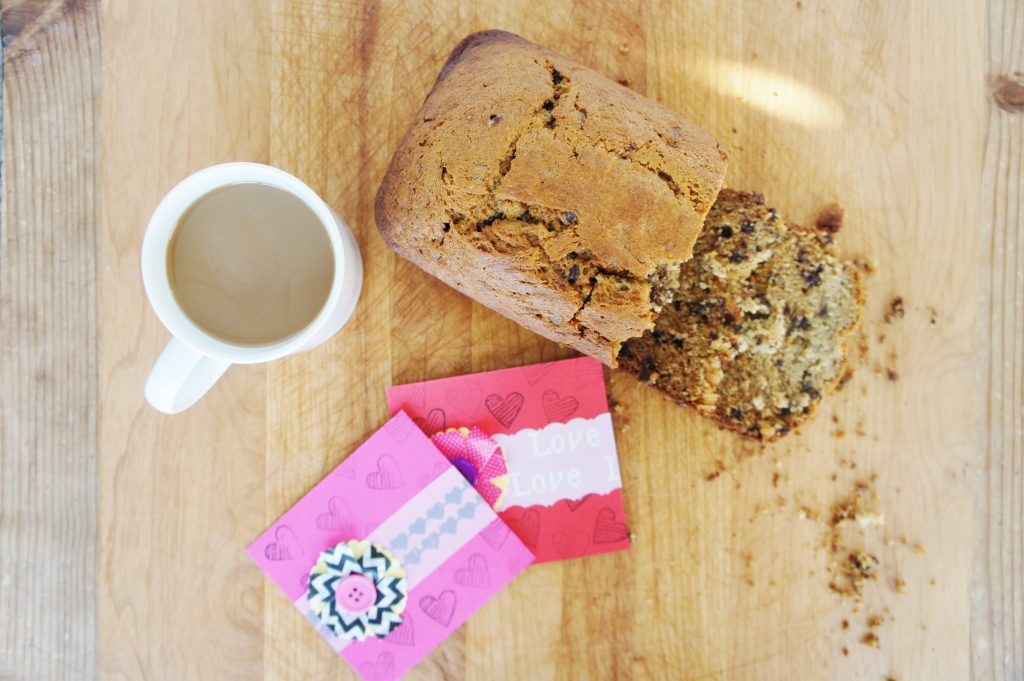 I also made the kids' Valentine's Day cards this year for an extra special touch. They were simple, easy to make, and so dang cute! I used washi tape, cardstock, scrapbook paper, some stamps, and stamp pad. I'll do a future blog post of some creative and fun but simple ways to make personalized cards for any occasion.
Ok on with the main event, the Chocolate Chip Banana Bread! We like to eat ours with a good smear of butter and a glass of milk or if you are anything like me: coffee. Tastes amazing the next day too and great to take for a taste of sweetness for lunch. Definitely take the time today to make some of this delicious Chocolate Chip Banana Bread, and in fact make a few!
Chocolate Chip Banana Bread Recipe
This Banana Bread is delicious, chocolaty, and so yummy straight out of the oven.
Ingredients
3

ripe bananas

1

tsp

vanilla extract

1

tbsp

milk

1/2

tsp

ground cinnamon

1

tsp

baking soda

1

tsp

salt

1

tsp

baking powder

2

cups

flour

1/2

cup

brown sugar

1/2

cup

white sugar

2

eggs

1

cup

semisweet chocolate chips

I like using the mini chips
Instructions
Grease a 9×5-inch baking pan (glass works best). Preheat oven to 325 degrees F.

In a medium bowl mash bananas then add vanilla, milk, and cinnamon and stir until combined. Set aside.

In another bowl add baking soda, salt, baking powder, and flour, mix to combine. Set aside.

In a third bowl or in a standing mixer bowl using the flat paddle beat sugar and butter until light and fluffy, then add eggs one at a time and continue to beat for about 1-2 minutes or until combined.

Add mashed banana mixture to the butter mixture and mix at low setting to combine.

Lastly stir in flour mixture into the butter mixture and beat slowly with mixer until combined. Batter will have a thick consistency.

Add chocolate chips and mix into batter.

Pour batter into the greased baking pan.

Bake in preheated oven for about 75 minutes or until a toothpick inserted into the center of banana bread comes out clean.

Allow to cool for about 10 minutes before removing from pan and slicing.

Enjoy!
Let me know if you make this Chocolate Chip Banana Bread today!
Happy Valentine's Day 🙂