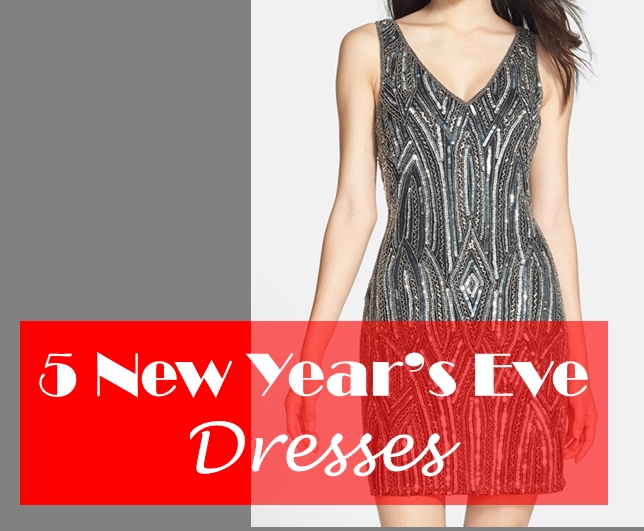 Wow, is it really already December 31st? I feel like New Year's Eve came so incredibly quickly this year!  Some of you may be ready to celebrate, but if you are like me I am just now finishing up putting away all of the amazing things the kids received for Christmas! In the craziness of trying to catch up I definitely forgot to pick up an outfit to wear out for the evening of New Year's Eve!
I rounded up some of my favorite party dresses that could be worn not only for New Year's Eve but also any night out. Enjoy the eye candy as I have.
1. Shine Bright Like a Diamond
I absolutely adore this dress! This is one of those dresses I would look for every excuse TO wear!  The sparkles are perfect for any party and the silhouette is very flattering.  Could easily be worn in various seasons with tights and a sweater for the cooler months. Fabulous!
2.  Simple Black Dress
Many times the  more simple the better.  This dress is a great choice if you are going for a no-frills look that is still stunning yet very simple.  The length is just below the knees which is a cut I love because it makes the look elegant but not over the top.  I also love that this dress gives you the freedom to accessorize in any way you'd like.  Play up the simplicity of the dress with some gold or silver jewelry or choose pops of bright colors in the jewelry and clutch.
3.  The LBD
Who doesn't love a perfect LBD, aka little black dress? This dress is a great play on the typical LBD with the lace detail and fun flare in the skirt.  Not only great for a party with a few sparkly accessories but also perfect for a summer day out shopping! If only summer were right around the corner….
4. The Perfect Shift Dress
What is the only thing better than a beautiful dress? A beautiful dress that 'floats' on your body!  Shift dresses are amazing dresses for many reasons, but especially for the fact that they are not tight in the middle meaning they can be very flattering on many body types.  What that means for me is a few extra cupcakes at the end of the night!  The roominess is very comfortable while the shiny material of this particular shift dress still makes it a great choice for a party of any kind.
5. Fierce Leopard Print.
Ok, so I couldn't close this post without some leopard print.  The second I came across this dress I couldn't get my eyes off it!  I do not think I have ever seen a leopard print and sequin combination done this well.  Nothing screams New Year's Eve more than this dress! With simple black heels and black clutch, no other accessories are needed as this dress speaks volumes by itself.  Sign me up for this one please.
So which of these dresses is your favorite?  Remember that whatever you choose to wear to bring in the new year is the perfect choice for you.
Which dress would you choose to start 2015?  Will you be dressed up or in comfy sweats going into the new year?