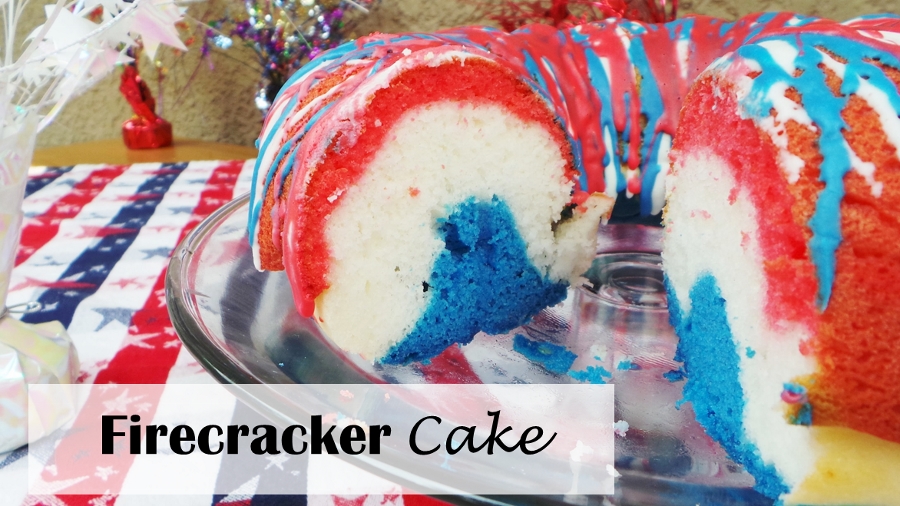 This past 4th of July my mother-in-law passed on a Betty Crocker recipe to me that looked fun, festive, and easy enough for the kids to help out.  The resulting Firecracker Cake not only visually looked amazing, it was also absolutely delicious! The kids received numerous compliments on the cake and the best part is that although it looked complicated to put together, it was actually quite easy.
Another bonus of this cake was that it was not frosted in a conventional way.  The fun steams of red, white, and blue was regular frosting thinned out by warming it up in the microwave and drizzled over the top of the cake using a spoon creating this unique appearance.  This was definitely the kids' favorite part of the cake-creating process!
Here is the surprise on the inside of the cake. All this consisted of was preparing 3 batters, two of which contained food coloring, and layering them in a bundt pan without mixing them.
The colors were bright and vibrant and added a fun element to the cake.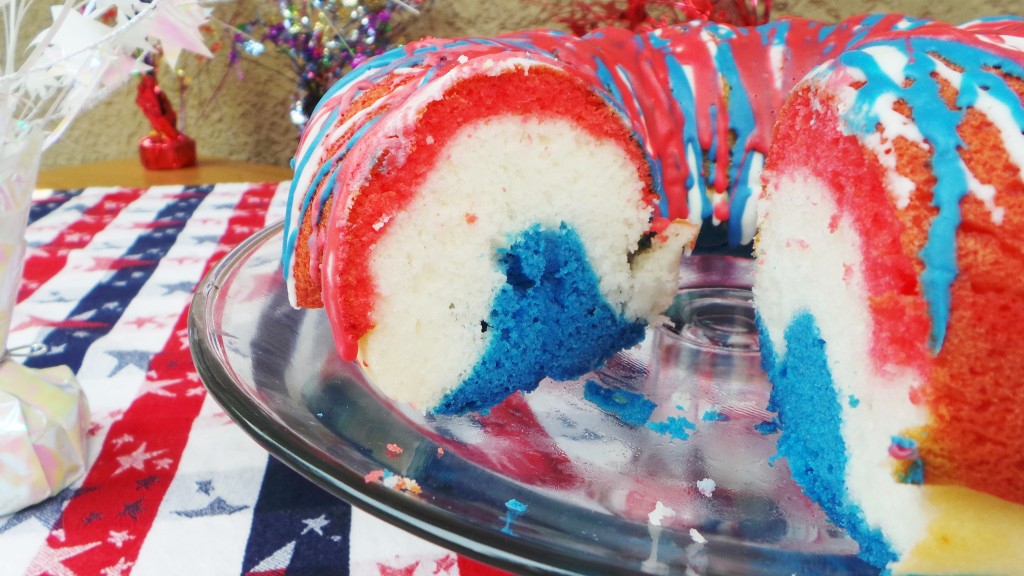 Although Independence Day is now behind us this cake could easily be adapted to any celebration just by simply using different food coloring.  Here we used red and blue food coloring but any combination could be used to create a cake that fits the theme of many parties or events. The possibilities are endless!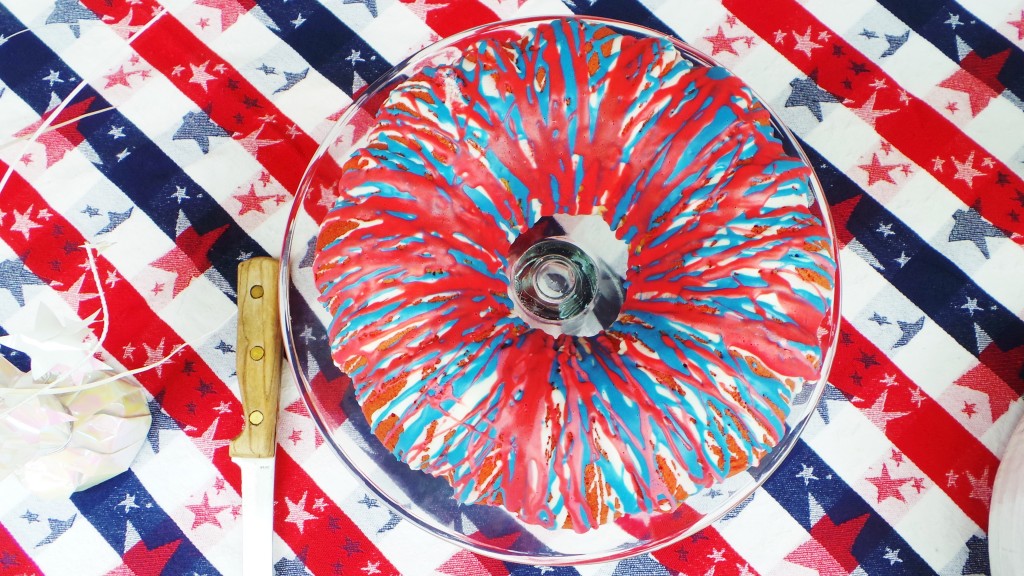 Firecracker Cake
Prep time:
Cook time:
Total time:
This Firecracker Cake is not only visually appealing and fun to make but it is also absolutely delicious! Straight from Betty Crocker and was a big hit at our 4th of July.
Ingredients
1 box white cake mix
Water, vegetable oil, and egg whites called for on cake mix box
Red food color
Blue food color
1 container (12 oz) white frosting
Instructions
Heat oven to 325°F. Generously grease 12-cup fluted tube cake pan. Make cake batter as directed on box, using water, oil and egg whites. Pour 1 cup of the batter into small bowl; stir in red food color until well mixed. Pour another cup of the batter into separate bowl; stir in blue food color until well mixed.
Pour red cake batter into bottom of pan. Carefully pour remaining white batter over red batter in pan. Carefully pour blue batter over white batter. (Blue batter does not need to cover white batter completely; it looks better if it just forms a ring in the center of the white batter.)
Bake as directed on box or until toothpick inserted near center comes out clean. Cool cake 5 minutes. Meanwhile, place cooling rack over cookie sheet. Turn pan upside down onto cooling rack. Cool cake completely, about 30 minutes.
When cake is cool, divide frosting evenly into 3 microwavable bowls. Microwave 1 bowl of frosting uncovered on High a few seconds until smooth enough to drizzle over cake. With spoon, drizzle all of white frosting back and forth around cake in a striping pattern. Repeat microwaving second bowl of frosting until smooth. Stir in a few drops blue food color until well blended. Drizzle over cake, scattering frosting back and forth. Repeat with remaining bowl of frosting and red food color, making sure red, white and blue frostings can be seen on cake. Let cake stand at room temperature until frosting is set before serving.
This Firecracker Cake was such a hit that I know we will be using this recipe again for other events and celebrations.  I'm excited to see what other color combinations we come up with!
What new recipes have you tried so far this summer?  What is your go-to dish for family events?