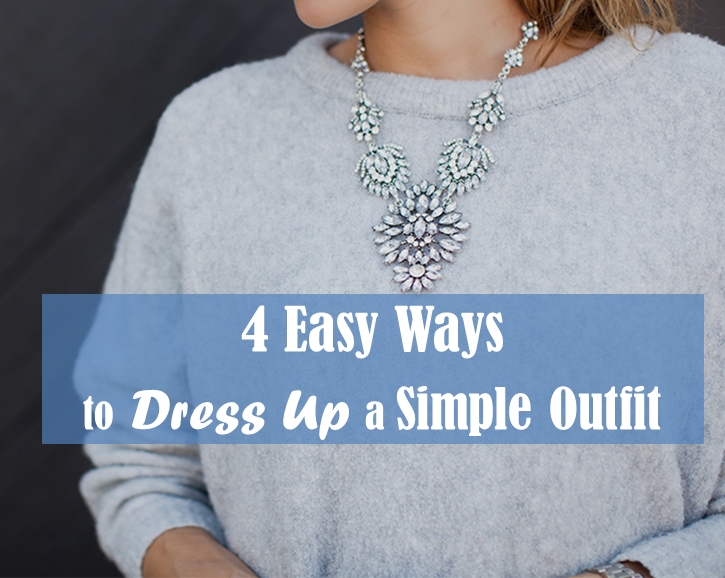 4 Easy Ways to Dress up a Simple Outfit
Happy Thanksgiving weekend everyone! With Black Friday sales abundant and left over turkey calling my name I thought this would be the perfect time to share 4 easy ways to dress up a simple outfit.  The holiday season is a time of warm cozy fires, baked items, and of course nice comfortable clothing to lounge around the house in.  More often than not an unexpected reason to leave the house comes up last minute and instead of stressing about putting on something presentable here are 4 surefire ways to dress up an otherwise simple outfit.  Use one or multiple suggestions to go from comfy to chic in minutes!
1. Put 0n a Blazer!
A simple blazer can turn any simple t-shirt and jeans outfit from casual to dressy.  These are especially nice for the fall since they not only add sophistication to the t-shirt but also warmth as well.  There are so many variations of the blazer from a simple white blazer as seen above to a sparkly sequined blazer for a more glitzy party feel.
2. Statement Necklace.
A statement necklace, essentially a necklace that has big eye-catching elements to it, is a great addition to an otherwise very simple outfit.  T-shirts, sweaters, even simple sweatshirts can look put together and chic by adding a necklace that brings attention to the neckline.  I will often add a statement necklace  over a sweater and black leggings when running out the door last minute .
3. Bring on the Heels.
There's nothing sexier than a woman who throws on some heels with a tshirt and jeans.  The simplicity of the outfit is part of the allure that makes this look always a winner.  Heels even look great with some loose boyfriend jeans and a casual black tshirt as seen above.  To take it up a notch wear heels with a print such as leopard or a pop of color like hot pink.
4.  Throw on a Scarf.
One of my favorites and must haves for the fall and winter season is a variety of scarves.  A scarf is an easy way to change up the whole look of an outfit and the warmth a scarf offers is a bonus! With so many colors and patterns to choose from the scarf is a great option for dressing up any look.
Hopefully these 4 ways to dress up a simple outfit will help you go from comfortable to dressy with one or two additions.  I know I always appreciate a cozy outfit during the holidays, especially after eating big meals!  Having a couple of go-to additions to simple outfits is a must-have for any season.
What are your go-to additions to outfits to make them dressier?  What do you like to wear during the holidays?