T-Shirt Dress Styled 4 Ways + A Giveaway
SPECIAL GIVEAWAY at the end of this t-shirt dress post! Be sure you scroll to the end of this post to see what all the hype is about. Hint: you especially want to check it out if you like Target… just saying 😉
You all know I am a basics girl at heart. One reason is that basics are easy to restyle so many different ways and for various occasions. I had posted an outfit on Instagram wearing a simple grey t-shirt dress and some of you requested seeing multiple ways to style it since it is such a great basic to have, is incredibly comfy, and is under $10!
Here I am going to share the same grey t-shirt dress styled four different ways to give you some ideas for getting the most out of this dress plus some outerwear options for chillier evenings. Bonus is a black t-shirt dress and some other basic dresses I like.
One thing I love about a t-shirt dress is that there is no guess work in putting together a matching outfit. At the most basic simple level all you really need is the dress and some shoes. Everything else is just an extra!
Casual
Dress + Sneakers
Love this for running out the door to the grocery store or to the playground with the kids. The t-shirt dress itself is stretchy and roomy so it is comfortable to run around in and chase kids up the slide steps. Because the dress is grey, any color sneakers would work!
Brunch or Out with Friends
Dress+Sandals/Flats+Simple Jewelry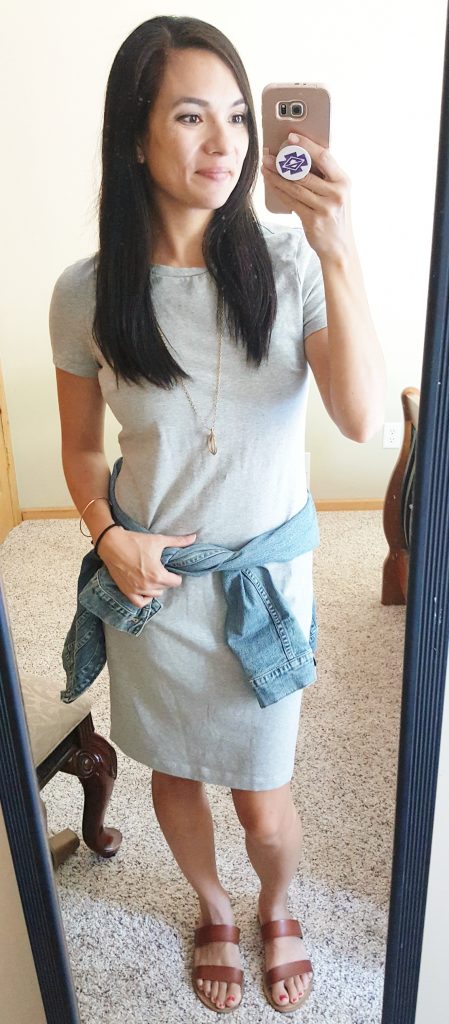 My favorite way to wear this t-shirt dress is with cute sandals or flats, maybe one or two pieces of simple jewelry, and that's it! Still casual, still comfy, but a little more put together. Perfect for brunch, meeting with friends, or even work.
Dressed Up
Dress+Wedges/Heels+Statement Jewelry+Purse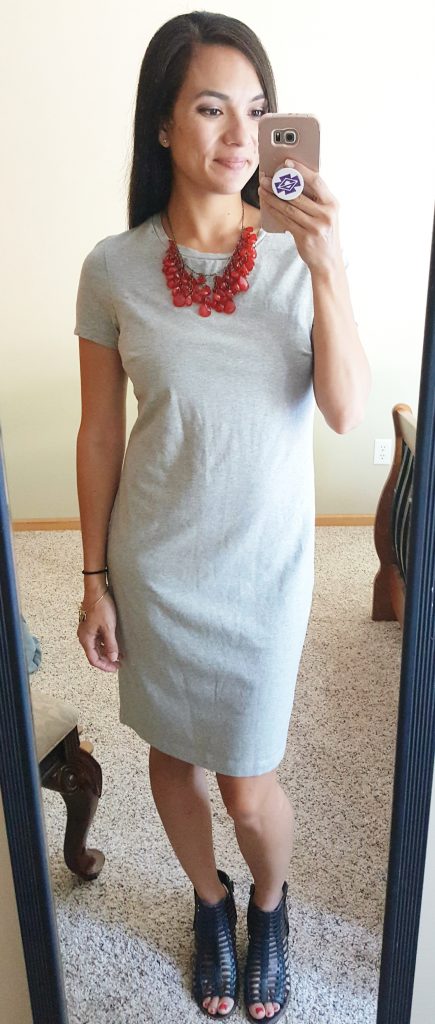 Who doesn't want to be out at an event but feel like they are wearing pajamas?! This outfit is it! Just by simply changing out the shoes for some fancier options and adding statement earrings or a necklace make this basic dress ready for a night out.
Transitioning into Fall
Some easy ways to transition a t-shirt dress into the fall season is by adding layers like cardigans and outerwear, as well as switching out sandals for booties and boots.
Dress+Denim Jacket
Cute booties and a denim jacket take this t-shirt dress from summer to fall.
Dress+Cardigan

Here are some other similar t-shirt dresses at great price points. I treat these dresses like basic t-shirts, have a few in various colors for easy outfits any time of year! Click on any of the images for more dress info.
Similar T-shirt Dresses:
THE BIG ANNOUNCEMENT!
You have a chance to win a $275 Target gift card! A favorite fellow blogger friend of mine, Belle of One Awesome Momma, is celebrating her 2 year blog anniversary and in celebration of this big milestone some of my favorite blogger ladies and I have gotten together to bless one special winner with a $275 Target gift card that can be used just in time for school shopping, fall wardrobe refresh, or whatever the winner desires! Remember to share this exciting giveaway with friends and family! Enter below for a chance to win!
Want more chances to win? All you have to do is complete
all these tasks below which will enable you to unlock bonus tasks. And
these bonus tasks can be done every day. The more tasks you do means the
more chances you have of winning $275 Target gift card.
Good luck!
To enter
the giveaway, entrants will have to complete the required tasks as seen on
the Rafflecopter widget, and/or the optional social media shares &
engagement which can be done daily; no purchase required. This giveaway is
not endorsed by or in any way connected to Target. The prize is $275
Target Gift Card to be fulfilled by One Awesome
Momma. If One Awesome
Momma doesn't fulfill your prize, all the other host bloggers are
not responsible for prize fulfillment. This giveaway is open to U.S.
residents aged 18 and older only; void where prohibited. This giveaway
starts on August 7th at 12 AM EDT and will end on August 22nd at 12 AM
EDT. The winner will be selected randomly and will be notified through
email within 24 hours after the giveaway closes. Please
make sure to add giveaway@oneawesomemomma.com to your contacts to make
sure you'll receive the notification. If the prize is
unclaimed after 48 hours of notification, we will choose another winner.
Winner is responsible for reporting the value of his/her prize where
required.
Disclosure Note: This post may contain affiliate links in which I may receive a small commission if you click a link and purchase something, at no additional cost to you. Please check out my Disclosure and Privacy Policy for more information. Thank you!