Organizing for Back to School
It is that time of year when stores open their gates to neverending supplies, the mailbox starts getting letters with school info for the kids, and I start looking at the calendar to try and squeeze in a few more days of outings with the kids before summer ends. This year I will have two of my four kiddos in school, a middle school first timer and a second grader.
I wanted to share some hacks and tips I have in organizing and preparing for school to make the transition into this fall easier and better (or at least a little bit better! lol). I'll also link some of the items that help me every year with organizing and keeping things smoother when school arrives. By the way, keep reading and scrolling to the end of this post for details on how to enter to win a $275 Target Gift Card Giveaway to be used at your discretion, school supplies or not!
Lunch
Hot school lunch can get pricey so I allow my kids to choose one hot school lunch a week and I make cold lunches for the rest of the week. Not gonna lie, making school lunches all the time is not a fave of mine (ok, I despise it), however I have found some hacks that help.
Hacks for making school lunches:
making multiple sandwiches ahead of time and freezing them in individual baggies

they thaw in the lunchbox by lunchtime!
Peanut butter & jelly sandwiches are especially great for this

having a specific plastic bin in the fridge for all snacks and drinks like Go-Gurts, string cheese, baby carrots, etc.

when making lunches take out the bin and everything is in one place

cut and wash all fruits and veggies immediately after bringing home from store
put things such as cut fruits, veggies, and snacks in individual baggies/small containers so they are easy to grab
use a divided carrying container so each food has its own space
make an effort to build a routine that is repeated. For example, on Sundays I make an assembly line of lunch items and containers on the counter, make multiple complete lunches, and store them in the fridge/freezer
use a small thermos for leftovers from night before

heat up the morning of then place in thermos, should still be hot by lunchtime

for older kids, like my middle schooler, have snacks and lunch items in one place and have the kids put together their own lunches at the beginning of the week. Amazing how much they love having a choice of snacks!
Here are some of the items that have helped me make lunch making much easier!
School Organizing
We do not have a mudroom in our house so I designated an area in our laundry room as a command center and place for the kids to hang their backpacks, jackets, and to store their shoes. I also hung up a bulletin board/chalkboard for messages, to hang up important documents, and to showcase proud school papers and lunch menus. I recently added a dry erase calendar and chore chart for the kids to see each time they grab their stuff.
Lastly, I added a file folder holder to the wall for the kids to put some of the ridiculous amounts of papers they bring home from school on a daily basis, otherwise it all ends up on my kitchen counter! I make sure to go through the folders once a week to weed out anything that is no longer needed or expired (and find things that need to be completed or turned in!). The kids are responsible for taking out everything from their backpacks immediately after coming home and either giving them to me or putting them on the kitchen counter for me to see.
Here are a few items that I think are helpful in any command center.
School Supplies
Part of the fun and chaos that is school shopping is running around the store with the kids like a scavenger hunt trying to find all the items on the school supply list. However, there have been times when I wished I could magically hit a button and all of the items we needed would appear in the cart.
School List Assist
Now this is by no means a Target sponsored post, however I just found out that Target has an option online to find your kid's school, add the correct school supply list, and it puts everything in your cart from the list ready to order and you can adjust as you see fit!
It is called School List Assist and you can choose to have it delivered or picked up in store. I so could have used this in past years when I had a newborn or a temper tantrum toddler and didn't want to deal with being at the store (wait, I still have a toddler…). If you want to check it out, click here to go to the School List Assist page and get started. Not sure if we'll use this option this school year but thought it was too neat to not share!
Let me know in the comments if you do or have used this online service. I bet that $275 Target Gift Card would be nice to use for this… just saying! Keep scrolling for details…
School Clothes
This is the time when I have the kids go through their closets and try on basically everything they haven't worn in recent months to see what does and does not fit. This inventory helps me figure out what clothes the kids actually need as opposed to just buying every single item of clothing we come across (remember, I have four kids=lots of $$).
School shopping can get pretty spendy and we try to be as cost efficient as possible. Some years the kids do not need a lot of new clothes, however some years the kids grow a ton and need to replenish their closet. For example, my son grew almost a foot since last school year. AN ENTIRE FOOT! Needless to say his jeans from last year will not be fitting, unless boy capris are on trend this season lol.
We stock up on basics like simple tops and pants so that it is easy to mix and match outfits. This is also a great time to organize and weed out clothes that are no longer worn or needed. Great time to clean out those closets and purge unneeded items. Hello Goodwill!
Some of the places we like to go for school clothes shopping are: Target, Walmart, Old Navy, and Amazon.
GIVEAWAY!
Hope all of this helped some of you as you prepare your own kids and yourself for an exciting new school year!
By the way, in case you missed it in the last post, we are doing a big $275 Target Gift Card Giveaway to one lucky winner who can use it as they please! If you are planning on doing your school shopping at Target this year an extra $275 would probably help! Entering to win is easy and outlined below. Good luck on the giveaway and on making this transition into the new school year as smooth as possible!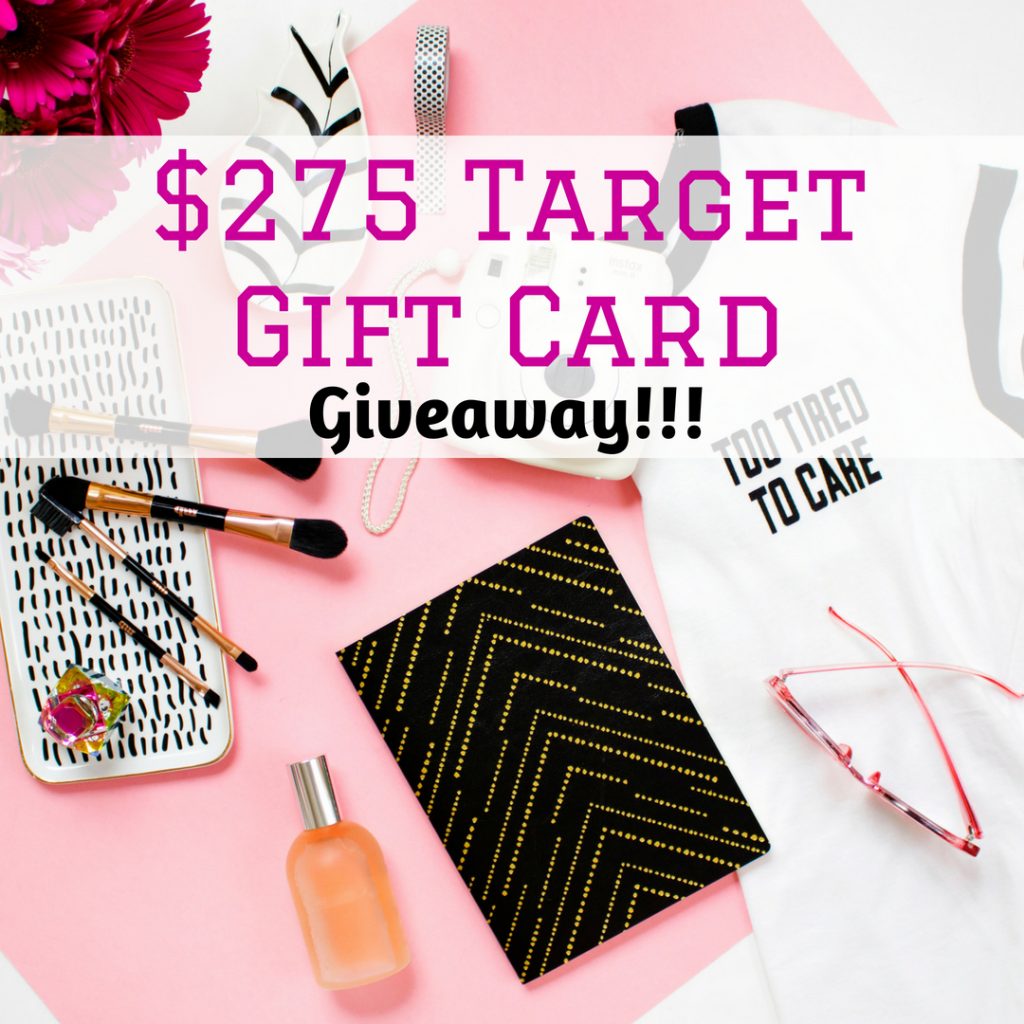 Want more chances to win? All you have to do is complete
all these tasks below which will enable you to unlock bonus tasks. And
these bonus tasks can be done every day. The more tasks you do means the
more chances you have of winning $275 Target gift card.
Good luck!
To enter
the giveaway, entrants will have to complete the required tasks as seen on
the Rafflecopter widget, and/or the optional social media shares &
engagement which can be done daily; no purchase required. This giveaway is
not endorsed by or in any way connected to Target. The prize is $275
Target Gift Card to be fulfilled by One Awesome
Momma. If One Awesome
Momma doesn't fulfill your prize, all the other host bloggers are
not responsible for prize fulfillment. This giveaway is open to U.S.
residents aged 18 and older only; void where prohibited. This giveaway
starts on August 7th at 12 AM EDT and will end on August 22nd at 12 AM
EDT. The winner will be selected randomly and will be notified through
email within 24 hours after the giveaway closes. Please
make sure to add giveaway@oneawesomemomma.com to your contacts to make
sure you'll receive the notification. If the prize is
unclaimed after 48 hours of notification, we will choose another winner.
Winner is responsible for reporting the value of his/her prize where
required.
Hope this helped some of you with back to school transitioning, good luck with the first day of school, and please let me know if you have any questions! Happy School Season!