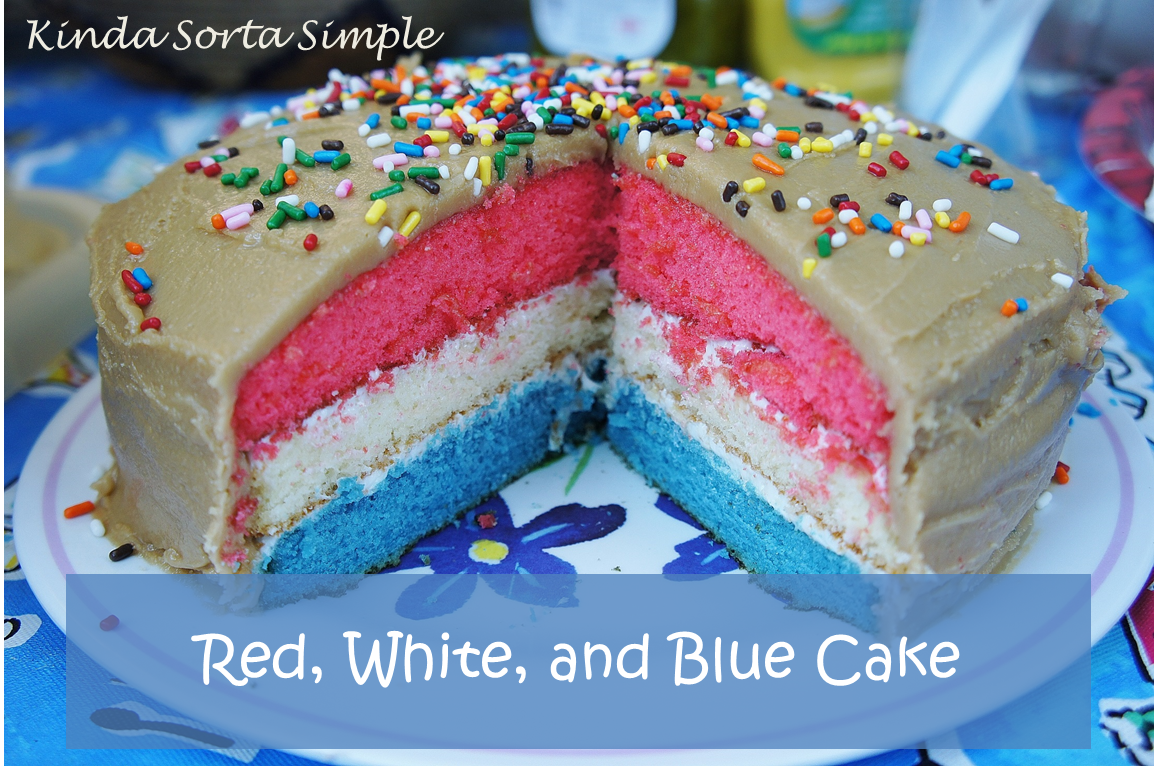 Red, White, and Blue Layered Cake
Today I wanted to share the cake we baked and decorated for last year's Independence Day celebration.  From the outside it looked like a typical cake.  My oldest frosted it himself with a homemade caramel frosting from a recipe his grandma gave to us and was delicious. Hence the light brown color. Inside the cake, however, was the surprise.  When you cut into the cake you could see the layers of the cake were red, white, and blue.  Fun!  The cake was a hit at the party, it tasted great, and was pretty simple to make.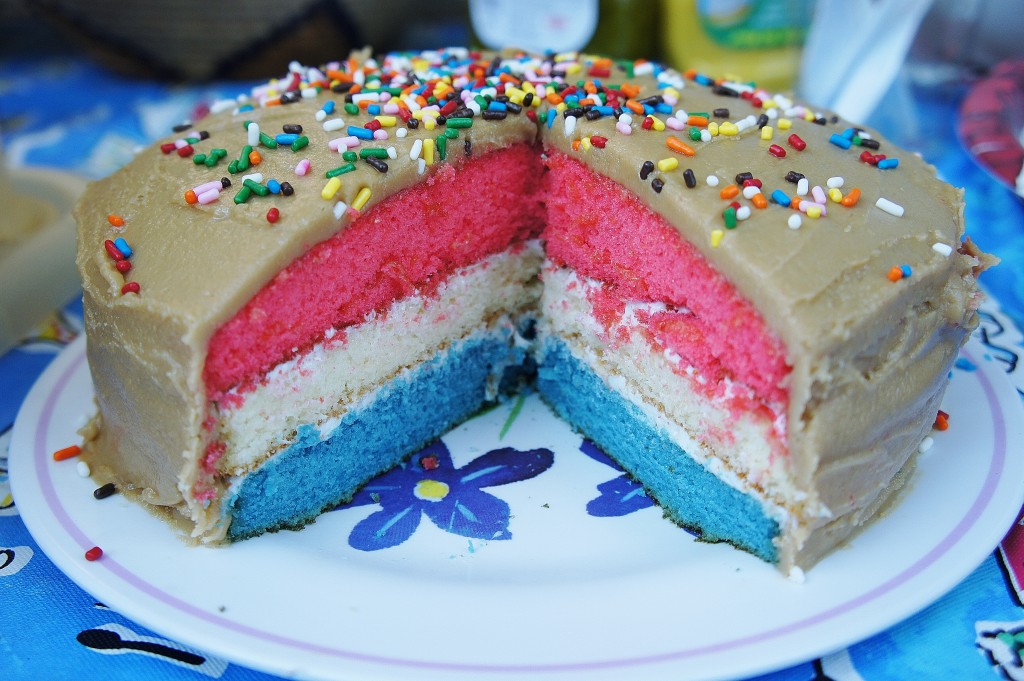 The Cake:
Batter:
We used a box of regular store-bought white cake mix.  We mixed the ingredients and prepared the batter following the box directions until all ingredients were combined.
Then we divided the cake batter into three parts, pouring each part in a separate bowl.
In the first bowl we added a few drops of red food coloring and mixed it up.  Use your judgement on the amount of food coloring- some food coloring is stronger than others.  We had to add quite a bit otherwise the batter looked more pink than red.
Repeat with the second bowl using the blue food coloring.
Leave the third bowl as is.
Bake:
Next, bake all 3 in the over according to the box.
When the cakes are done (toothpick poked in the middle comes out clean), take them out, allow them to cool, and when ready take them out of the pans.  You now should have a red, white, and blue cake!
Assembly and Frosting:
Make sure you have enough frosting to frost between the cake layers and also the entire outside of the cake.  We layered them red, white, then blue on the bottom.
After frosting the cake we added whatever sprinkles we had around the kitchen.
Here it is before we cut into it.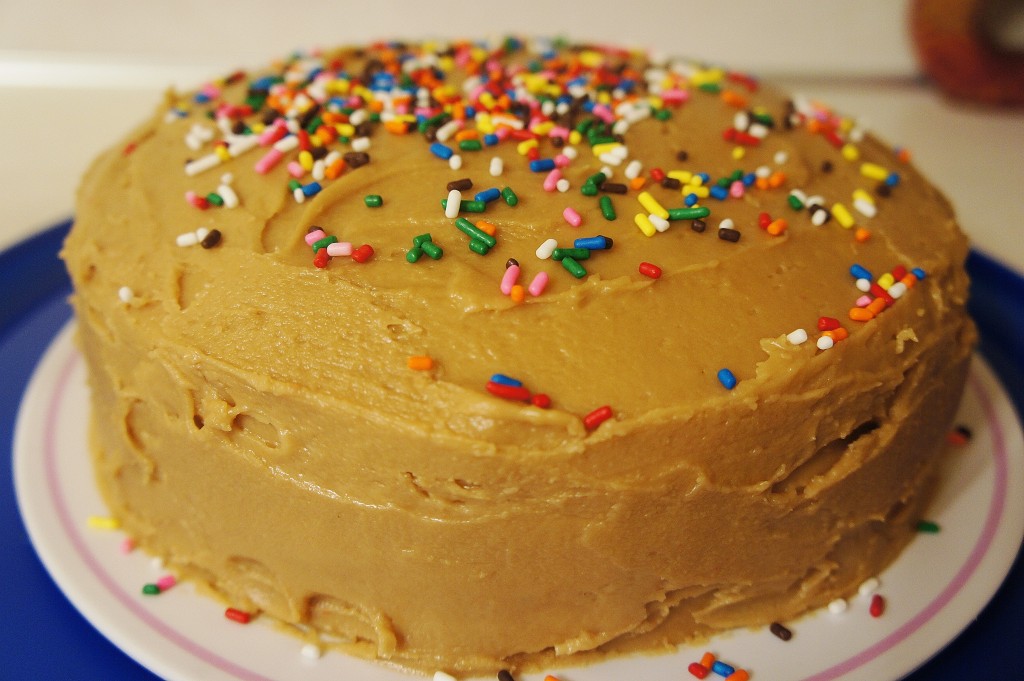 And the inside? Take a look!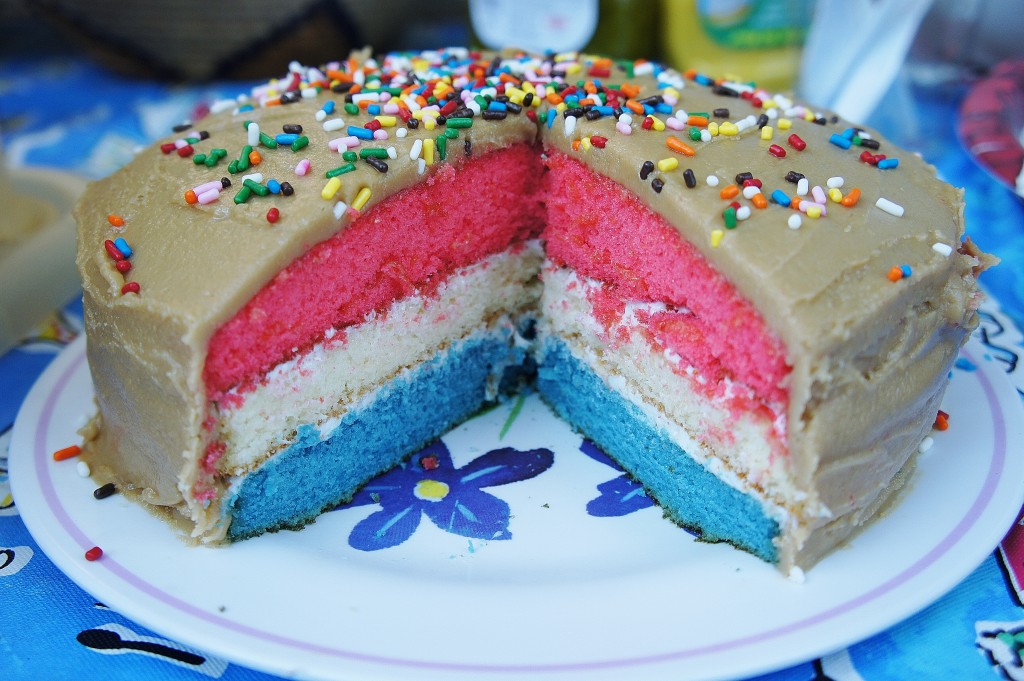 Ready to be eaten! Want a slice?
The cake was a big hit at the party and everyone enjoyed a slice of the tri-colored dessert.  Fun to make and just as fun to eat! What cake ideas have you tried lately?  Have you used food coloring in baking before?
Check out this Firecracker Cookie recipe for another fun Independence Day recipe!