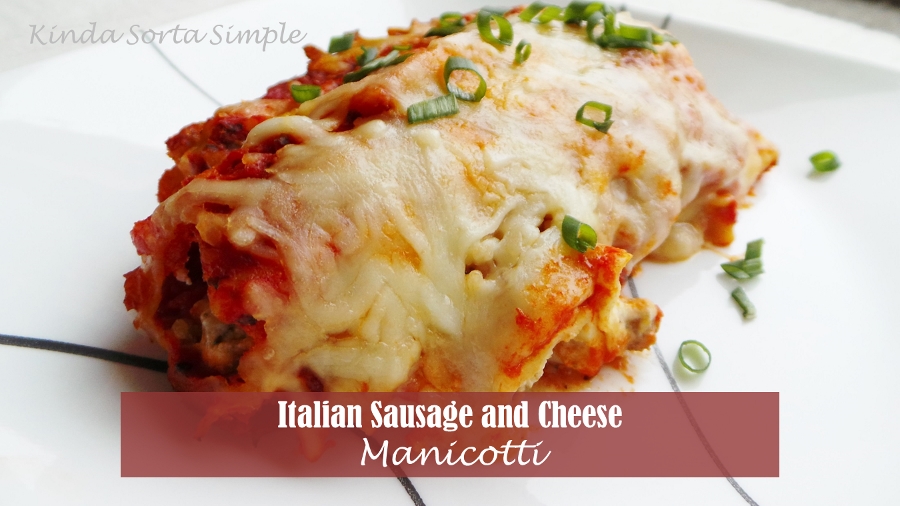 Italian Sausage and Cheese Manicotti
I don't know what it is about this colder weather that has me on an Italian food kick lately! Perhaps its the hardiness of the pasta and sauce or the warmth that emanates from the casserole dish.  Either way I am here to present a dish that is also Italian in origin and tastes like it was delivered to your table at a restaurant. Introducing Italian Sausage and Cheese Manicotti.
I am a cheese fanatic as it is.  Pasta stuffed with cheese with more cheese on top?  A resounding yes please!  This amazing recipe does take a bit of extra prep work with stuffing the pasta shells but I promise you it is worth the work.
If you are truly intimidated by the thought of stuffing shells I have read about using no-boil lasagna noodles as an alternative that are simply wrapped up.  I may be trying that very soon.
And yes, those are pieces of butter on top of all that cheese. Yum. All before it heads into the oven to bake.
Ready for the first glimpse as it comes out of the oven?  Did I say there was cheese involved?
The kids as well as the adults loved this dish.  Who doesn't love a crowd pleaser?
The recipe itself is actually quite simple.  Many recipes call for only cheese or beef and cheese however I went with sweet Italian sausage to give the dish a flavor kick and boy I am I glad I did.
Each bite exploded with cheesy goodness and pockets of flavorful sausage.  My husband's recommendation?  Add bacon to push it over the edge.  Another thing I will be trying next time.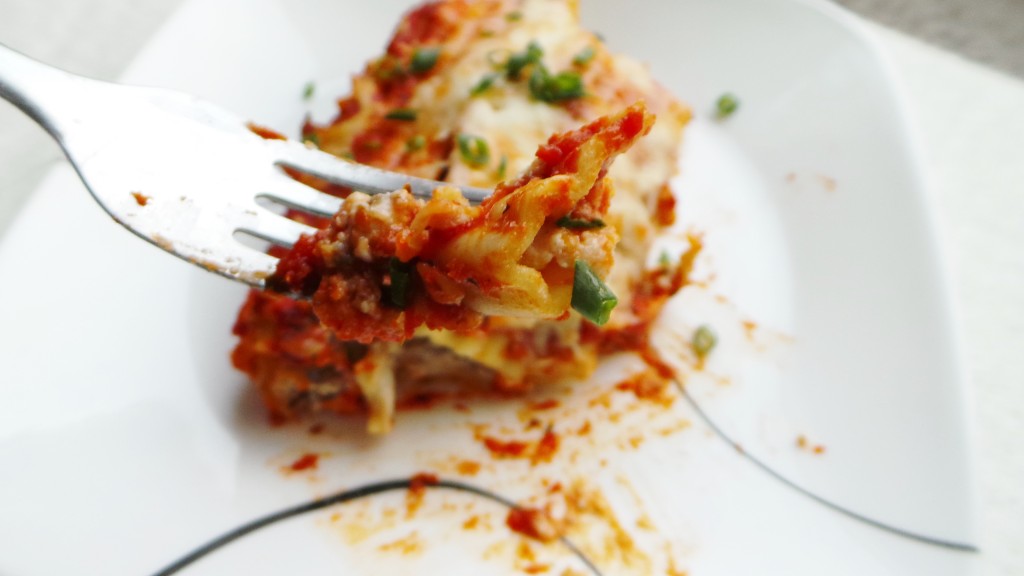 Ready to try this recipe for dinner tonight?

Italian Sausage and Cheese Manicotti
Author:
Kinda Sorta Simple
Prep time:
Cook time:
Total time:
This dish tastes like it came straight out of a restaurant! Perfect for when you have guests over for dinner and they'll definitely be asking for seconds!
Ingredients
4 tsp olive oil
1 small onion, chopped
1 lb sweet Italian sausage, casings removed
salt and pepper to taste
1 8 oz package manicotti (14 pieces)
1 15 oz container whole-milk ricotta
4 c shredded mozzarella
1 c grated Parmesan cheese
1 tbsp dried Italian seasoning
1 tbsp minced garlic
3 c marinara sauce
2 tbsp butter, cut into pieces
Instructions
Heat a medium sized skillet over medium heat and add 1 tsp olive oil, onion, and sausage. Cook until sausage browns and is cooked through while breaking it up, about 8 minutes. Remove from heat and allow to cool.
Boil water in large pot and add salt and manicotti until manicotti is slightly softened but not cooked completely through, about 4-6 minutes. Remove from water and place on an oiled surface such as a baking sheet so pasta does not stick to surface.
Preheat oven to 350 degrees F.
In a large bowl combine ricotta, 2 cups of mozzarella cheese, ½ cup Parmesan, and Italian seasoning. Then mix in the garlic, salt, and pepper. When combined stir in the cooled sausage mixture.
Spray surface of a 13x9 inch baking dish with nonstick spray. Pour 1½ cups of marinara sauce into the bottom of dish and spread around using a rubber spatula. Fill the manicotti shells with the cheese-meat mixture until full then place each stuffed pasta shell in a single layer in the dish on top of the sauce. Repeat with remaining shells then pour remaining sauce over, spreading the sauce out.
Sprinkle the top with the remaining mozzarella and Parmesan cheese then drop the butter pieces across the top of the dish. Bake in oven until heated through, about 30-35 minutes.
What are the dishes you turn to when the weather gets cold?  Have you tried no-boil lasagna noodles for any dishes?