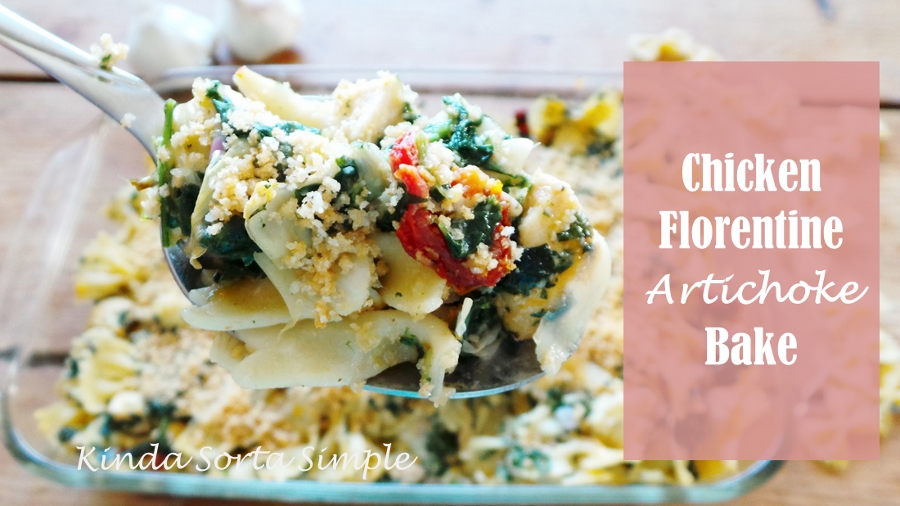 Chicken Florentine Artichoke Bake
There are nights when you want to cook a dish that is enough to feed a crowd but doesn't keep you in the kitchen all day.  Enter Chicken Florentine Artichoke Bake.  You can cut down on the time for this classic dish by using either rotisserie chicken from the grocery store or canned chicken meaning all you are really left to do is cook the pasta, combine all the ingredients, and let the oven do the rest.  The result? I meal that tastes great and looks like you spent the entire afternoon cooking.
This is also very kid friendly in that my kids not only love eating it but also enjoy helping to prepare it.
Ready to dig into a casserole dish that has the family asking for seconds? Here it is ready to be served nice and hot.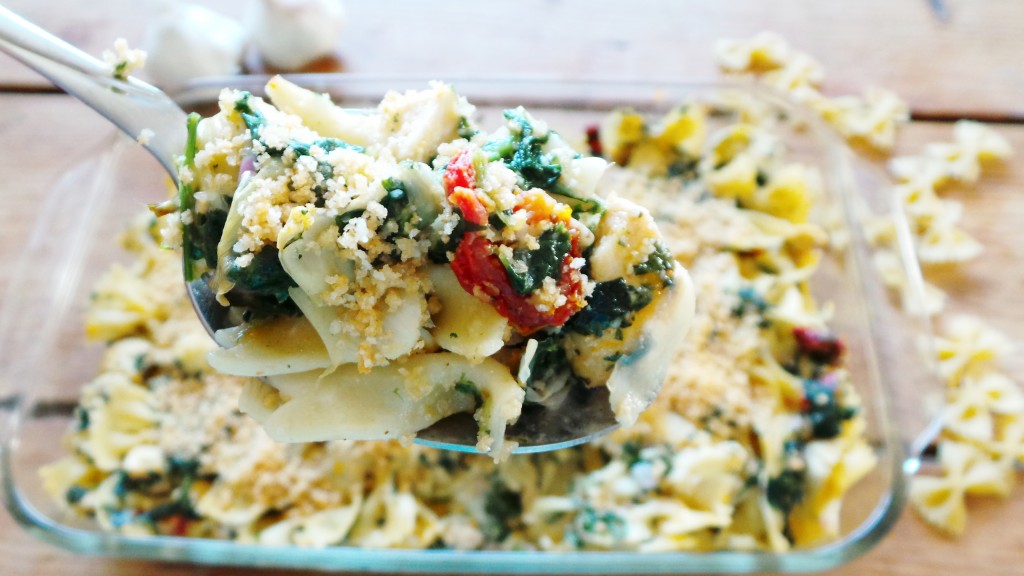 The following  picture shows the ingredients combined before I added the pasta.  Be sure to use a REALLY large bowl when combining the ingredients.  The first time I made it I used a medium sized bowl and had to transfer it to a much larger bowl for everything to fit!  Mistake= more dishes to wash.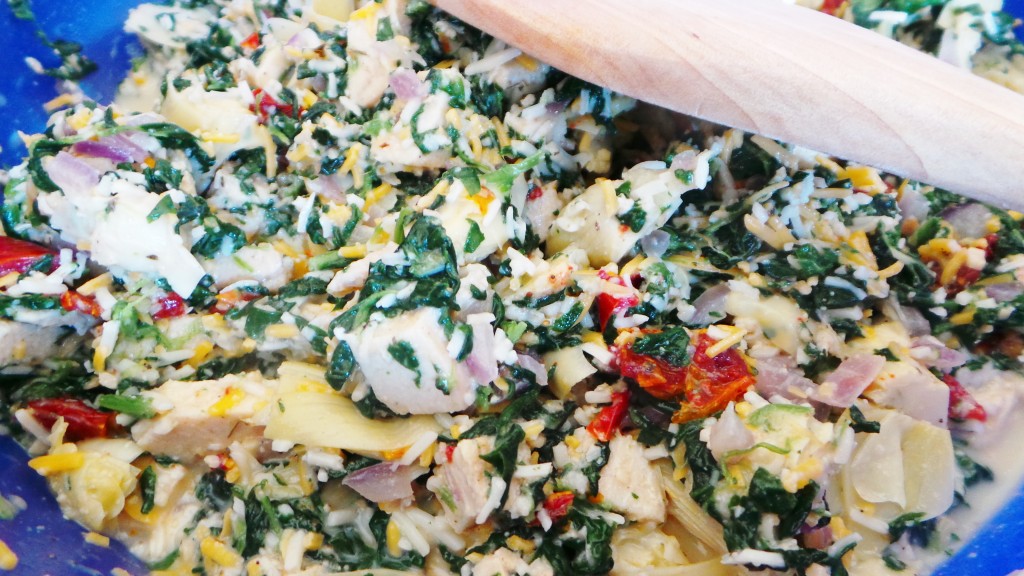 We often have company over and with the addition of a side of steamed vegetables this is always more than enough food for everyone.  In fact we typically have leftovers and take the extra to lunch the following day. I think it tastes even better the next day.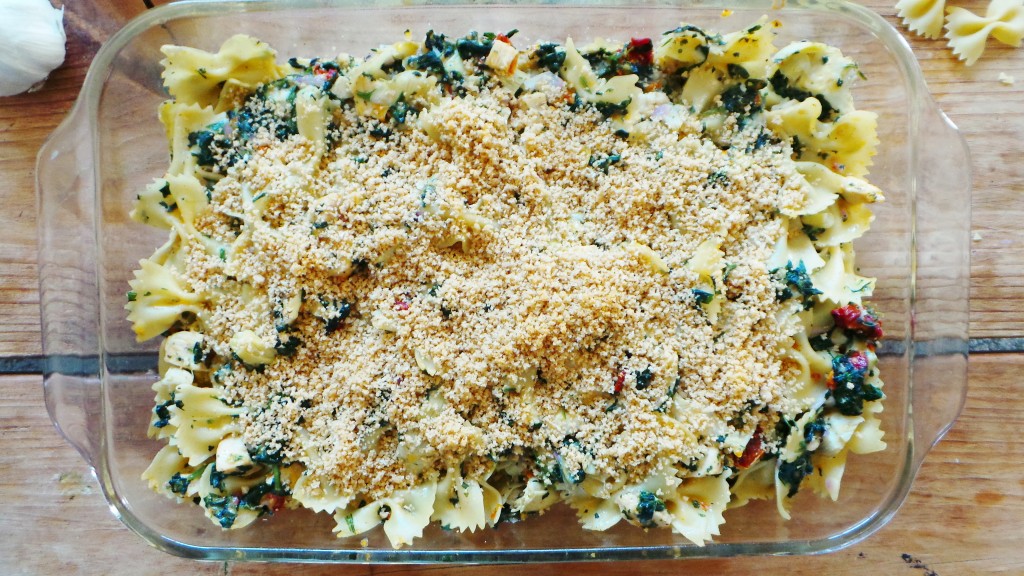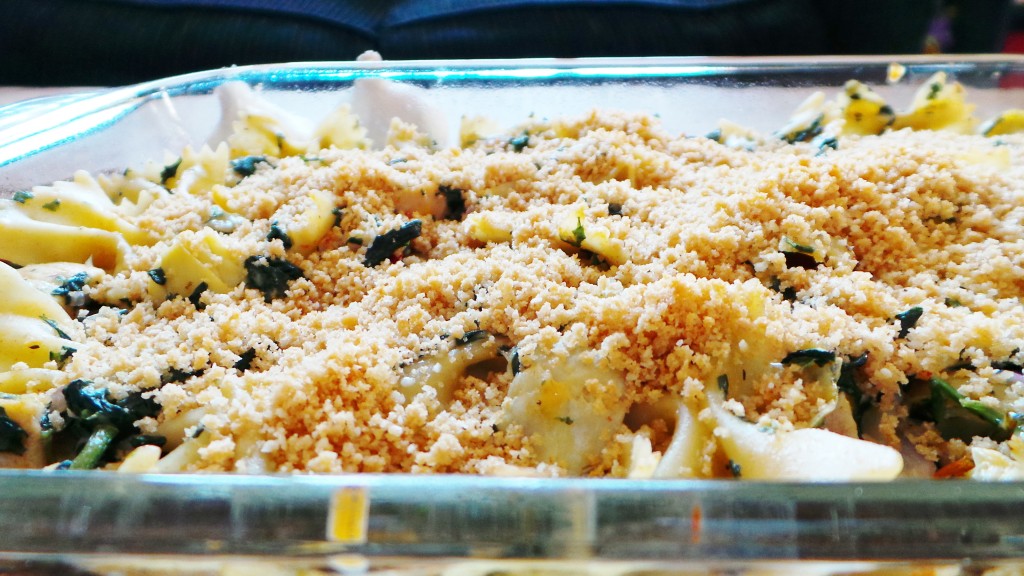 The panko breadcrumbs add a nice texture to the dish and the sun-dried tomatoes infuse it with a good deep flavor.
Ready to make some of this great food for yourself and your family?
Here is the recipe for Chicken Florentine Artichoke Bake as adapted from BHG.

Chicken Florentine Artichoke Bake
Author:
Kinda Sorta Simple
Prep time:
Cook time:
Total time:
This is a great dinner option that can feed a crowd!
Ingredients
8 oz dried bow tie pasta
1 small onion, chopped
1 tbsp butter
2 eggs
3 cloves garlic, minced
1¼ c milk
1 tsp dried Italian seasoning
¼ tsp crushed red pepper
2 c chopped cooked chicken
2½ c shredded Monterey Jack cheese
1 14 oz can artichoke hearts, drained and quartered
1 10 oz frozen chopped spinach, thawed and well drained
½ c oil-packed sun dried tomatoes, drained and chopped
½ c grated Parmesan cheese
½ c Panko or bread crumbs
1 tbsp butter, melted
Instructions
Preheat oven to 350 degrees F. Boil water in a large pot and add pasta for about 12 minutes, or according to pasta directions. In medium skillet add 1 tbsp butter and cook onion over medium heat for about 5 minutes or until tender, stirring occasionally then remove from heat. Set aside.
In a large bowl whisk together eggs, milk, Italian seasoning, ½ tsp salt, ¼ tsp black pepper, and crushed red pepper. Add in chicken, Monterey Jack cheese, artichokes, spinach, tomatoes, half of the Parmesan, cooked pasta, and onion. Pour into a buttered 13x9x2 inch baking dish and spread out evenly.
Bake, covered, for 20 minutes. Meanwhile in small bowl combine remaining Parmesan, Panko, and melted butter. Sprinkle mixture over pasta. Bake, uncovered, 10 minutes more or until top is golden. Serve immediately while hot.
What is a dish you make when you have company over?  What other casserole recipes do you like?