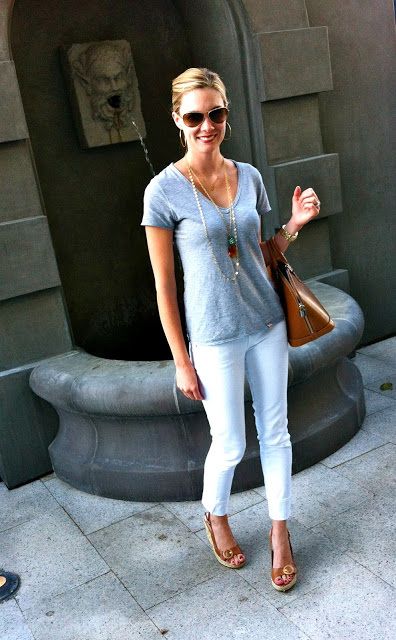 Fashion Friday: White Jeans
Happy Friday everyone!  I'm excited to share with you a wardrobe piece that I just recently added to my collection. White jeans.  I know I'm on a white clothing kick with my white t-shirt post last week but hear me out.  There is just something so classic, clean, and effortless about white jeans.  Here I wore them with a simple black top and tan wedges.
White Jeans – Similar Black Top – Similar Wedges
Just like the white t-shirt, white pants are versatile, can go with pretty much anything, and can transition from casual to dressy by simply changing or adding accessories.   And I understand the fear of wearing white: the STAIN.  Trust me, I have been known to spill coffee, my lunch, baby food, and more on my white pants but to be honest as long as you take a little more care in what you are doing you will be fine. Now, back to the look, let me show you what I am talking about. Here are some examples of outfits put together utilizing white jeans that I found around the web. You will see why I am a fan of white jeans!
Let's start with a casual way to wear the jeans.  A simple grey t-shirt and wedges.  I love that this is a very easy outfit that's perfect for shopping around town or lunch with friends.  Throw on some flats and now you're ready take a stroll around a lake or take the kids out for ice cream.
Here is another example of wearing white jeans for an everyday casual and comfortable look.   The light jacket worn over the striped t-shirt pulls the whole outfit together and gives it a very casual yet pulled together feel.  The shirt also adds a nice pop of color which is great for the summer.  Makes me want to stop and grab a coffee with my husband!
Who doesn't love an outfit that can transition from work to a night out such as this outfit.  The jeans paired with the striped blazer allow this look to be great for the office.  After work take the blazer off, add a colorful necklace and purse and you are now ready for dinner with the hubby.  And how cute are those sunglasses? LOVE!
We of course cannot forget about the most classic look of all, black and white.  Here a simple black top and sexy heels are all that's needed to make this outfit stunning.  So simple yet so beautiful.  Need I say more?  I think this girl is stopping traffic in this photo!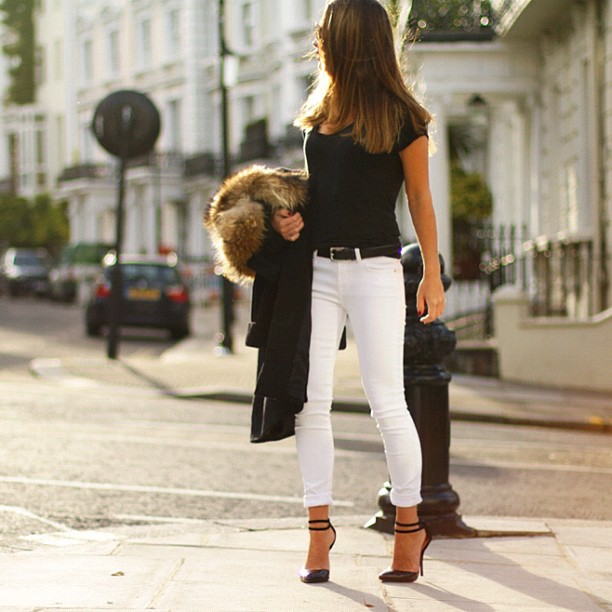 Now if you are like me you are already brainstorming how to work with the white jeans you already own and if you do not own a pair you may be wondering where to find some to rock like the ladies above.  Here are some of the places I found around the internet that have white jeans.  Just like the white t-shirt there are varying price points and styles.
These white jeans are from The Limited and are very reasonably priced, especially with them on sale!  These are a classic pair.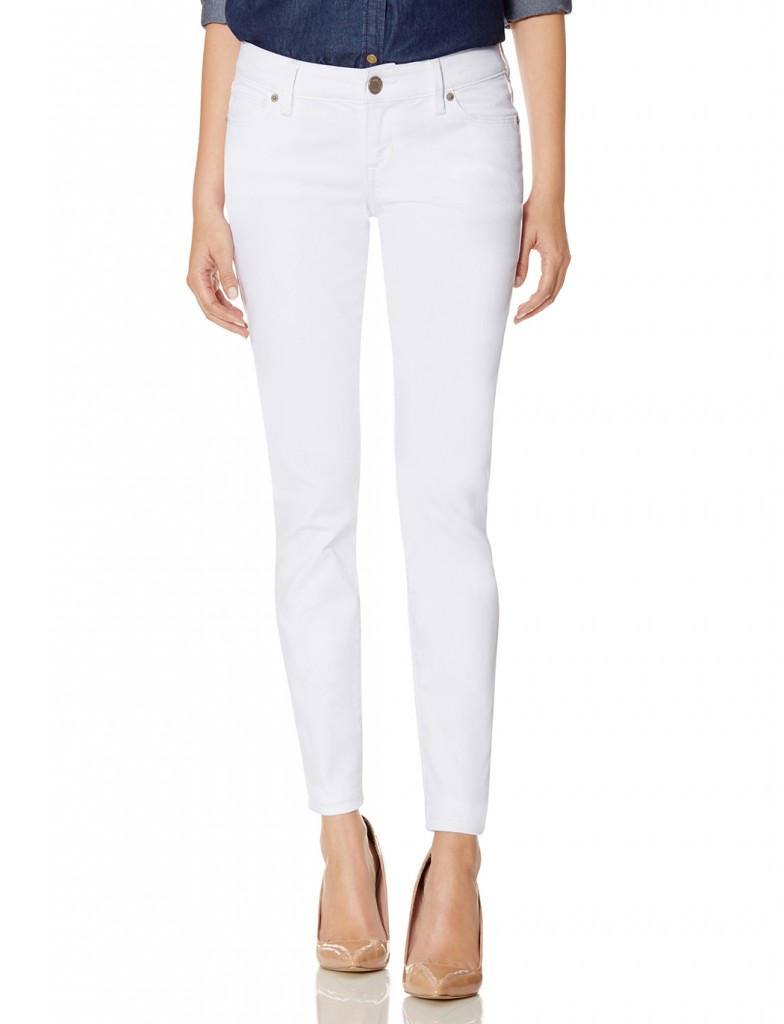 These mid-rise jeans are nice because they will help slim out the upper hip area and also cover up the backside when bending down for things, if you know what I mean! They also are a bit distressed in the knee area which I love because it gives them a worn edgy look.  Way to go Old Navy!
Women's The Rockstar Mid-Rise Jeans
Ah, Michael Kors.  Amazing watches, purses, and white jeans.  I love that with a brand name like this quality of the pants is undoubtedly good.  I like the slim fit of these on the model and could imagine wearing these on a family outing.  This particular pair is available at Macy's.
Ok, are you now ready to grab those white jeans, a simple top, and some flats?  How about your white jeans with a pair of heels, a fancy top, and a sleek purse?  Any way you put it together white jeans give a look a classic, effortless feel and I recommend everyone have a pair in their closet.
How would you wear a pair of white jeans?  What would you use to accessorize?  Let me know in the comments below how you would put together an outfit starting with a white pair of jeans.  Have a wonderful weekend!