Spinach and Broccoli Alfredo
You know the scenario: you get home after a day of work and are now in charge of making food for some hungry little mouths.  As I hurriedly search through the pantry I am looking for something that is quick, simple, and involves whatever ingredients we are already have.  Cue here: Spinach and Broccoli Alfredo.  This has become a staple dish for dinner that is perfect for evening such as the one described above.  Simple, tasty, and everyone is happy!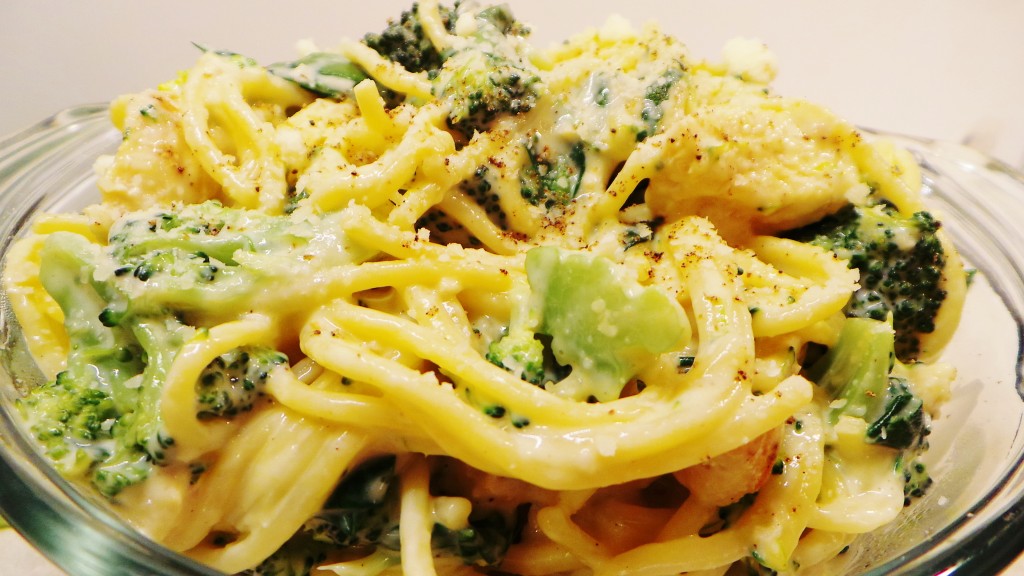 I tried to come up with something that would combine the cooking of multiple ingredients in the same pots/pans to cut down on dishes and time.  For example I cooked the broccoli in with the pasta and tossed in the spinach with the alfredo sauce.  Now please don't judge, I used alfredo sauce from a jar just for the sake of time and lack of ingredients for 'from scratch' alfredo pasta sauce.  However, if you are one that can throw some good ol alfredo sauce together please do so in place of the jar, I am sure it tastes even better!
The result? A dish that the family has consistently requested for dinner.  In fact I made this the other night for St. Patrick's Day and added some green food coloring to make it extra green for kicks!  You can make it with or without the chicken and I would recommend trying other veggies such as peppers.
Ready to see how simple and easy this repeat recipe is? Check it out below!

Spinach and Broccoli Alfredo
Author:
Kinda Sorta Simple
Prep time:
Cook time:
Total time:
This recipe is great for any night of the week whenever you want something that is simple but very flavorful.
Ingredients
½ Lb pasta noodles (I used thin spaghetti but any would work)
1½ C chopped broccoli
3 chicken breasts
Salt and pepper to taste
2 Tbsp olive oil
1 jar alfredo sauce
2 C spinach leaves (I used fresh but frozen would work as well)
1 Tbsp minced garlic
Instructions
In a large pot of water cook the pasta noodles according to package directions. In addition, add in the chopped broccoli about halfway through the pasta cooking process. Meanwhile, heat a medium size frying pan on medium heat, add a tbsp of olive oil, season chicken with salt and pepper, then cook chicken until browned on both sides. Set aside to cool.
When noodles and broccoli are done, strain then return pot to the stove over medium low heat. Add 1 tbsp olive oil and minced garlic to pot, stir until fragrant about 1 minute. Stir in the alfredo sauce then add the spinach and stir after about 1 minute. Continue to stir until the sauce is heated through then stir in the pasta and broccoli. As it heats up, cut up the cooled chicken breast into small strips and add to the pot. Stir thoroughly making sure everything is fully coated with the alfredo sauce. Serve hot!
Sounds pretty good, heh? This simple meal has saved me more than a few times on those weeknights when you want to put together something that is quick, easy, and super yummy!
What is your go-to weeknight dish?  What kinds of dishes have you put together on the fly?