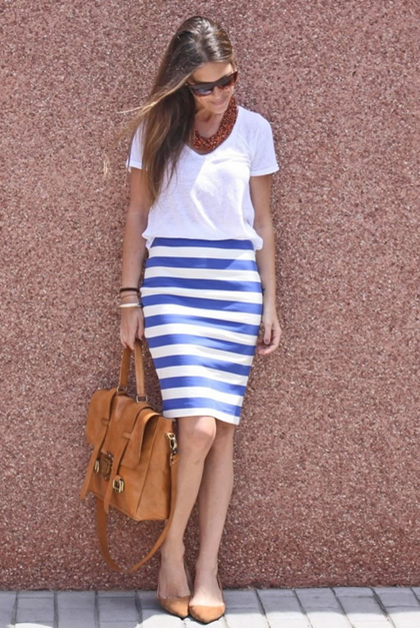 Fashion Friday: The White T-Shirt
Its Friday, the sun is shining and begging me to come outside! What to wear on a beautiful day like today? Then I see it: my white t-shirt.  Simple. Clean. And so easy to throw on with everything from a skirt, to shorts, to leggings.  The white t-shirt is such a basic staple that needs to be in every woman's closet.  Why? Because it can be paired with almost anything and can transform itself to fit any situation or look just by changing and adding accessories.  Going out on a date? Throw on a skirt, colorful necklace, and some heels with your t-shirt.  Running around with the kids?  Simple pendant necklace, sandals, and skinny jeans and your t-shirt.  The possibilities are endless!
Taking a peek at Pinterest I came across so many various looks that were all paired with a white t-shirt.  Take a look!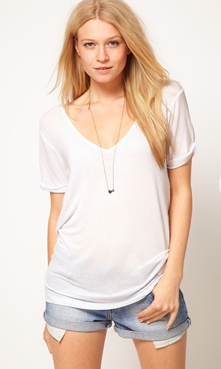 Ok, this is what I'm talking about! How much simpler can this outfit be? This screams casual, summer, and can be a go-to outfit for any outing.  A pair of jean shorts, a pendant necklace, and the shirt give this a look of sexiness AND comfort.  I would wear this all day every day if I could get away with it.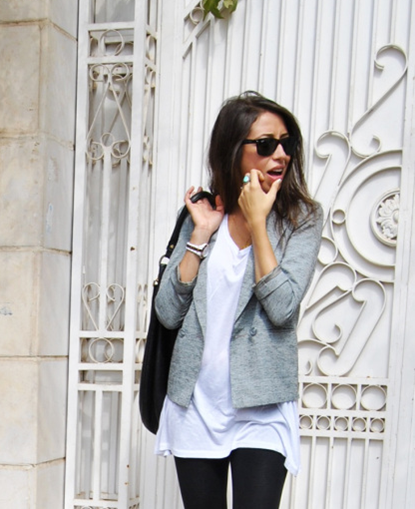 Let's talk about effortless yet chic.  Leggings make this outfit comfortable but throwing the blazer over the shirt gives it a very polished feel and could be worn to work, on a shopping trip, or even a night out when paired with some heels.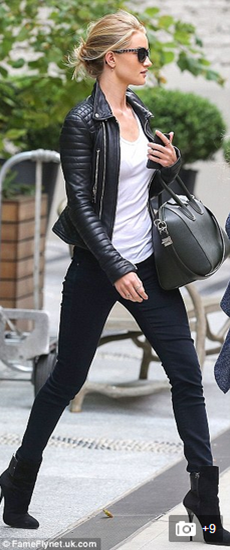 This photo, starring Rosie Huntington-Whitely, proves that a white shirt is anything but boring when worn with the right pieces.  The leather jacket is what really gives it the edgy look. And the boots? Well, to say I'm obsessed with them is an understatement. Dang, they look good!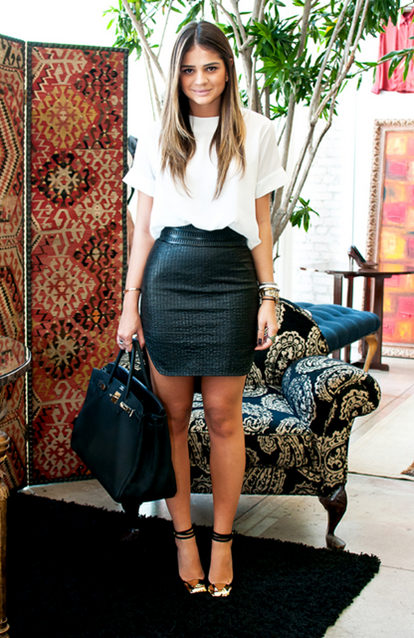 Here's another way to combine a plain white t-shirt with leather while keeping the look very feminine.  The skirt is a show-stopper combined with a simple bag and heels.  Loving the black and white combo with a hint of gold in the shoes.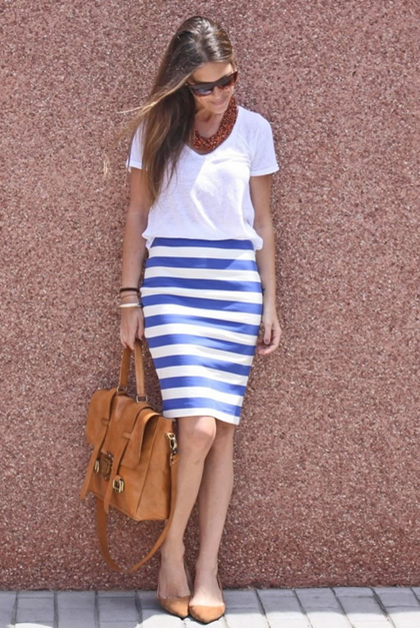 Last but not least is this summery look that would be appropriate for a daytime outfit with the comfy shoes and neutral bag (I know I could fit all sorts of goodies in there).  How simple to pair a striped skirt with a white t-shirt. LOVE! This would be fun to wear walking around downtown shopping or a casual lunch with a friend.
The other great thing about white t-shirts is that they come in at all different price points and styles.  Who knew there was so much variety in the style and shape of a white t-shirt? I grabbed a couple of t-shirts from different stores below to get some ideas of what there is out there to purchase.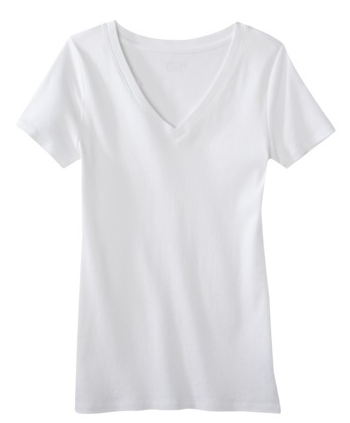 Women's Ultimate V-Neck Tee $9
This is actually the white t-shirt I personally own and love.  Inexpensive, yet is very soft and comfortable and I purchased it at Target.  Not to mention I am able to throw it in the dryer without it shrinking! Love, love, love this shirt.  Target also has it available in a scoop neck as well as other colors.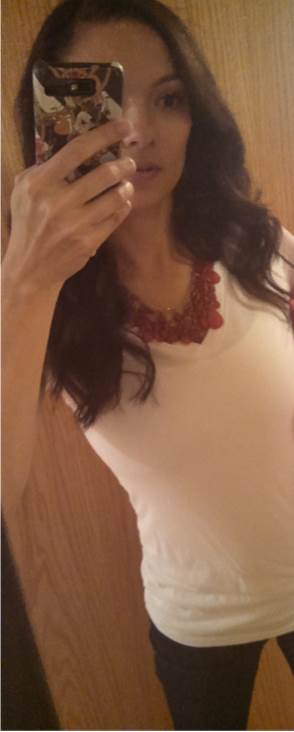 Here I am wearing it with a pair of skinny jeans, tan wedges, and a red necklace (thank you Aiko!) on Father's Day.
Available at H & M at such a low cost! I love the worn look of the shirt and the little pocket for detail.
Now don't forget, with a white shirt comes the responsibility of wearing the right undergarments.  No need to be showing all you got through your shirt, if you know what I mean.  I know there are many nude bras that are perfect for white t-shirts but take notice as to how sheer your shirt is as well.  I am pretty paranoid of anything showing through so I often wear a white tank top underneath to be extra safe.
So ladies, ready to take your white t-shirt out of the closet and dress it up? Figure out how many different looks you can achieve by combining it with the accessories you already own? I know I'll be trying a t-shirt and skirt combo this weekend.  Enjoy your weekend and let me know how you wore your white t-shirt!