Hello there and happy Thursday! Are you all ready for the 4th of July holiday that is coming up in little more than a week? I have been tracking down recipes and ideas that are simple, tasty, and fun. Next week I'll be showing the cake we made last year that had red, white, and blue layers inside but for today I am excited to share some easy cookies that look great and are fun to eat with an added surprise on top. Can you tell from the picture below what that surprise is? Read on to find out!
We started with a box of Pillsbury Stars & Stripes Funfetti Cake Mix to make the cookies. The mix came with red, white, and blue candy bits that are baked right in the mix and had a recipe for cookies on the side of the box. You can substitute here whatever cookie recipe you like, with or without the candy bits. I just thought the extra bit of color made the cookies that much more festive. The recipe on the box called for 2 eggs, 1/3 cup of vegetable oil, and the cake mix. We simply followed the recipe and came out with these scrumptious goodies.
After allowing them to cool we frosted them with a white vanilla frosting. Originally I was going to use a made-from-scratch frosting recipe but realized we were almost out of powdered sugar. We instead went with Pillsbury Funfetti Stars and Stripes Frosting and it worked out well. Next was the fun part- sprinkles! But not just any sprinkles. The frosting we purchased came with some neat red and blue sprinkles and then we added the special surprise to push these cookies over the edge. Wait for it…. Pop Rocks! We bought a few packets of red Strawberry Pop Rocks to sprinkle on top of the cookies to give them an extra SNAP! CRACKLE! POP! Oh wait, sorry, that's Rice Crispies. Well you get the picture.
I found the idea on Parenting.com and was curious to see how they would taste with the cookies. The kids had a blast helping make the treats every step of the way. Here's how they looked after frosting and sprinkles were added.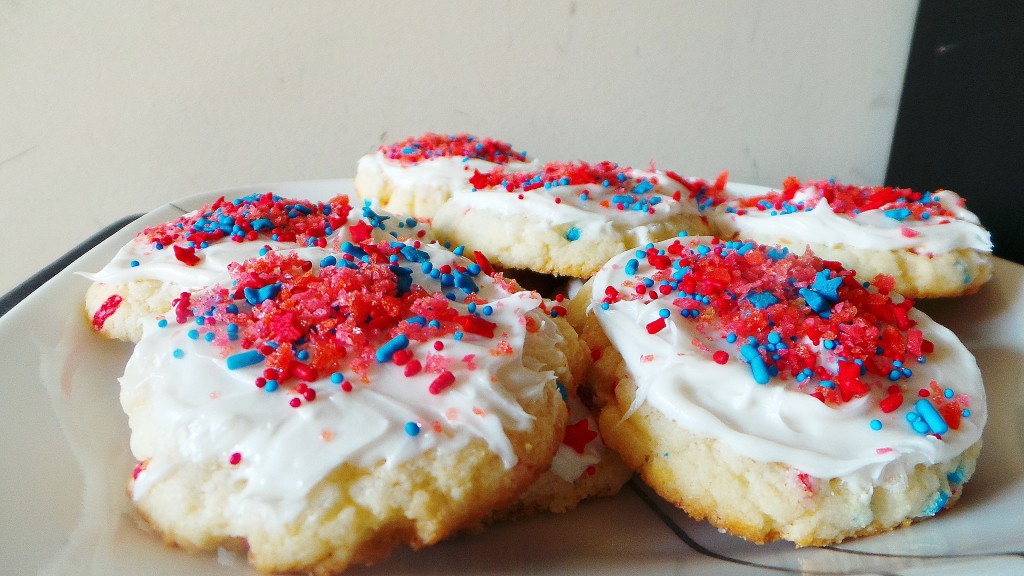 Look good, heh? The verdict after eating a few Firecracker Cookies? They tasted great! In fact, the Pop Rocks added a really great additional strawberry flavor to the cookies. And the kids? They LOVED them. They could not get over the popping in their mouths and I had fun eating them too. It seems we are never too old for some Pop Rocks. We kept holding our mouths open to hear the popping noise and I caught the hubby with his mouth open listening for pops a couple of times too. Shhh, don't tell his friends! lol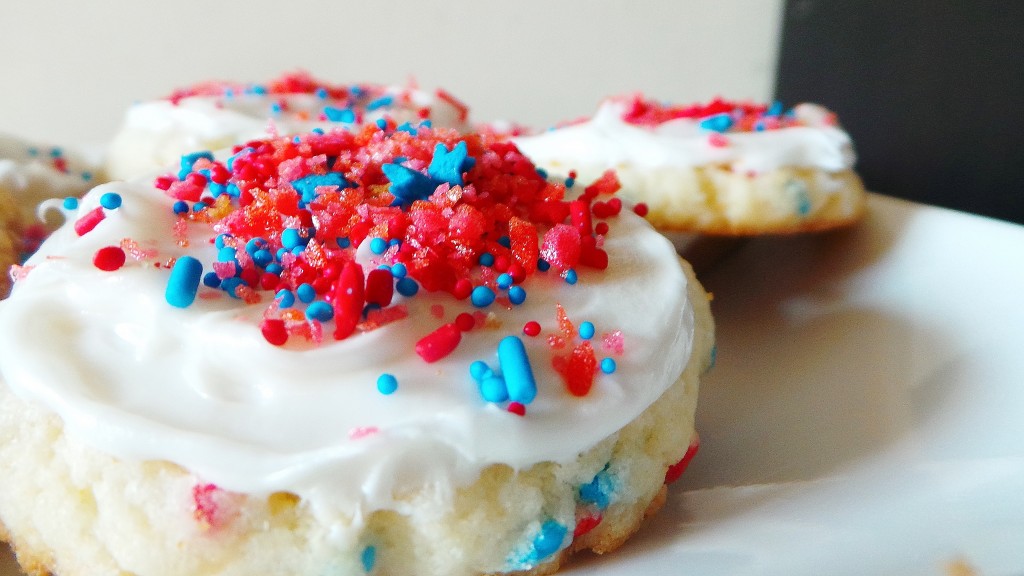 Project Firecracker Cookies? Success! They were easy and fun to make with the kids, look awesome for the 4th of July, and best of all they tasted great! We will definitely make these again for Independence Day. What tasty foods are you planning to prepare for the upcoming holiday weekend? Have you ever tried a recipe that turned out better than you had anticipated?