Hi everyone, hope you had a great start to the week! The warm weather is finally starting to set in here meaning hot coffee drinks will be replaced with cold beverages. A favorite refreshing summer drink for me is an iced chai latte which is cool, creamy, and light with hints of spices. As easy as it is to order iced chai from a Starbucks or Caribou coffee shop and feed my addiction love of iced chai, it most certainly also feeds a growing hole in my wallet with a large iced chai easily costing around $4. So, my solution to this craving? Make them at home! Iced chai lattes are very easy and quick to make, especially if you use a concentrate found in many local grocery stores.
There are a lot of different chai concentrates available to purchase and as far as which to choose it really comes down to personal preference and taste. For example, the two that I am most familiar with are Tazo Chai, which to me has a bit more of a spicier taste and Oregon Chai, which typically tastes sweeter. Both are great and I know they are often used in various coffee shops (I was a barista for a couple of years during college- pretty sure I can attribute my love of chai to that job!). 🙂
Since I live right next to a Costco I decided to go with the Tazo Chai, available in a 3 pack and pretty inexpensive.
Directions for this quick and easy summer drink: Pour concentrate in a glass over ice, add an equal amount of milk, drop in a cute straw and voila, a wonderful and refreshing summer drink! You could also use the same directions for a blended drink by tossing it all into a blender if you are looking to make more of a frozen beverage. And for all of you out there who just can't stay away from a hot drink the chai can also be heated up.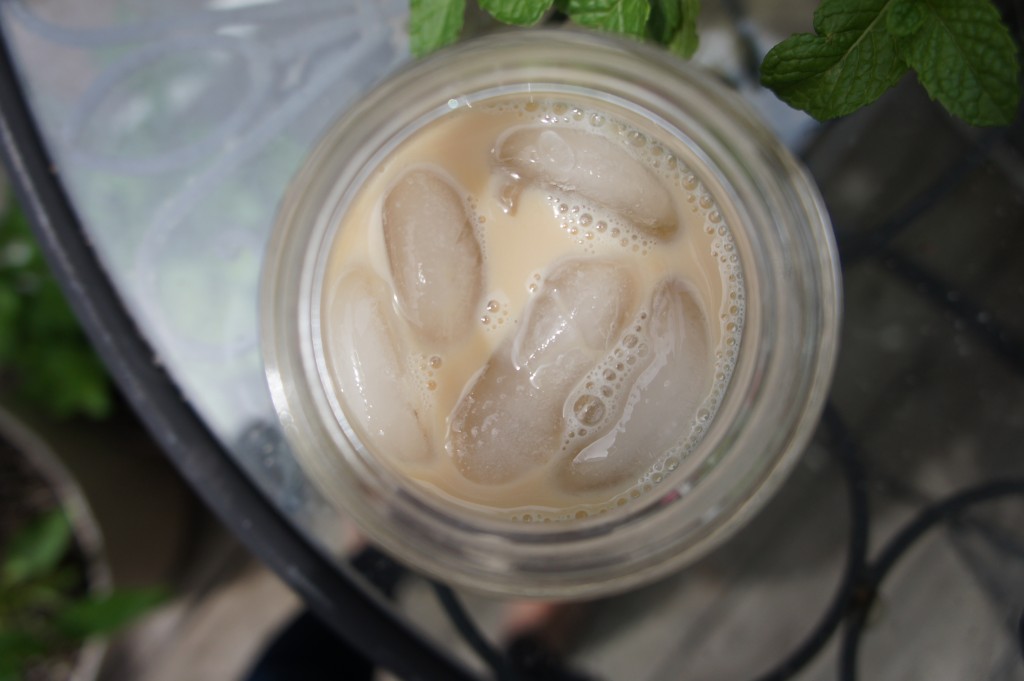 And here it is! I just popped in a straw, took a seat outside, and sipped on the flavorful and refreshing drink. So easy and so yummy!
The only downside? I tend to drink them down too fast! Already time for me to refill my mason jar.
What about you? What is your go-to summer drink? What drink seems to keep you cool during the hot days? I know Pinterest has so many cool drink ideas that I'm excited to try out. Enjoy your Tuesday!