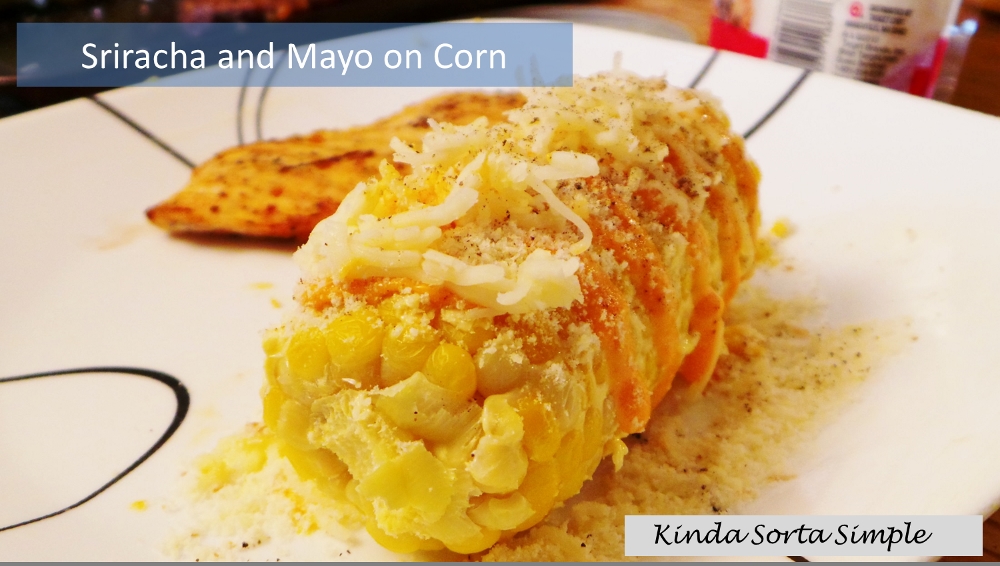 Yes, you read that right, Sriracha mayo on corn.  So, so, so GOOD! Summer for our family always means lots of corn on the cob which also equates to finding different toppings to make it taste even better.  Last night we experimented with a few different toppings and the clear winner was a combination of Sriracha and mayo, with the addition of parmesan cheese and a shredded Italian cheese mix.
Just mix 2 Tbsp of Sriracha with about a cup of mayo.  Definitely adjust the ratio of Sriracha to mayo depending on your preference of heat.  You can also add some garlic powder to add even more flavor. If you prefer to just buy the Sriracha mayo, we also use Lee Kum Kee Sriracha Mayo on our corn as well as on Korean tacos (recipe coming soon!) and burgers when we do not have mayo available.  We buy this at the Korean market but I have also seen it in other stores. After we boiled the corn (the grill was occupied by burgers) we simply slathered the corn with the spicy Sriracha mayo, then added whatever cheeses we desired.
Yum! Sriracha mayo on corn: so full of flavor and works perfectly with the sweetness of the corn.
What toppings do you like to add to your corn on the cob?  What other foods do you use Sriracha on?