We always hear and talk about the Little Black Dress but this shimmery white dress definitely rivals any little black dress I own! This maternity dress stands out by itself with the color, the shimmer, and the flattering silhouette. What more could you ask for?!
I had been searching for some maternity dresses to wear on my dates with the hubby however everything I had tried on was either too tight, too short, or just not flattering. Enter PinkBlush Maternity where I found this amazing dress, among other maternity clothes, that was exactly what I had been looking for.
Great timing too because Valentine's Day is coming up in less than a month and now I don't have to worry about what to wear, just what I am going to eat! lol I love when I can find cute maternity clothes that are for more than just everyday wear. A tip for dressing up a color like white is to add a simple accessory. Here I added a black and gold necklace that plays off the shimmer in the dress.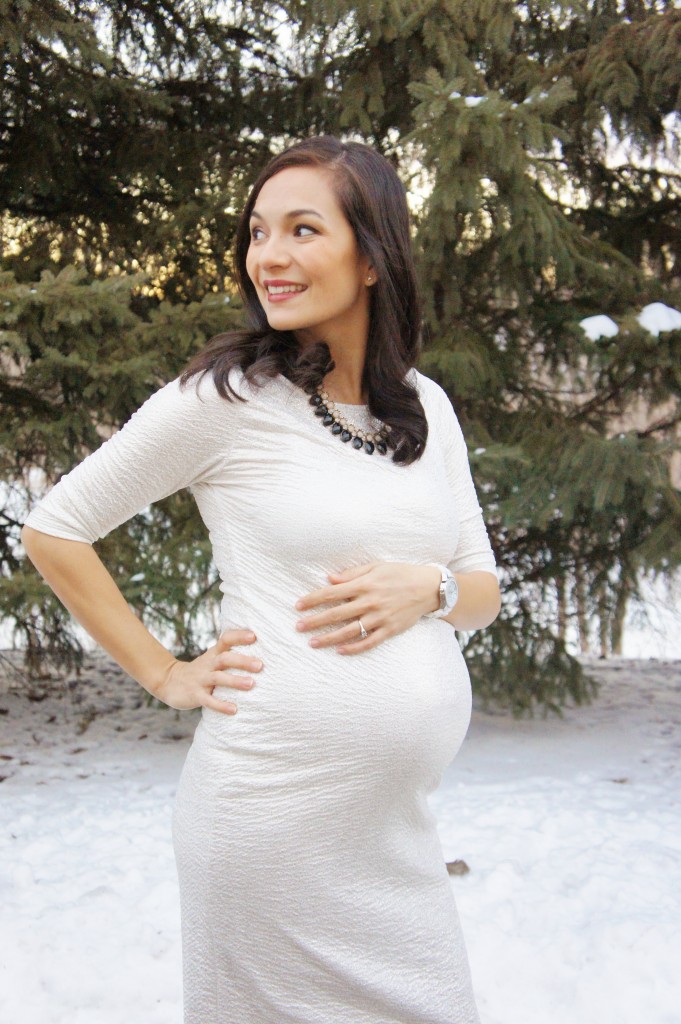 I'm thinking some simple black heels, a black and gold clutch, and that necklace will go perfectly with this dress when we go out for Valentine's Day. I felt confident, beautiful, and comfortable in this dress which at 6+ months of pregnancy makes me extremely happy! The other upside about this dress is because it is stretchy I will be able to wear this after I have Baby Archer as well. Yay!
What do you look for in a dress for a special occasion? Do you try to wear trendy maternity clothes during pregnancy?