We are midway through our No Meat May and I am excited to share with you this amazing dish that packs tons of flavor and is actually quite quick to prepare, cook, and put on the table. What better dish to eat with summer coming up than a refreshing bowl of Shrimp Pad Thai? I love that you can customize the toppings to your taste and change up the protein with chicken or tofu, or even omit the shrimp all together.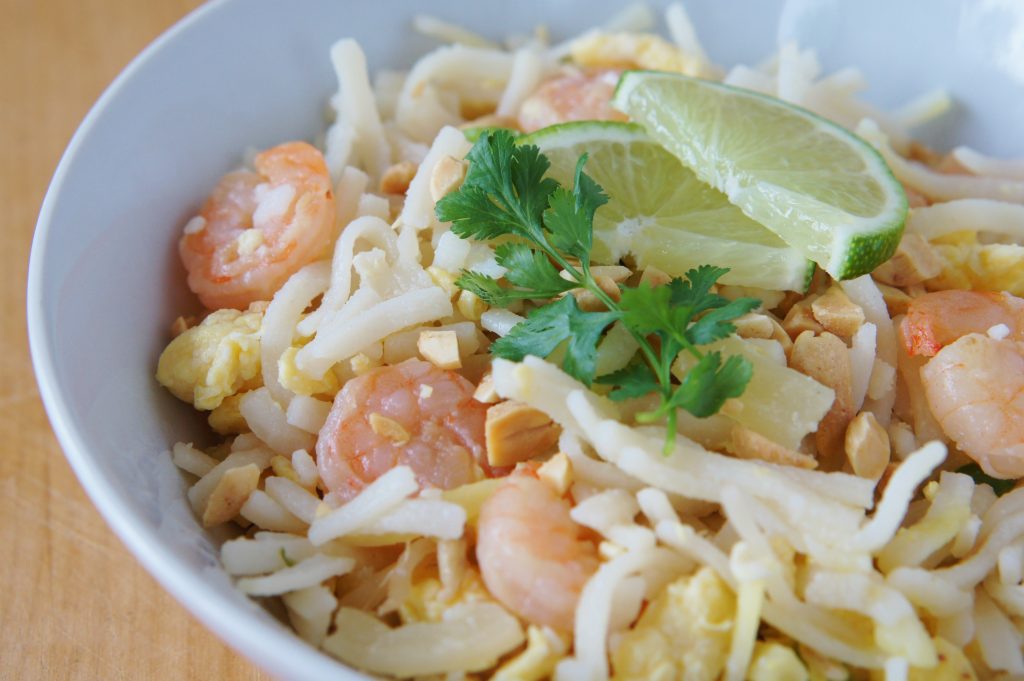 The flavor of the Shrimp Pad Thai packs a punch but adding a squirt of lime puts it over the edge. We already had all of the ingredients on hand, however if you do not regularly have Asian ingredients in your pantry and fridge, they are all easy to find at your local grocery store.
The noodles I used are rice stick noodles which cook a bit differently than your standard pasta noodles. Instead of boiling the noodles until they are done, you actually boil the water in a pot, then take the pot off the heat, add the noodles to the hot water, and let the noodles steep in the water for about 10 minutes. Of course when making your own noodles, be sure to follow the directions on the noodle package as each brand of noodles could be different.
A word of caution, be careful to not overcook the noodles, which is easy to do since the noodles continue to cook in the pan after straining them from the pot. I made this mistake and although still tasted great, the noodles were a bit softer than I would have preferred.
My husband's favorite part about this dish are the chopped peanuts sprinkled on top. Adding the peanuts, cilantro, freshly squeezed lime, and Sriracha makes this meal full of flavor and crunch!
Enjoy! What shrimp recipes do you have?