Hello all! Just wanted to give an update on how having no meat in May has been going. If you missed my post where I explained what my husband and I are doing and why, read about it here where I explain some of the benefits and resources I found that back why we decided to go a month without eating meat.
So far it has been going great! Now, it is not to say it has gone without challenge, especially since we both typically ate some form of meat on a daily basis prior to this month. For the most part we've been able to easily substitute other foods and seafood in place of our usual beef or chicken, however the couple of times it was really a challenge was when we were out with other people and a meaty choice sounded especially tasty. There were just times where a good beefy burger or steak sounded absolutely heavenly. But we stuck to our guns and were able to stay disciplined in those instances.
Some of the foods that have been on our dinner menu these past two weeks include shrimp alfredo, fish tacos, tilapia with rice, ahi tuna poke, shrimp pad thai, spicy peanut noodles, pan seared salmon, as well as cheese pizza and Korean japchae noodles. Lunches often consisted of fruit filled protein shakes, green drinks, lots of greens in salads, and plenty of fruits and vegetables, with the occasional grilled cheese sandwich! For Mother's Day we ate at a local restaurant and I had a very tasty lobster grilled cheese, something I would love to duplicate in the future. Breakfast was often  savory Asian oatmeal and eggs and the occasional fruit and veggie protein shake.
This week I will be sharing a recipe for Shrimp Pad Thai which was a great way to use seafood in place of chicken. I am also excited to make jjampong sometime soon, a Korean spicy seafood noodle dish that I loved eating when I stayed in Korea years ago.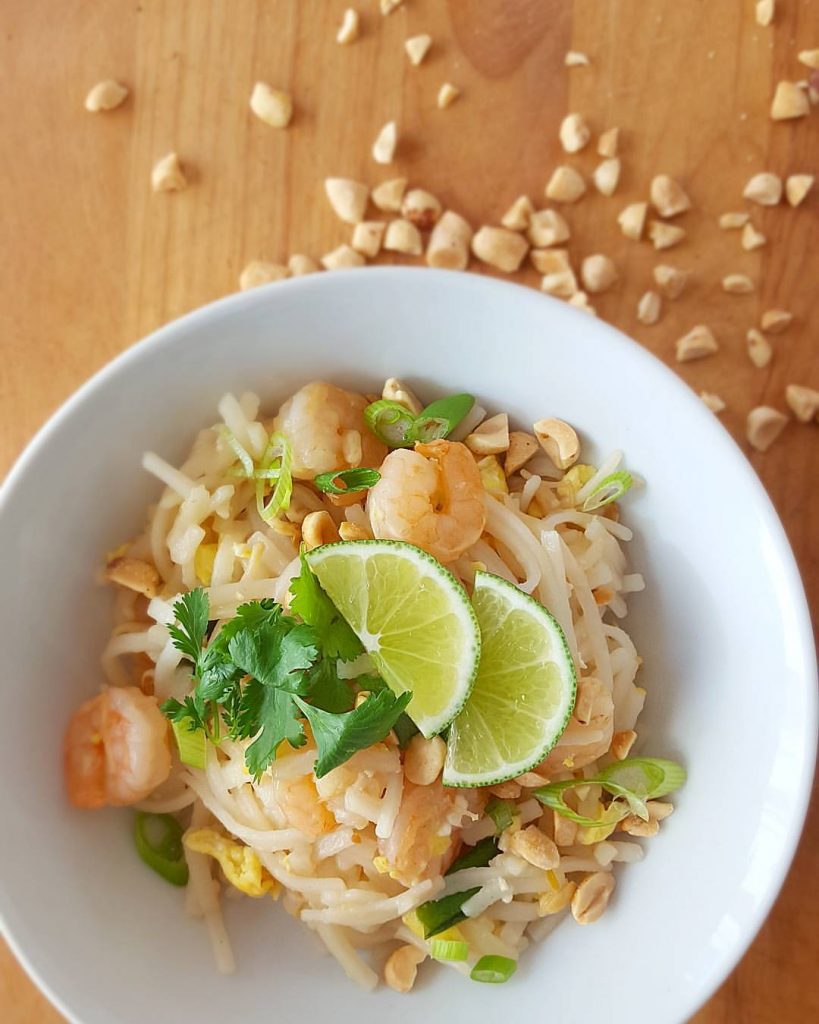 I feel great thus far and this has been a challenge that has really made me think about what I eat on a daily basis and assess how often I default to chicken or other meat when I am hungry where vegetables would have done just as well. This has been a great experience so far and I am looking forward to seeing what other new meals are in store for the next two weeks!
What are some non-meat dishes you enjoy? Would you ever try to go meatless?