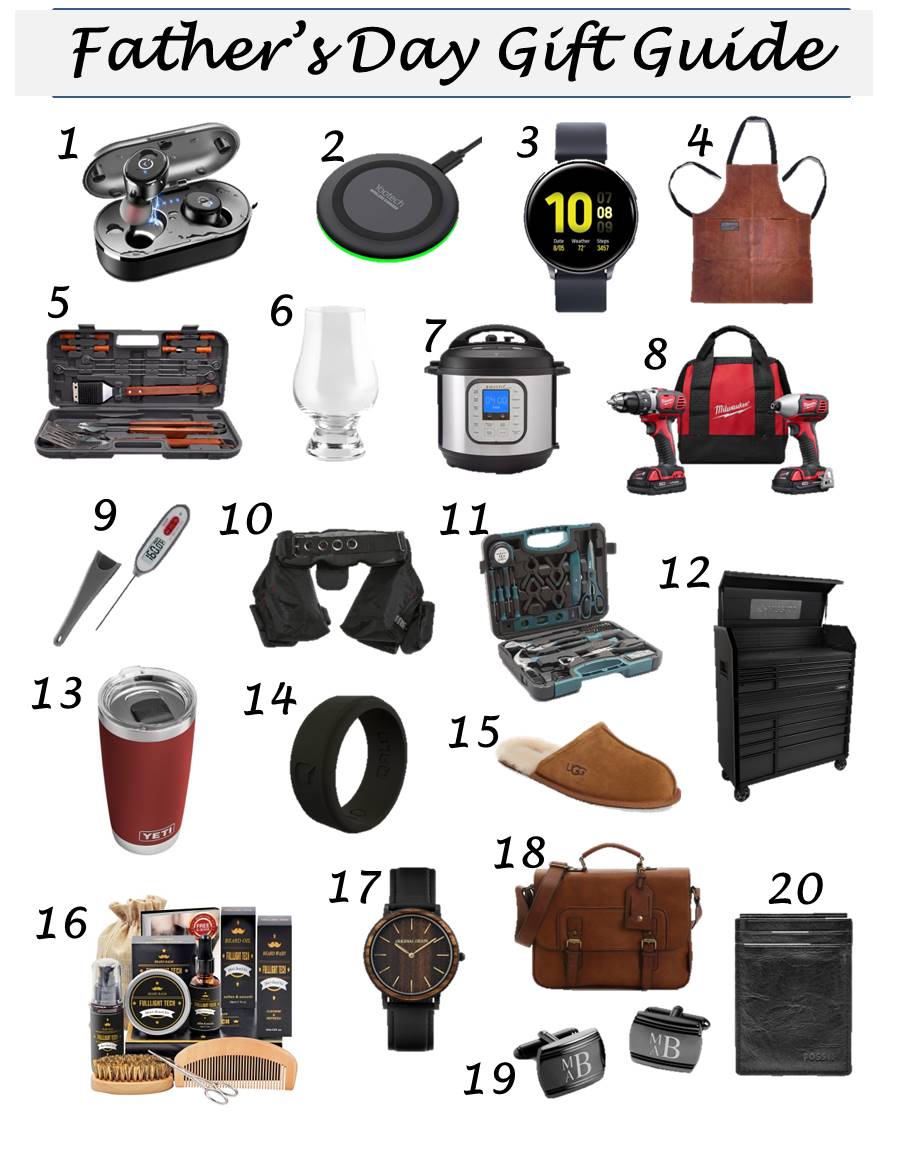 If you are anything like me, I get so caught up in the craziness of May that June creeps up so quickly that every year I am scrambling for Father's Day gifts! Below I rounded up some great Father's Day gifts, many of which my hubby has acquired over the last few years so they are proven winners.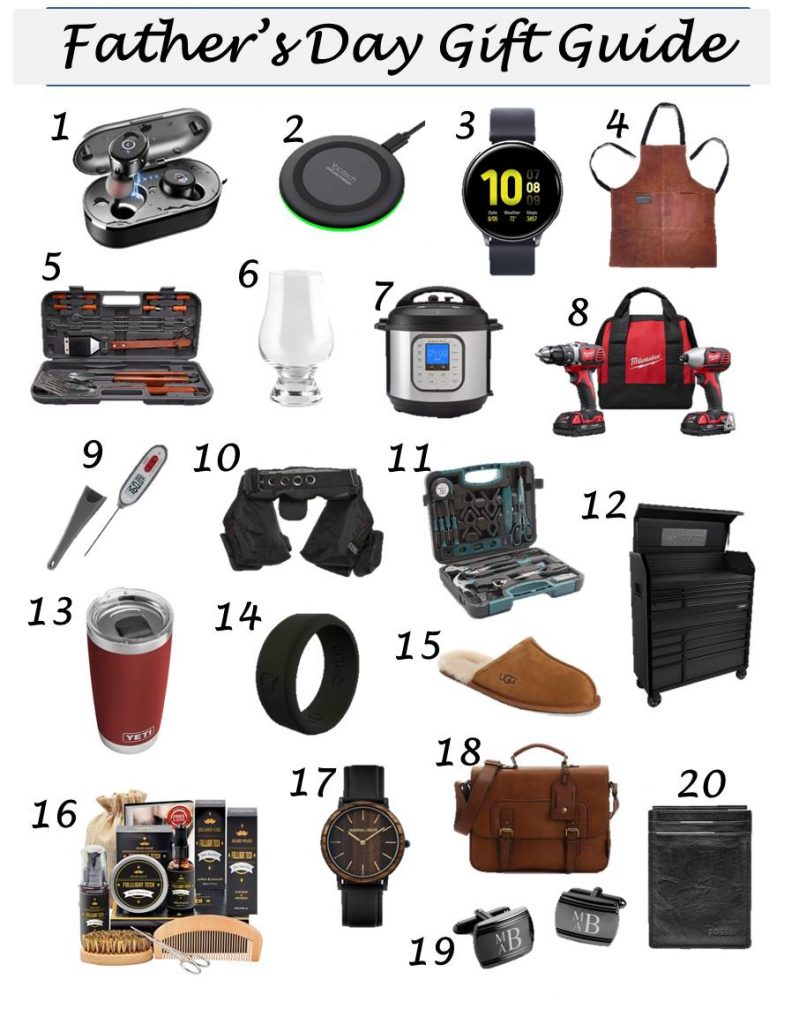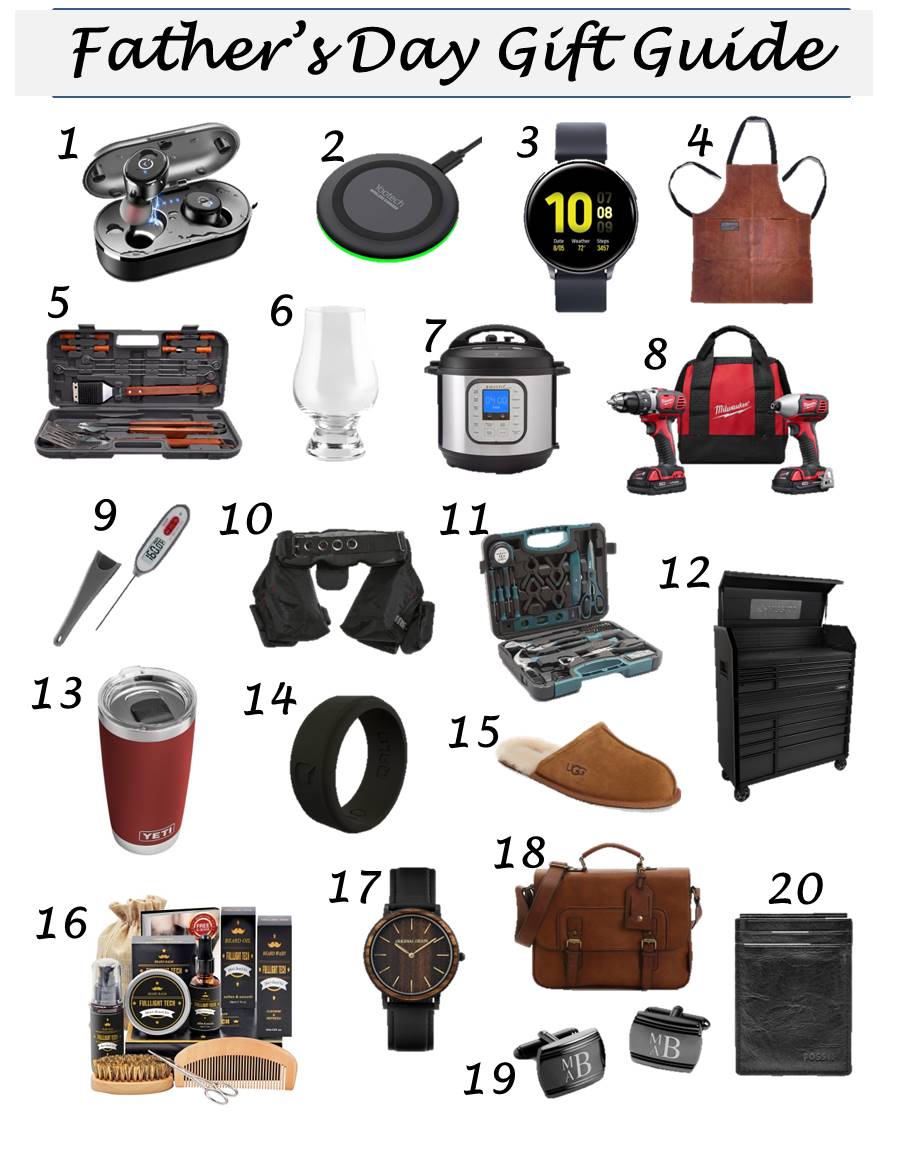 Since so many stores are currently closed or only open for curbside pickup the gifts here are available for online shopping and should be delivered in plenty of time for Dad's big day. I also categorized the gifts to make Father's Day gifts shopping easier. Enjoy!
Tech Savvy Dad
1. Wireless Earbuds: So convenient for calls, watching YouTube videos, or listening to music while working out or running. These are the Tozo earbuds I have from Amazon, there are also the Samsung Galaxy Earbuds and Apple AirPods.
2. Wireless Charger: Wireless chargers make charging phones, wireless earbuds, and even Smart watches so much easier!
3. Smart Watch: These watches allow you to answer calls, listen to music, and even keep track of mileage during a run. I have this 40mm Samsung Active2 and love it but if your guy is more into Apple, the Apple Watch Series 5 is also a great choice.
Shop the Post
Chef Dad
4. Leather Apron: My husband loves using his leather apron, also has conveniently placed pockets.
5. Grilling Accessories Set: All of the grilling necessities in a convenient and easy-to-carry case.
6. Meat Thermometer: This meat thermometer makes grilling easy and takes the guesswork out of cooking meat to the right temp. There's also this programmable meat thermometer.
7. Glencairn Whiskey Glass: A recent birthday gift to my hubby, these glasses are for whiskey enthusiasts who appreciate the smell and complex taste of whiskey.
8. Instant Pot and/or Instant Pot Air Fryer Lid: If the man in your life enjoys cooking and hasn't tried an Instant Pot be ready to change up his cooking routine! If he already has an IP but wants to try an Air Fryer the IP Air Fryer Lid is a great addition.
Shop the Post
The Garage and Tools Guy
9. Cordless Drill and Impact Driver Set: My husband has this exact drill set and absolutely loves it. Great quality and is easy to use, I also used these to build our DIY Outdoor Couch.
10. Tool Belt: Something as simple as a good tool belt makes all the difference while building, fixing, and wrenching!
11. Tool Kit: No garage is complete without a basic tool set! This one comes with a convenient carrying case and includes many basic tools for general repairs and use.
12. Tool Chest: Have someone who has lots of tools but also needs good organization? These tool chests also have USB cords and electrical outlets for convenience. Varies in sizes and prices: Large 52 in. W x 21.5 in. D 15 Drawer | Medium 46 in. W 9 Drawer | Small 27 in. W 5 Drawer
Shop the Post
Cool Gifts for Him
13. 20 oz Yeti Rambler: I actually received this for Mother's Day and absolutely loved it! Available in multiple colors and sizes and you can also customize them if ordered on the Yeti website.
14. Qalo Silicone Ring: Just ordered one of these silicone rings for my husband and are so excited to get it! This ring is great for anyone (comes in men and women's options) who wants to wear an alternative to traditional rings, for example while working out or for daily wear. Lots of options and customizable.
15. Ugg Scuff Slippers: These slippers are incredibly soft and comfy, we actually got these for my hubby years ago for Christmas and he still wears them every day!
16. Faux Leather Messenger Bag: We recently upgraded my husband's canvas messenger bag to this nice quality faux leather bag that is large enough for an iPad or laptop and other personal items.
17. Beard Kit: If the special man is into grooming his facial hair, this beard kit will be appreciated and used! Includes
18. Men's Watch: If your guy is into watches this one is a unique wood watch with a leather strap. Love the
19. Customized Cuff Links: Cuff links are always a great gift, especially for a guy who wears suits. We have gifted personalized cuff links with Dad's initials.
20. Magnetic Leather Money Clip/Wallet: Slim and compact, this money clip has a worn look and is perfect for holding money and a few cards.
Shop the Post
Hope you found some good Father's Day gifts and have a wonderful day enjoying the special Dad's in your life!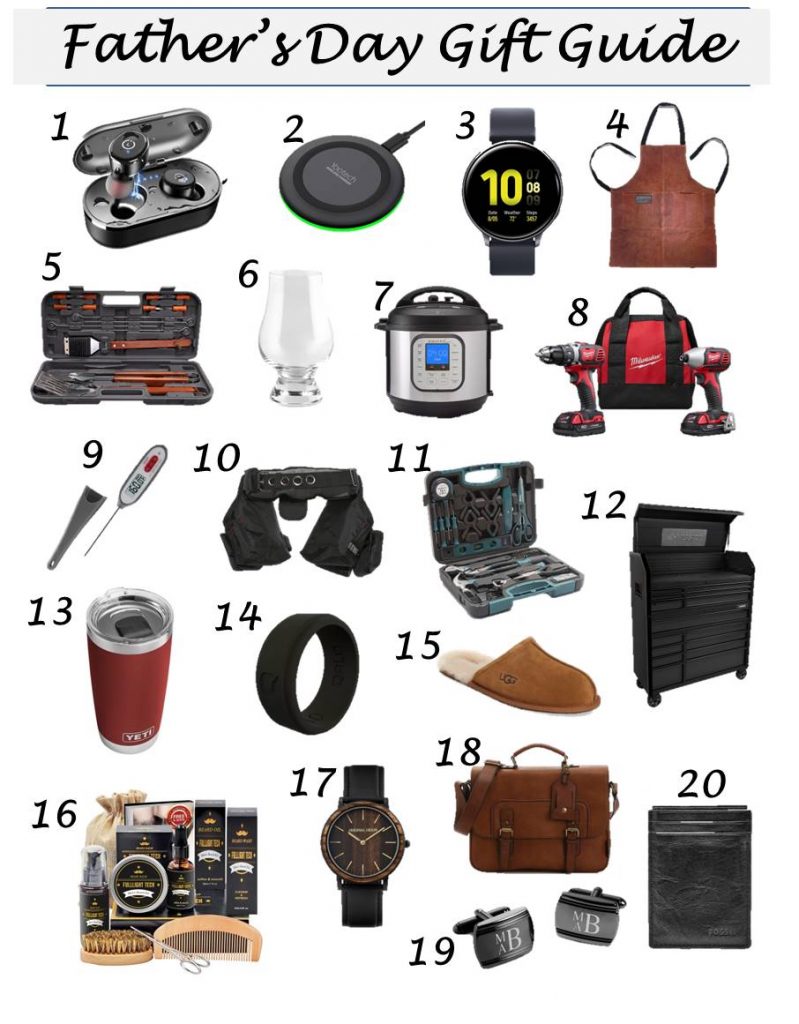 Hope you found some things you would like for a dad, brother, or husband! Let me know if you have any questions-