You know when you want one more jolt of energy but hot coffee sounds… well… too hot?  Not to mention I know it sounds lazy but sometimes you don't want to take out the coffee maker, scoop the grounds, and wait… wait… wait for the coffee to brew (yes, a bit dramatic, I know).  The solution? Cold brewed iced coffee.
Iced coffee is one of my favorite drinks during the summer to combat the heat.  It sounds simple to just brew some hot coffee and pour it over ice. As logical as that sounds, however, it actually creates very poor iced coffee for a couple of reasons.  One reason is that pouring a hot beverage over cold ice cubes equals watered-down coffee. Not so tasty.  Secondly, hot brewed coffee will still have a slight bitter taste even if it is cooled due to the acidity.  Thirdly, as mentioned above, sometimes I want my iced coffee right away, even better cold right out of the fridge.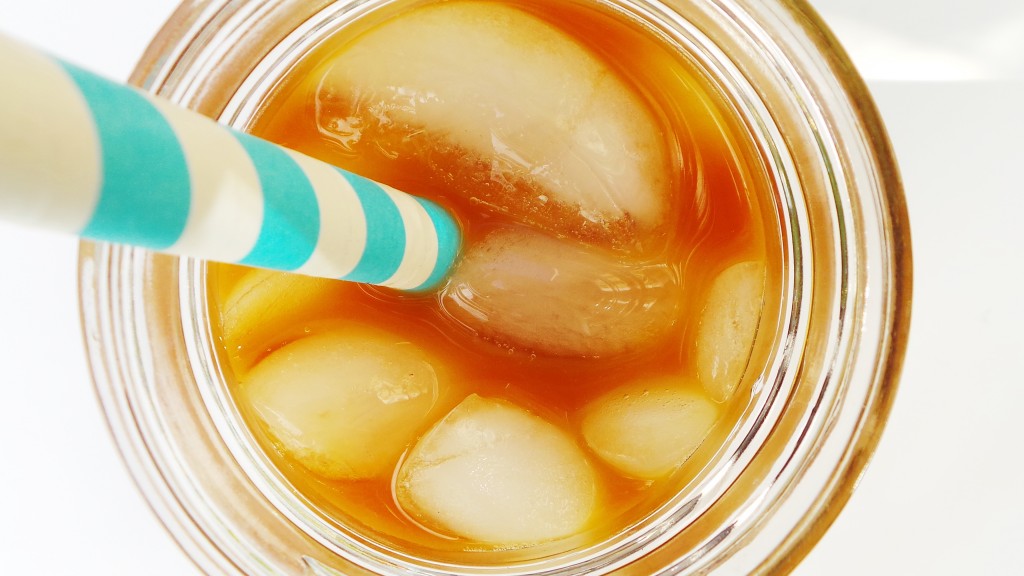 I used to work at a coffee shop and in doing so taught me the most amazing way to make iced coffee by brewing it in ROOM TEMPERATURE water for 12 hours.  Doing this cuts the acidity, creates a very concentrated beverage, and also makes it taste very smooth.  Steeping the coffee for 12 plus hours takes some patience and planning, but once you drink that first glass of cold brewed iced coffee straight out of the fridge, you will be thankful you took the time to cold brew it.
The steps to make the coffee are easy.  All you have to do is put coffee grounds in a large container with water and cover with a lid.  Let it sit out in room temperature for 12-18 hours then filter out the coffee grounds using either cheesecloth, a coffee filter, or even a french press.  Once all the grounds are out you will be left with a smooth cold-brewed coffee that can now be chilled in the fridge until you are ready to drink it!
Here I have my coffee grounds and water in a large lidded mason jar ready to sit overnight on the kitchen counter.
The following day I used a coffee maker filter and my coffee maker to filter the grounds by simply pouring it straight into the paper filter as you can see below. It then filtered right into the glass coffee pot.  You can also use a simple strainer with a coffee filter placed in it instead and a bowl below it to catch the filtered coffee. Using cheesecloth placed in a strainer works as well.  Filter as many times as needed to get all of the grounds out. I have found that using a regular coffee maker filter does the job right the first time!
To serve the coffee you simply pour the coffee over ice and then add something to dilute it such as milk, creamer, sweetened condensed milk, or even water. In the picture below I only added some water that had sugar dissolved in it.
Here I added milk.  I love the way the milk swirls around the bottom of the coffee before I stir it up!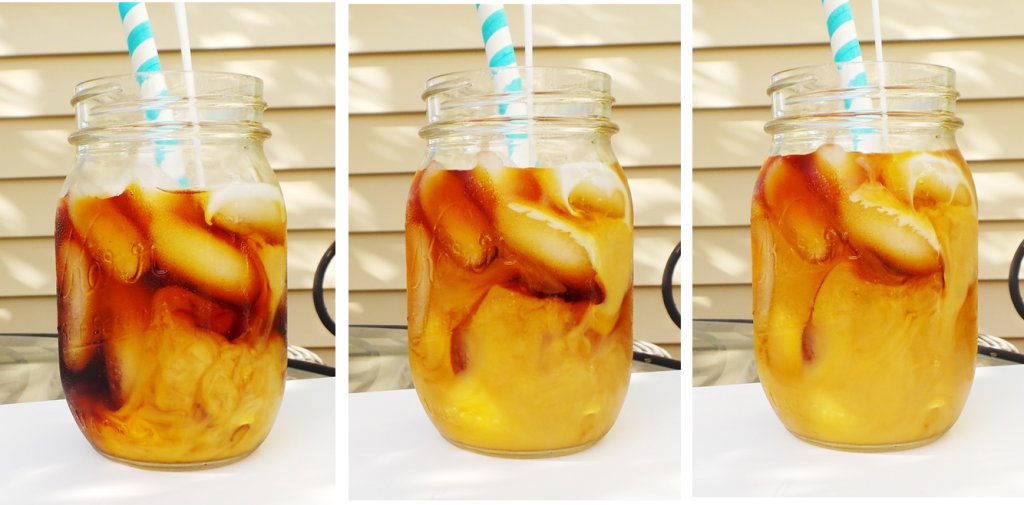 Looks yummy, right?! So refreshing, so smooth and a great way to enjoy an iced coffee.
Here is a printable recipe for cold brewed iced coffee.

Cold Brewed Iced Coffee
Author:
Kinda Sorta Simple
Prep time:
Cook time:
Total time:
A simple way to make cold brewed coffee to serve over ice.
Ingredients
½ lb of ground coffee (the courser the better)
4½ cups of cold water
large container with lid to hold coffee and grounds
For filter:
strainer
coffee filter
OR cheesecloth
OR regular coffee maker with filter (not a Keurig or similar type of coffee maker)
Instructions
Pour coffee grounds into large container then add cold water to the grounds. Use spoon to stir up grounds with water. This will not look pretty! Cover with lid.
Let container sit at room temperature for at least 12 hours. Then filter grounds out using one of the following methods:
Place a strainer over a bowl with either a cheesecloth or regular coffee filter in it and slowly pour the contents of the large container into strainer through cheesecloth/filter. Be patient because it may take some time to filter through.
OR
If you have a regular coffee maker that uses filters simply put filter into coffee maker basket as if you were to make coffee, then slowly pour contents of the large container into filter. Make sure the coffee pot is in place to catch the filtered coffee otherwise you will have a large mess!
After filtering: refrigerate the cold brewed coffee until chilled.
To Serve: Dilute the coffee with equal parts milk, creamer, or water.
Notes
You can adjust the ration of coffee grounds and water based on how strong you want your coffee to be.
Easy peasy, right? The taste is so smooth and flavorful you'll wonder why you hadn't made cold brewed iced coffee earlier!