Fashion Friday: The Scarf
As fall season approaches I have begun to look at more fall pieces to add to my closet.  A couple of readers have asked for another fall season style post so I will be putting that together very soon.  Until then here are some great ideas on how to use an accessory that I think is one of the biggest staple pieces to have in your closet: the scarf.
Scarves are such a great piece because not only are they versatile but they can also be worn with each seasonal change.  With fall I tend to go with the deeper colors and a bit of a heavier texture to combat the cooling temperatures but would like to also continue to find new ways to transition brighter scarves into the mix.
Just as a necklace can dress up an otherwise casual attire so can the scarf.  In addition, scarves can be tied in many different ways, more ways than I can count!  There is an awesome video below that shows 25 ways to tie a scarf in 4.5 minutes! It is a must-see.
Here are some of my favorite fall looks incorporating scarves.
This look SCREAMS fall!  The oversized sweater with the scarf, leggings, and boots is definitely a classic fall look.  This really shows the concept of layers well.
I really like how the next look shows a way to wear a scarf on a sleeveless top.  Fall season scarves are so often only paired with long-sleeved sweaters but this picture proves that a scarf looks just as chic paired with a top with no sleeves! I also love the brown boots with this outfit.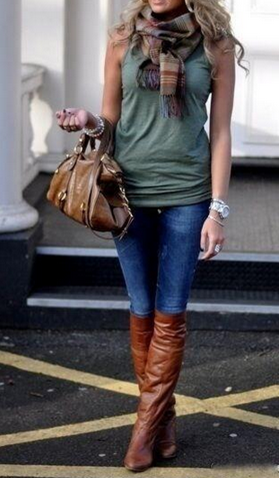 I am obsessed with this pop of color utilizing the scarf over a neutral colored sweater.  This look is a great example of how you can still incorporate brighter colored scarves from the spring and summer and transition them to fall.  Not to mention the sweater looks so comfortable!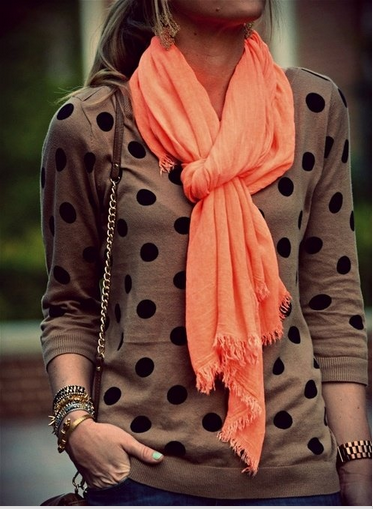 Last, but certainly not least is this very classic and neutral scarf.  It has an ombre effect allowing it to be paired with pretty much any fall outfit.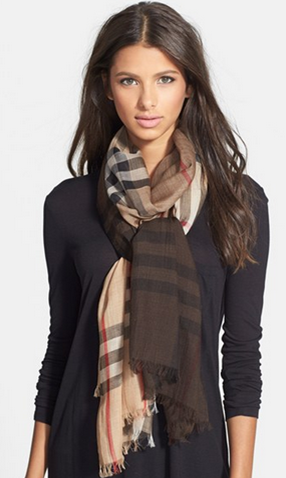 Ombre Check Wool and Silk Scarf
Now prepare to be blown away! This is one of my all time favorite videos.  Not only does it show you a ton of ways to wear a scarf, it is also so creative and addicting to watch. Enjoy and if you are like me you'll watch it twice: once in awe of the video and then a second time to actually learn how to tie a scarf.
How awesome is that video? And who knew there were so many different ways to tie a scarf!  Just goes to show how versatile the scarf really is.  I know I will be trying out some different ways to wear the scarves I already own that are just waiting to be worn!
Which scarf is your favorite to wear during the fall?  What is a different way you could wear a scarf this season that you haven't tried in the past?