Ways to Wear Leopard Print
Anyone who knows me knows that I don't go far without a leopard print on me somewhere.  The neutral pattern is by far the easiest thing to match with any outfit, immediately dresses up even the simplest of outfits, and come on.. its leopard!  I will admit, there was a time when I thought all animal print was for the older crowd but that thought process has gone the way of the typewriter (unless you still use a typewriter that is!).  My obsession with leopard print has now rubbed off onto my daughters with my oldest claiming she is the "cheetah queen" and my youngest daughter's closet quickly filling with the wonderful print.
Here is an Instagram picture where I paired white pants with leopard print flats.  These are by far my go-to shoes as they match everything I own and are very comfortable as well.
So how best to wear leopard print?  This is the wonderful part about the print.  If you love a more bold look you can wear leopard on a larger scale like a leopard print blouse or skirt.  But if you are someone who would feel overwhelmed with a large amount of print, you can start out with small accessories such as leopard print scarves, shoes, or even bags. Below I will cover both looks that are bold as well as toned down.
Want to go for a more bold approach? Look no further than these beautiful and inspiring ways to wear leopard print in a very in-your-face way.
The Coat.
An oversized coat in any neutral print is a great idea and especially good for the coming cold months.  Loving the addition of the simple black top and boyfriend jeans to allow the coat to get all the attention.
The Blouse.
I take every opportunity to wear white pants and pairing them with a leopard print blouse just takes my style obsessions over the edge.  I love how this outfit took two great trends and paired them with some simple gold shoes. I will need to find this outfit for myself!
The Colored Jeans.
A great way to wear leopard print for this fall is combined with burgundy jeans and a simple bag.  This is a very casual and comfortable way to wear print.
The Skirt.
If you want a way to incorporate leopard print with a bit of denim, this outfit does it best.  Casual, yet still very chic, this combination of a leopard print skirt with a casual denim jacket marries two styles that work well together.
If you are a bit overwhelmed with the idea of using leopard print in your clothing, having hints of the neutral print in your accessories is the best way to have pops of the print without feeling like you are overdoing it.
The Scarf.
My leopard print scarf is worn AT LEAST once a week, if not more.  Although my husband has countless times told me that stripes and leopard print is a faux pa, I disagree and love wearing my leopard scarf with stripes.  Since the print is now considered more of a neutral it works well with stripes, especially thick stripes such as those above.
The Clutch.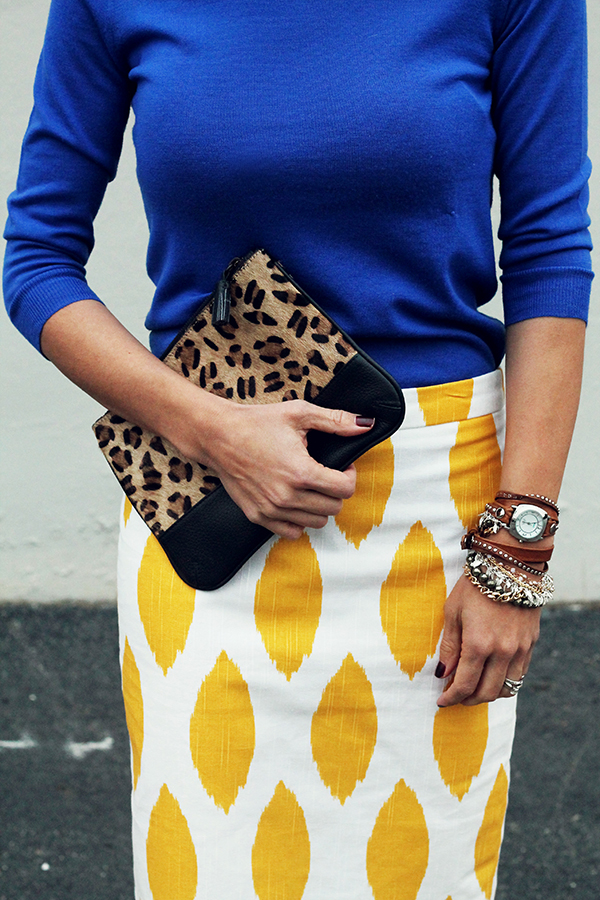 Here is another fantastic example of leopard print used as a neutral accessory in combination with a bold print and bright colors.
The Pumps.
Pumps in general add sexiness and confidence to any outfit, but leopard print pumps?  Be ready to bring your style to a whole different level with these babies.  As a neutral these shoes will match most outfits and the heel adds that touch of sophistication.
As you can see leopard print has endless possibilities in how to incorporate it into every day wear.  Here I have shown you both bold ways to wear leopard print as a statem piece and also as an accessory.
How will you incorporate leopard print into your wardrobe this fall?  Will you wear it as a bold statement piece or as an accessory?