Hello! I apologize for my absence this past week as we had been preparing for my daughter's Dol, a big event in the Korean culture that celebrates a baby's first birthday or first year of life.  There will definitely be more details on the food, decor, and projects later on in the blog.  Today I wanted to share one of the desserts that I had baked for the party called Strawberry Crinkle Cookies.  By far one of my favorite and easiest cookie recipes! Only 4 ingredients needed, super easy and quick to put together, and the kids love helping with this sweet treat.
One reason I love these cookies is it is easy to change up the flavor and color of the cookies because it is all based on what flavor of cake mix you use.  Yes, I said cake mix!  The only ingredients for this cookie recipe are cake mix, 2 eggs, 1/3 cup of oil, and powdered sugar.  That's it!
Here they are straight out of the oven.
I have read some recipes that included rolling the balls in granulated sugar before rolling in the powdered sugar but honestly I did not notice a big difference between the two when I used granulated sugar for half of a batch.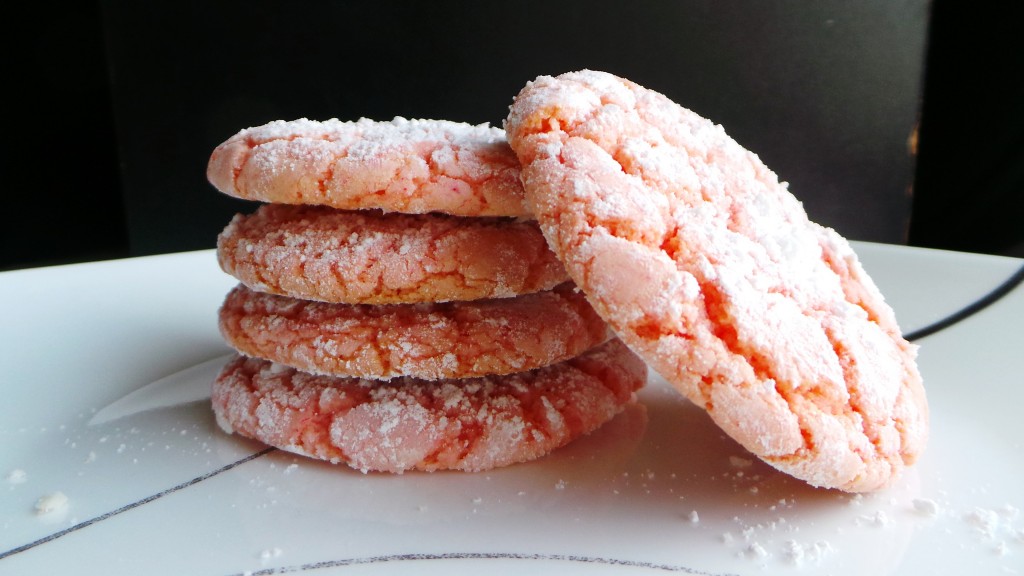 They were a huge hit at the party, kids and adults alike.  Don't like strawberry? How about lemon crinkle cookies using lemon cake mix instead! Or chocolate?  What about red velvet? The choices are endless.
Ready to bake some Strawberry Crinkle cookies for the family? Here's the recipe and don't be shocked at the simplicity of it.

Strawberry Crinkle Cookies
Author:
Kinda Sorta Simple
Prep time:
Cook time:
Total time:
Super simple and tasty cookies made from 4 ingredients: cake mix, eggs, oil, and powdered sugar! Quick, easy, and fun for the kids to help.
Ingredients
1 box of strawberry cake mix (can substitute any flavor of cake mix)
2 eggs
⅓ c vegetable oil
½ c powdered sugar
Instructions
Preheat oven to 350 degrees F. Pour powdered sugar in small bowl.
In a large bowl combine cake mix, eggs, and oil. Stir until combined and dough forms.
Using a small scoop, spoon out small portions of the mixture and roll between palms to create a round ball. Roll ball in powdered sugar until completely covered, then place on a baking sheet about an inch part.
Bake for about 9-11 minutes.
Transfer to cooling rack and allow to cool for a couple of minutes.
What flavor will you try for your batch of Crinkle Cookies? What other baking recipes do you have that uses cake mix for something other than cakes?