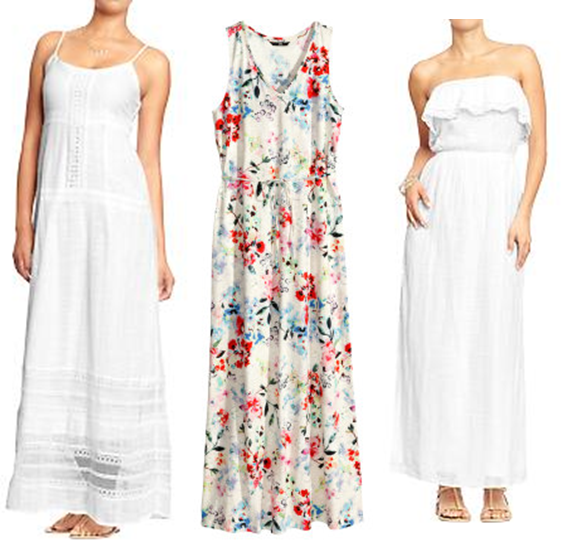 Fashion Friday: The Maxi Dress
With it being the first Friday of official summer break, I decided I would kick off the weekend with some awesome fashion finds! The first thing that came to mind when thinking about clothes that are effortless, comfortable, and yet also still look good (gotta keep my sanity and feel like a human while mothering 3 kids!) I came up with maxi dresses. The maxi dress: epitome of simple, classy, comfy, and perfect for the hot summer weather.  And as it may be TMI but understandable for all moms, the maxi dress is also nice because in the event I need to bend down, sit down, or even crawl I'm still looking presentable, if you know what I mean (short skirts aren't really doing it while trying to scoop up my 2 year old in public, you know?!) I pulled together a couple of different maxi dresses I found online that I thought were cute and pretty inexpensive.
Women's Crinkle Gauze Tube Maxi Dress $39.00
This maxi I found from Old Navy would be perfect for a hot day with the light material and the flowiness of the skirt.  I also love the ruffled detail around the chest- perfect to showcase a simple necklace with a pop of color! A simple bracelet for a pop of color and some simple sandals is all that's needed.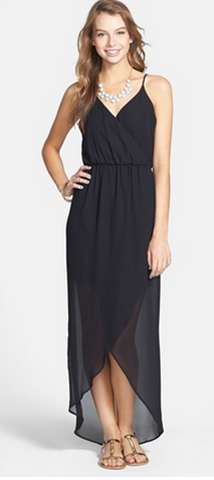 Ok, so yes this dress is in the Junior Department at Nordstrom but its perfect for a night out and I know there are ladies out there who peak through the Junior Department every once in a while (like me!).  Besides, its black, flowy, and age appropriate meaning nothing about it screams "I shopped in the teen section!"

I'm always trying to get out of my comfort zone i.e. solid colors.  This dress would really stretch me but I love the color palette and the flowers are beautiful.  Again, no need for crazy accessories just simple shoes and maybe a bracelet. And BTW, at $24.95 this is a steal at H & M.

Crochet Lace Maxi Dress $44.94
Yes, another white flowy dress which speaks to the fact that they are great for summer! I love all of the detail with the lace as well- I could see this as a go-to for a summer backyard party. Or even better, out with the Mr. for Father's Day.
And there you have it, a round up of some amazing maxi's that are sure to keep you cool, comfortable, and cute for the summer. Enjoy your weekend and for all the daddy's out there, HAPPY FATHER'S DAY!