Bul-GO-gi? BUL-go-gi? Bul-go-GI? No matter how you pronounce the name of this amazing and increasingly popular Korean meat dish, Korean beef bulgogi is extremely tasty and one of my favorite dishes to prepare when I am entertaining and looking to impress guests.  It is healthy, flavorful, and when paired with lettuce wraps becomes a fun meal to eat with a crowd.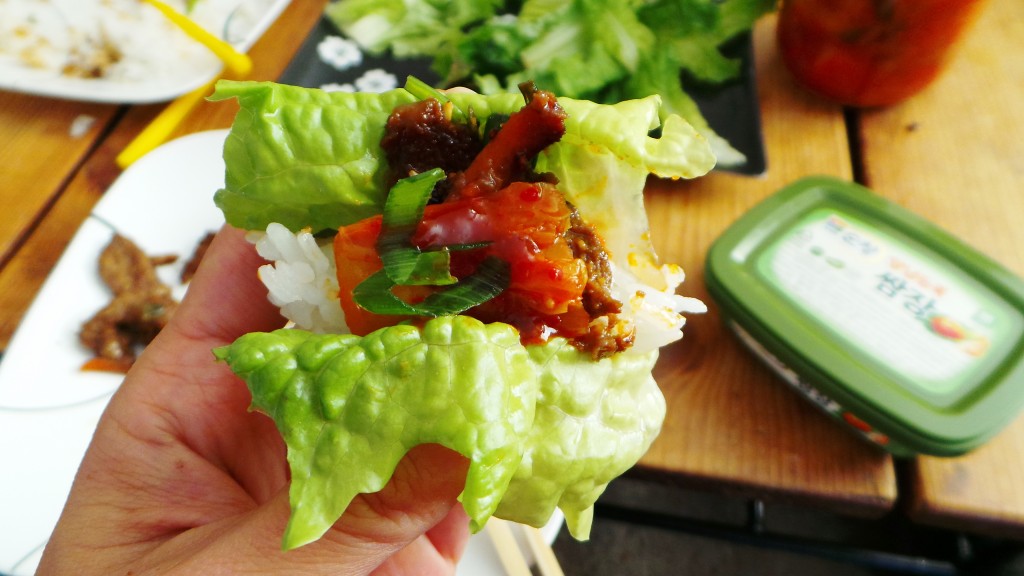 It is exciting that Korean beef bulgogi is becoming more common in many different restaurants and food establishments.  For example, I have seen bulgogi tacos on a number of menus, as well as bulgogi sushi, bulgogi bowls like the ones I have shown on the blog before, and more.
Here I started with the thinly sliced beef tenderloin and added onion, Asian pear, and garlic that was pureed in a food processor.  The pear not only adds the slight sweetness to the meat but tenderizes it as well.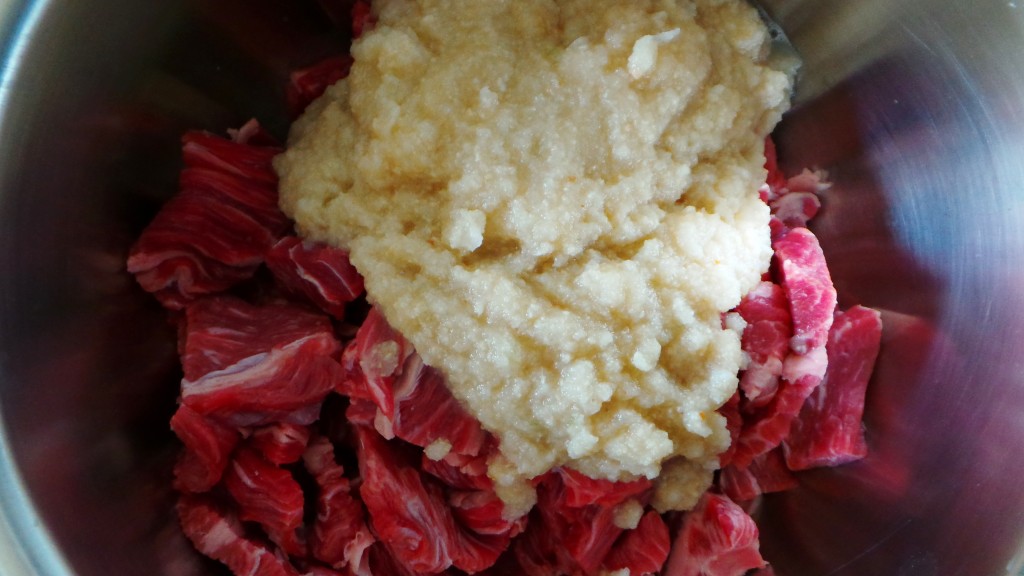 I personally love eating Korean Beef Bulgogi in lettuce wraps that include rice, kochujang (spicy red pepper paste) and ssamjang (spicy bean paste), kimchi, and sliced raw garlic.  YUM!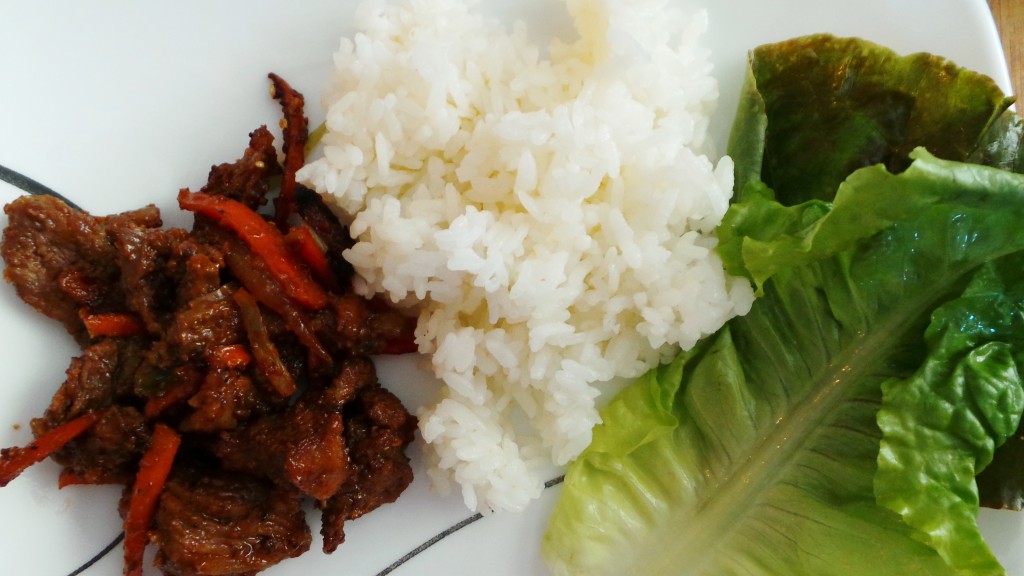 The finished product, all ready to be devoured.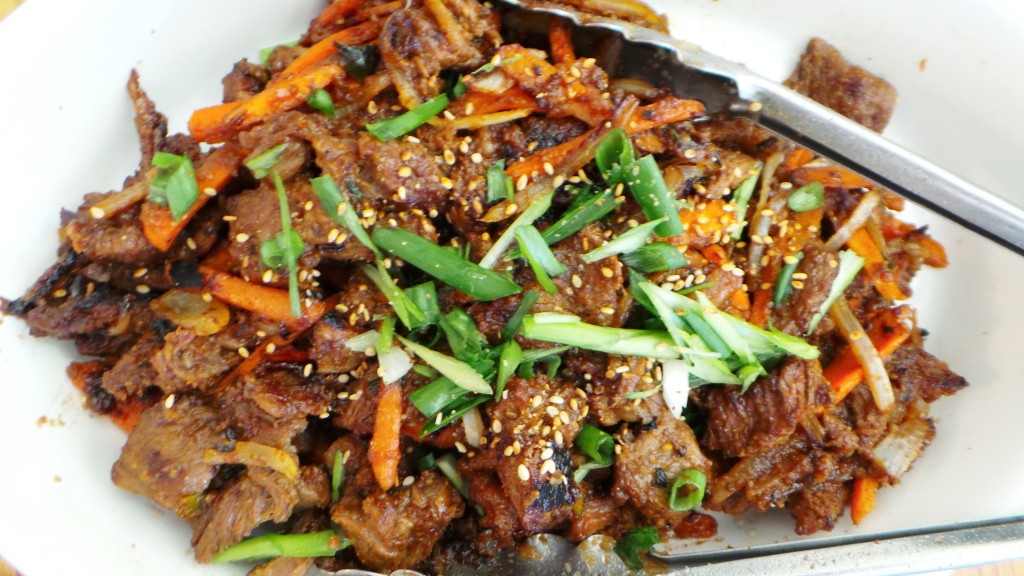 My son's lettuce wrap that he put together by himself.  He wanted to make sure I took a picture to share!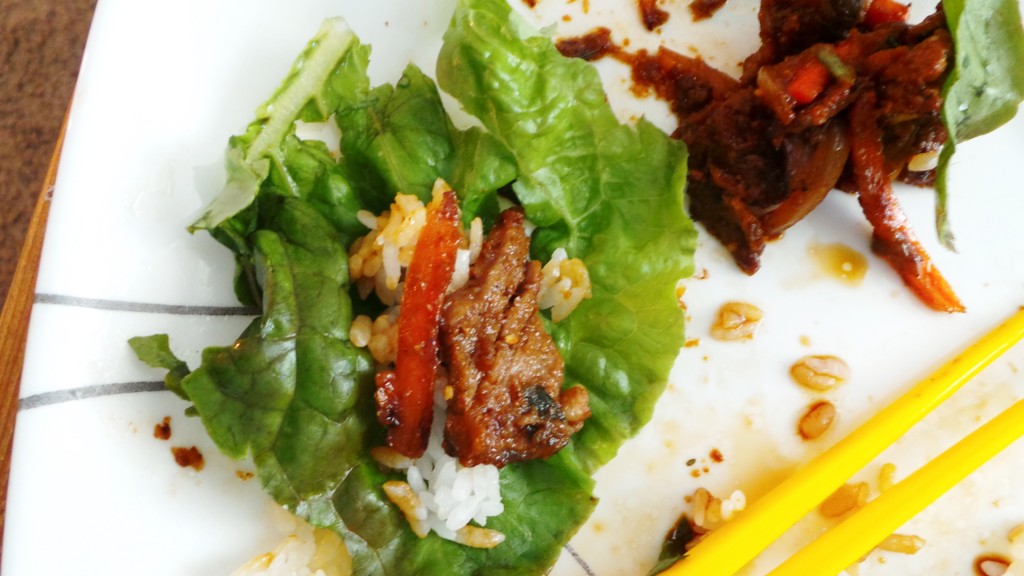 Korean Beef Bulgogi
Korean Beef Bulgogi is a very popular and healthy Korean dish that uses thinly sliced beef that is marinated before cooking and can be eaten in a variety of ways.
Ingredients
1

pound

beef tenderloin

sliced thinly against grain
Marinade:
1/2

onion

1

Asian pear or Bosc pear

3

chopped green onions

4

cloves

garlic

3

tbsp

soy sauce

2

tbsp

brown sugar

1

tbsp

sesame oil

1

carrot, thinly sliced

matchsticks

salt and pepper to taste
Lettuce Wraps:
1

head

red leaf lettuce

rinsed
Additional toppings like kimchi, ssamjang, kochujang, sesame oil, sliced raw garlic
Instructions
Place sliced beef tenderloin in medium bowl. Using a food processor or blender combine the onion, garlic, and Asian or Bosc pear until pureed then pour over sliced beef tenderloin.

In a small bowl add soy sauce, brown sugar, sesame oil, sliced carrots, salt, and pepper and mix thoroughly, then pour over the beef tenderloin mixture. Cover with plastic wrap and place in refrigerator for at least 1 hour to overnight.

After marinating, heat 1 tbsp vegetable oil in a large pan over medium-high heat and cook the beef in batches until cooked through, around 6-8 minutes OR cook on a hot grill until cooked through and lightly charred.

Serve immediately, garnished with sliced green onions. You can eat the bulgogi with rice, in lettuce wraps, or even in tacos.
Tried this recipe? Let me know in the comments below!