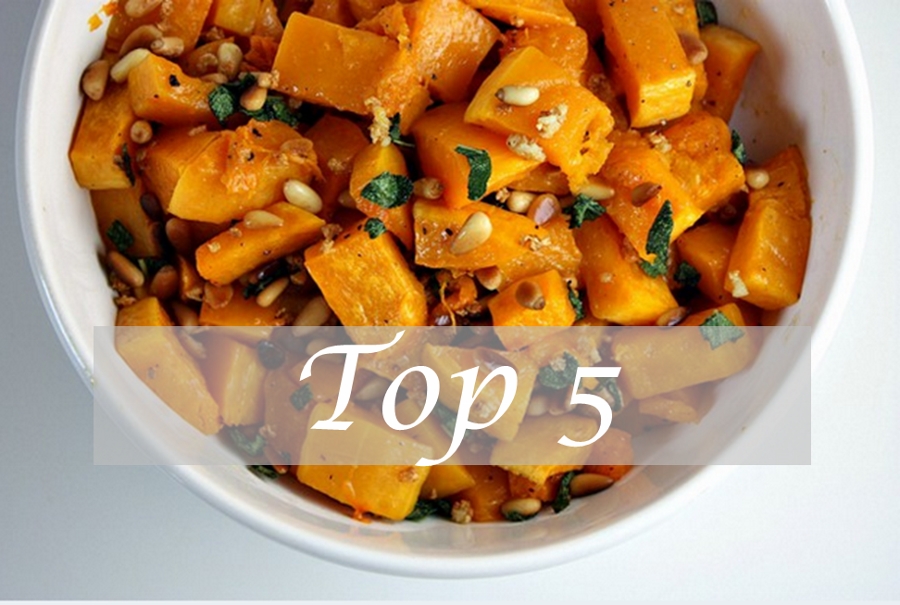 This week everything that surrounds me is full of fall: the colors, the smells, the sounds, the food.  What solidified the season change and made it official was our family visiting the local apple orchard which included a pumpkin patch.  As we all enjoyed the beautiful (dare I say hot?!) day at the orchard this past weekend, I started thinking about the savory meals, decor, and accessories that include fall produce such as squash, apples, and pumpkin.  Here are my Top 5 things I'm obsessing over this week.
1. The Soup
I was perusing through a health magazine online and came across this recipe for a Roasted Tomato and Garlic Soup.  I already know this will be a repeated recipe for those cold winter nights.
2. The Quick Side Dish
Its no secret I am an avid Costco shopper.  During certain seasons Costco has available butternut squash that is precut and ready to be cooked, making a tasty side dish like a simple Roasted Butternut Squash quick and easy.  In fact, I just found them available during my Costco run yesterday…
3.  The Fall Decor
The abundance of pumpkins, squash, and gourds is a great excuse to change up the house decor for the new season.  A simple pumpkin on the mantel, or a basket of squash add color and warmth to any room.
4.  The Coffee
So I'm that person that loves coffee…with a whole lot of creamer in it.  Yes, shameful as a former barista, I know.  However, I love the ability to add various flavors to my everyday morning drink.  Fall has no shortage of seasonal flavors such as Pumpkin Spice, Gingerbread, and Salted Caramel to bring your coffee from good to YUM!
5.  The Accessories
Let me start with the fact that Teni Panosian aka Miss Maven is by far one of my favorite blog/youtube beauty gurus.  Her looks are elegant and classy, yet also refreshing.  I bring her up in this fall produce inspired post because her lip color in this photo is S-T-U-N-N-I-N-G and oh yeah, it is a deeper plum color.  I love bringing in that intense lip shade as soon as the air gets cooler.  An intense lip and a natural eye is the perfect fall combination.
Ah, how I've longed for this weather!  Now if we could just hold on to this season longer and stay clear of winter for at least another month I'll be good.
How are you incorporating fall smells and produce?  What is your favorite fall food?