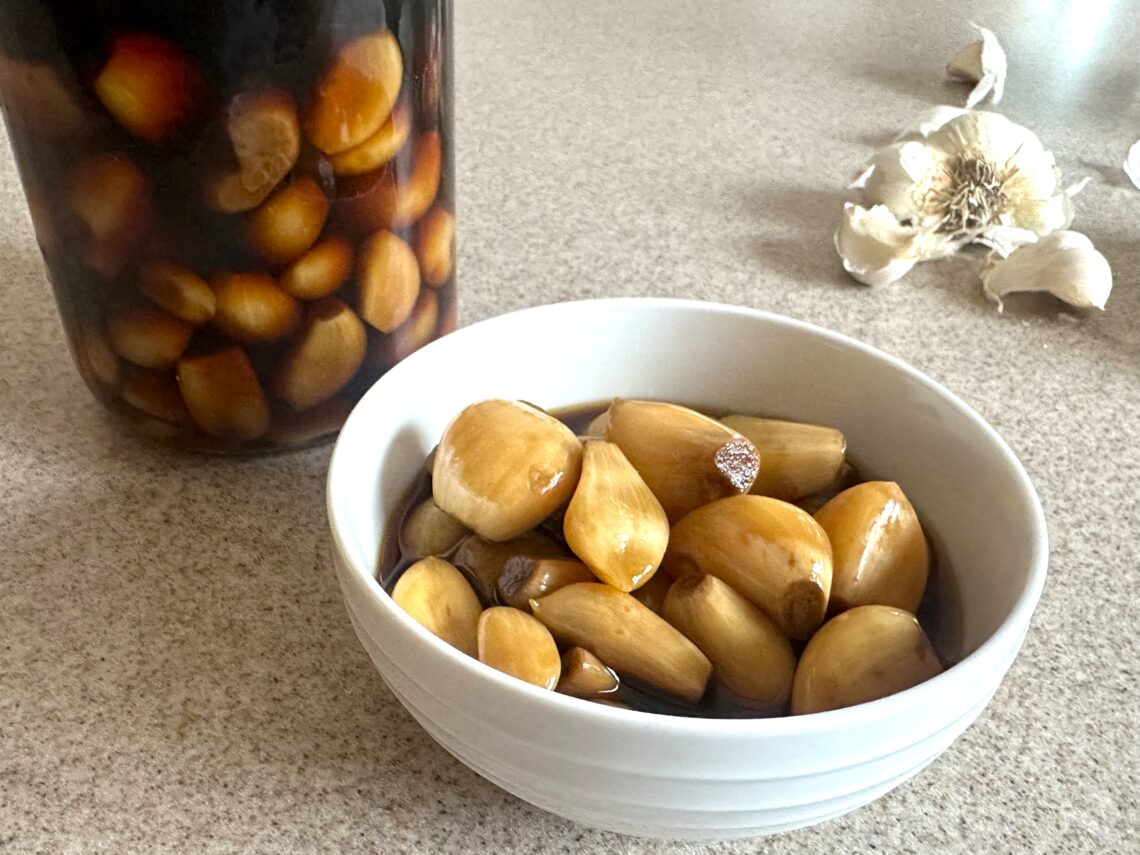 Korean Pickled Garlic Maneul Jangajji
Growing up my mom always had one or more jars of Korean Pickled Garlic (Maneul Jangajji 마늘장아찌) under the sink waiting to be opened and eaten. I have now been making my own Korean Pickled Garlic and always have a jar in the fridge. I have to keep up with demand because my oldest son continuously pulls out the jar of garlic and eats it- with or without rice! lol It is delicious and slightly addictive and is a great addition to any Korean meal.
Korean Pickled Garlic is incredibly easy to make and lasts in the fridge for a couple of months, the only downside is it has to sit undisturbed for at least 3 weeks before it is ready to be refrigerated and eaten. This means you have to be patient and give the garlic time to soak in all the flavor, but it is definitely worth the wait!
Ingredients and Jars Needed for Pickled Garlic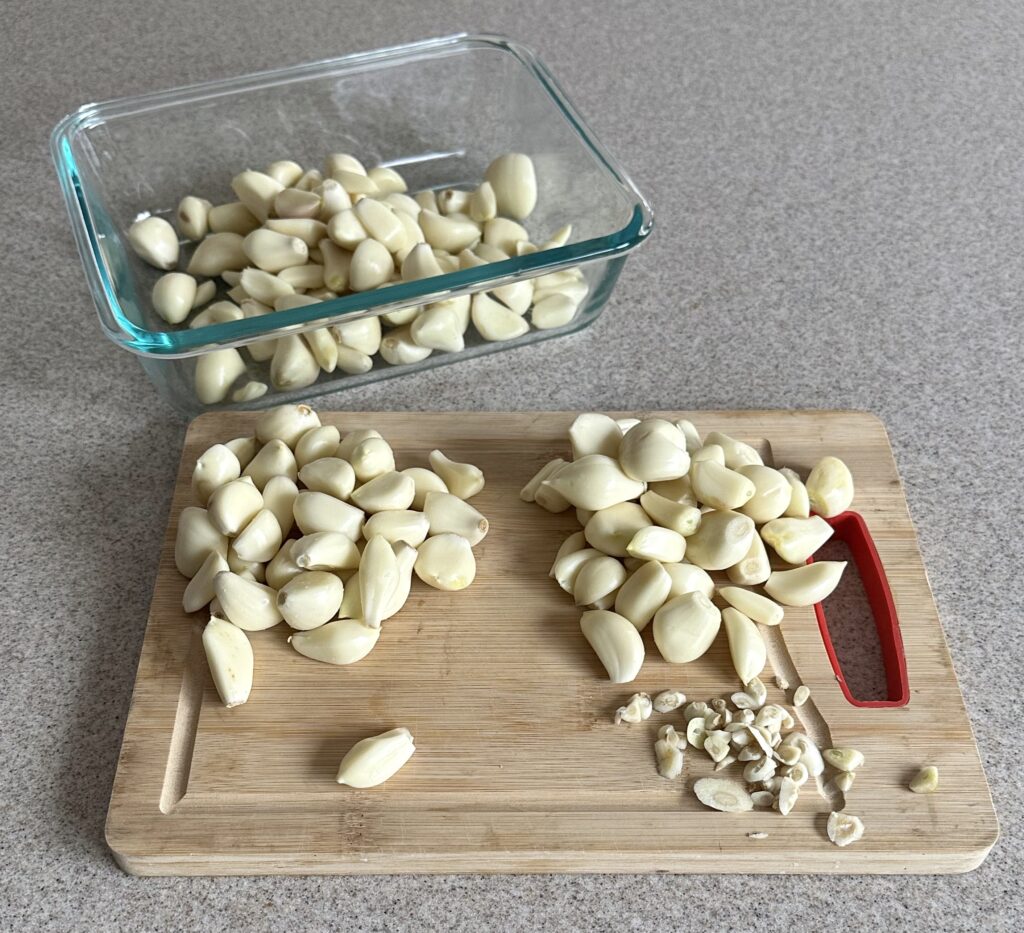 The ingredients are very simple, just peeled garlic, soy sauce, water, vinegar, and sugar. Be sure to have a clean glass jar with a lid, I often use large mason jars or reuse an empty kimchi jar.
If you do not want to peel a pound of garlic many Asian markets sell bags of garlic already peeled. However I fondly remember peeling garlic with my mom and my Halmeoni, or Korean grandma as a kid and now my kids enjoy peeling garlic with me!
How to Eat Pickled Garlic
The best way to eat Korean Pickled Garlic is simply with rice and kimchi. Of course this banchan (Korean side dish) pairs well with any Korean meal and the brine can be used for a dipping sauce or poured over rice for extra flavor. The longer the garlic sits in the brine the smoother and less spicy it becomes.
Blue or Green Pickled Garlic?
Sometimes when pickling garlic it can get discolored and change to a green or blue color but is still safe to eat. This does not mean something went wrong, it can happen due to "…a reaction between enzymes and sulfur-containing amino acids in the garlic (the same enzymes are responsible for garlic's flavor). When these enzymes are activated by mild acid, they produce blue and green pigments" –America's Test Kitchen. I personally have not had this happen, however I know that it can so do not be alarmed if this happens to your garlic!
Love Korean food and cooking videos? Follow along on Facebook, Instagram, and TikTok where I post more Korean food videos and inspiration, as well as coffee related videos.
Other Korean Recipes You Might Like
Here are some other Korean recipes you may want to check out and enjoy!
Ttoekguk- Korean Rice Cake Soup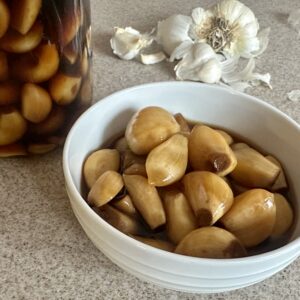 Korean Pickled Garlic (Maneul Jangajji)
Korean Pickled Garlic is a sweet, salty, slightly tangy banchan or Korean side dish that is easy to make with very few ingredients.
Ingredients
1

lb

garlic

peeled and rough end trimmed off

1

cup

water

1/2

cup

sugar

1

cup

soy sauce

1/3

cup

white vinegar
Instructions
Place clean and peeled garlic in a clean jar that has a tight fitting lid.

In a pot over medium heat stir together water, soy sauce, sugar, and vinegar until well combined. Bring to a light boil until sugar completely dissolves.

Allow mixture to cool slightly then pour mixture into the jar over the peeled garlic until all of the garlic is fully submerged.

Close lid tightly and add date on the lid.

Store in a cool, dark place for at least 3 weeks. After 3 weeks garlic can be eaten, however the longer you allow it to sit the less of a garlic bite will be present.

Store in fridge for a few months.