4th of July Desserts Roundup
Every summer I look forward to the 4th of July: BBQ, warm weather, friends and family gathering together, and of course fireworks to celebrate America. Each year my husband's family throws a big bash that includes an annual Rib Cook Off, trophy and all, and everyone brings food to share. I thought it would be fun to compile the desserts I have served up in the past on Independence Day, as well as some good food inspiration from others.
Lemon Berry Trifle
Last year I served up my first trifle and it was a huge hit! The colors fit right into the red, white, and blue theme by using three kinds of berries and homemade whipped cream and the recipe could not be any easier. No baking involved! I talk more about this recipe here.
Mini Bundt Cakes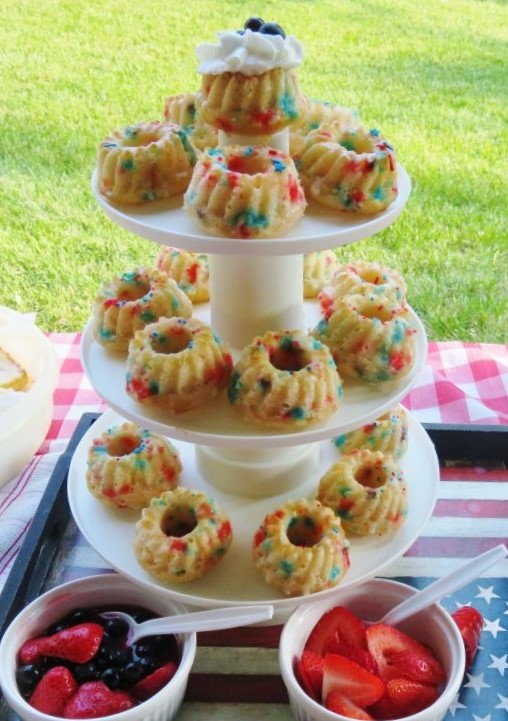 These little bundles of goodness were a fun treat last year and were simple to make. Easy to change up the toppings and make these for any occasion! I used boxed cake mix and silicone mini bundt cake molds then offered fresh strawberries, blueberries, and a strawberry and blueberry topping that was simmered on the stope to create a syrup. Top these off with whipped cream!
Mini Berry Cheesecakes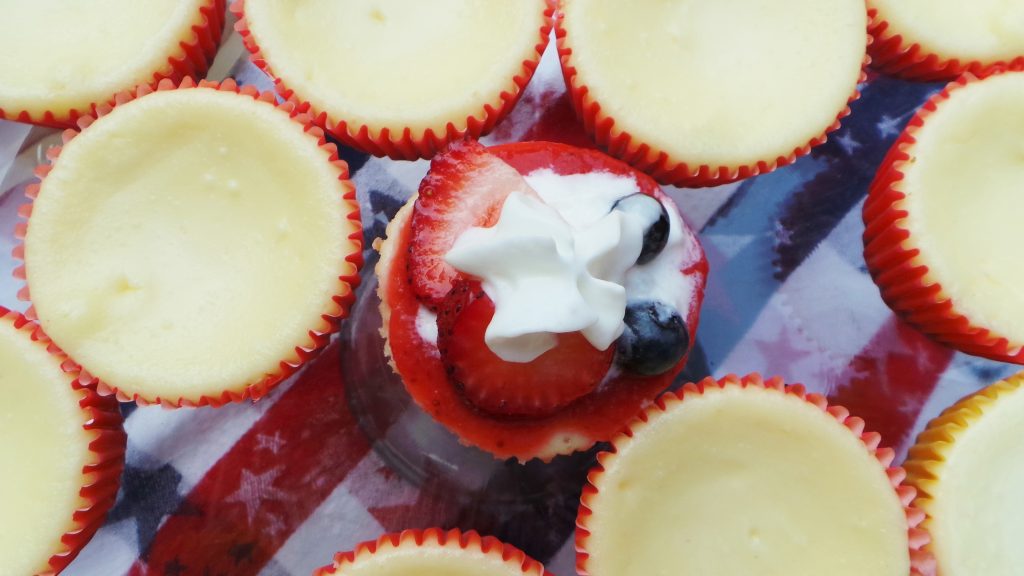 Following the red, white, and blue theme using berries was this perfect little treat of Mini Berry Cheesecakes. These were very popular at our gathering a few years ago and were easy to make by using cupcake tins. This made the dessert ultra small and easy to eat, and each person could pick and choose what they wanted for toppings. Plus the dessert was so pleasing to the eye! Here is the recipe I followed.
Firecracker Cookies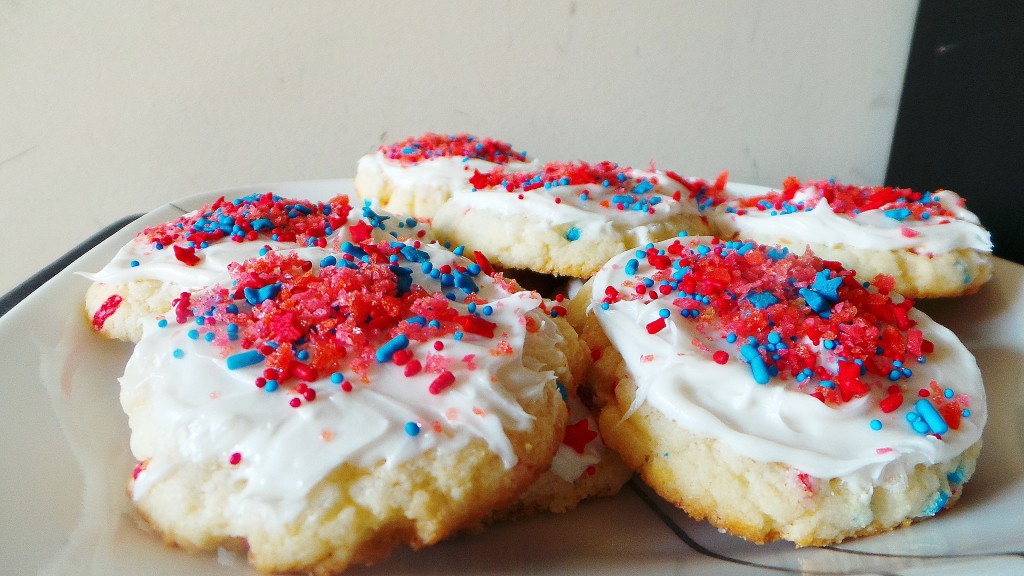 One of my most popular recipe posts to date, the Firecracker Cookies are easy, delicious, and so much fun with the unexpected crackle in each bite! The kids had a great time helping make these for the event and even more fun eating them! Find the recipe for these exciting cookies here.
Firecracker Cake
This Firecracker Cake was a neat addition to the 4th of July festivities with its bright colors and the oohs and ahhs when it was cut into, exposing the vibrant inside of the cake. This was an easy recipe and the kids enjoyed helping bake and decorate this colorful dessert. Find info on the recipe here.
Cheesecake Stuffed Strawberries
I'm kicking myself as I can't find a better picture of these beauties but I served these up a few years ago and they were a huge hit! No baking necessary and the only difficult part was not cutting into the strawberries too far down, and when I did I ate the evidence. Recipe I followed is here.
Red, White, and Blue Layered Cake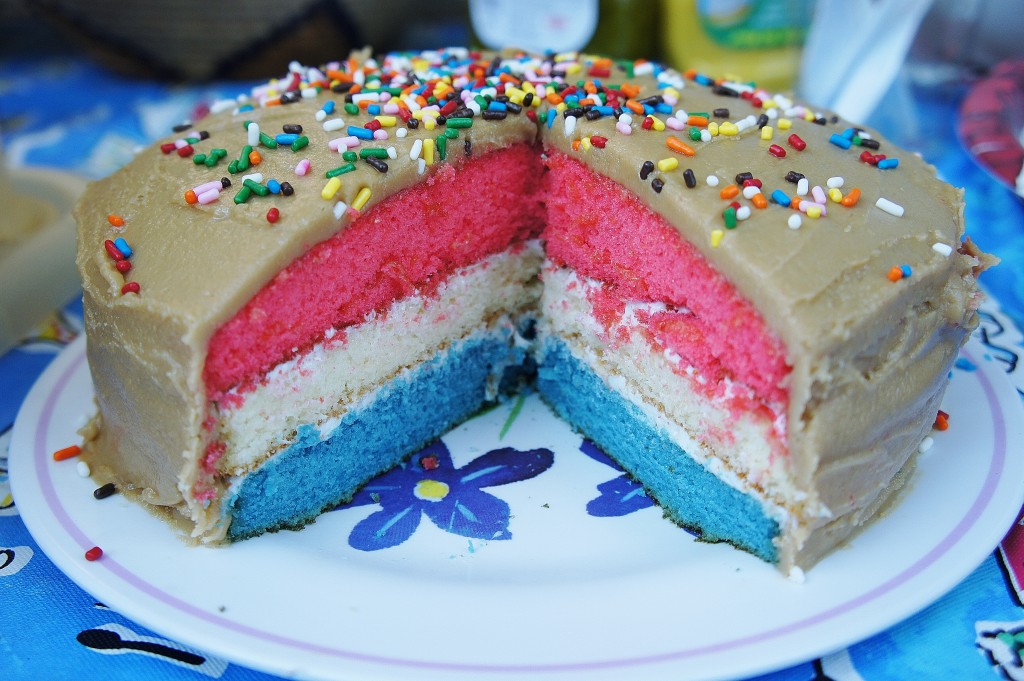 This cake was NOT attractive on the outside and this was done by my son with the purpose and hopes of surprising everyone with what was on the INSIDE! Of course if you are not going for the element of surprise you could always decorate the outside of the cake as beautifully as the inside. I used white boxed cake mix and food coloring to create the layers. Frosting was a homemade butter toffee frosting.
Red, White, and Blue Drink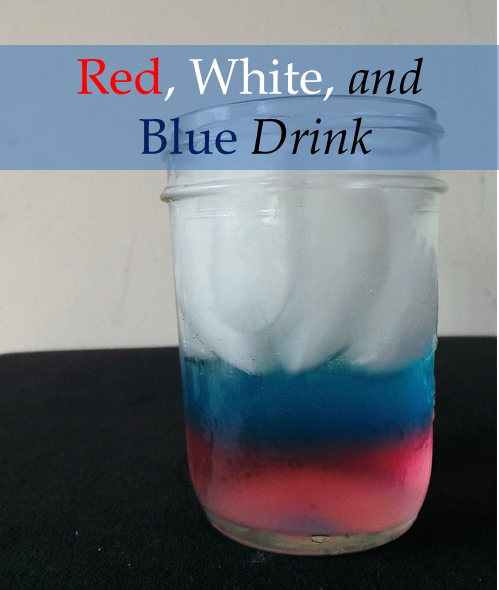 My son's favorite part of the 4th of July event aside from the fireworks is making this red, white, and blue drink for everyone. It is a little bit of fun, a little bit of magic, and a lot of science as to how the three drinks settle out into the separate levels, and is a total crowd pleaser. We had a few hits and misses in figuring out how to make the color differences stand out the best but I think we figured it out! See how we did this here.
Other 4th of July Dessert Inspo
I love looking for new and delicious ways to create themed desserts for this summer party so I gathered up some of my favorites here for more inspiration. All of the original recipes and sites are linked in the titles for you to check out!
Ina Garten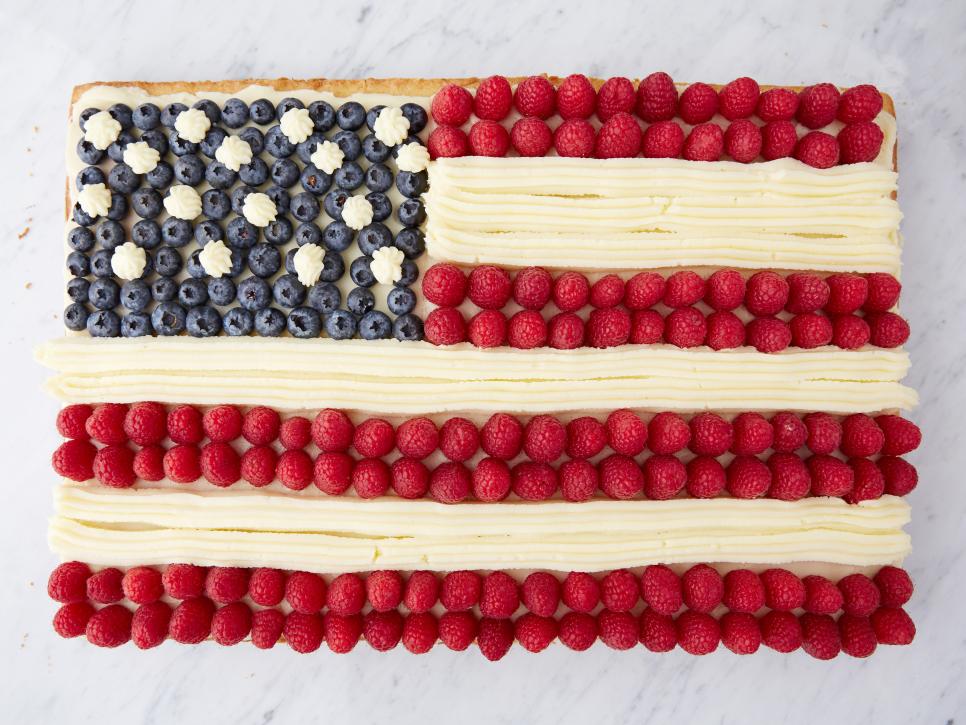 Have always wanted to make one of these! Looks so incredibly simple and delicious!
Food Network Kitchen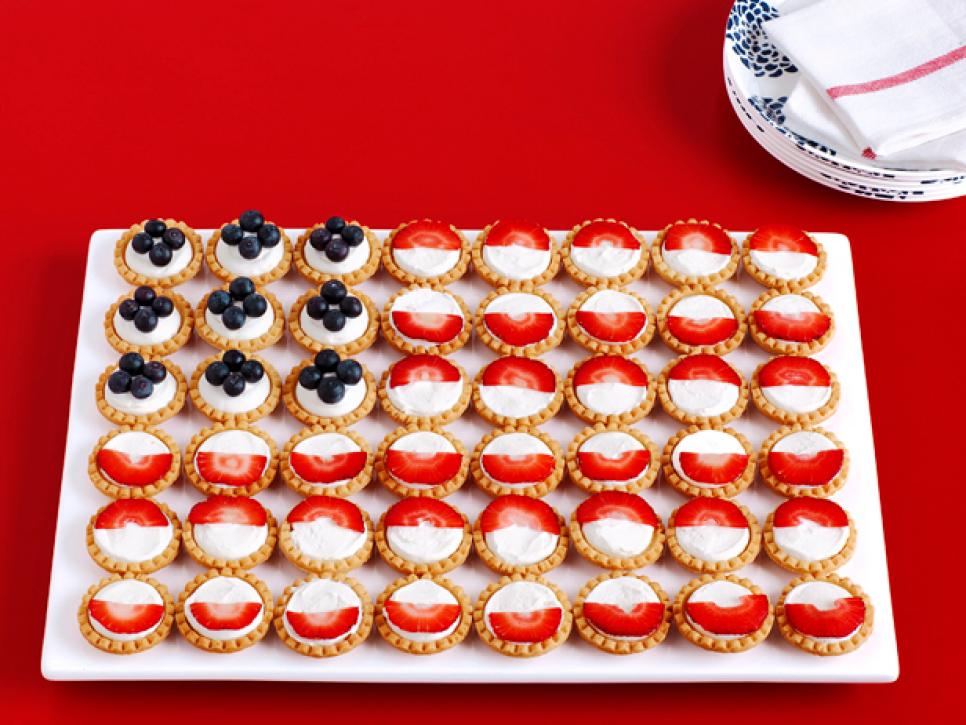 How adorable is this? And you could use my mini cheesecakes for this too.
Crazy For Crust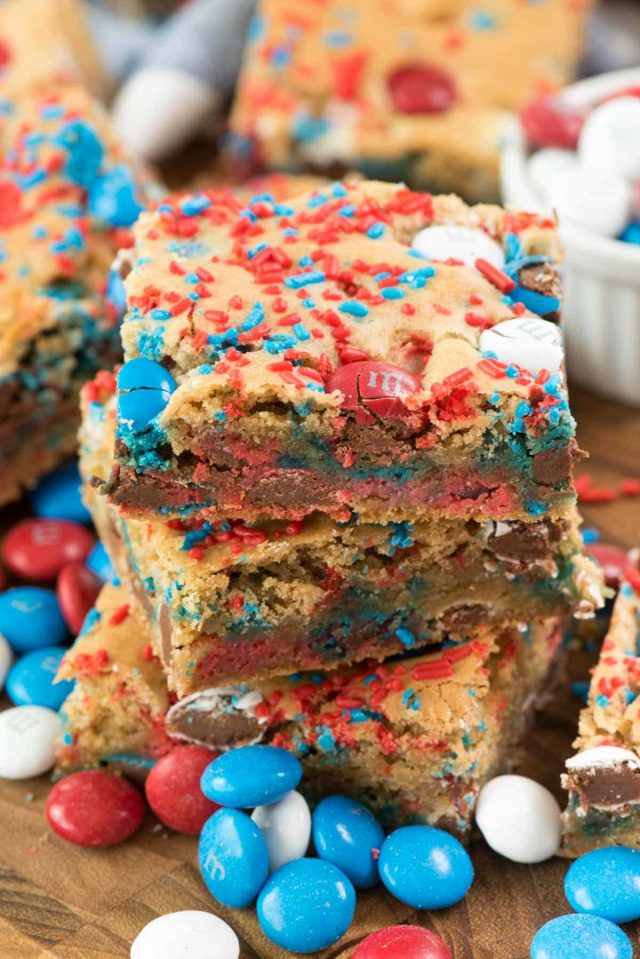 I mean, I don't think I need to say much more than YUM!
Lil' Luna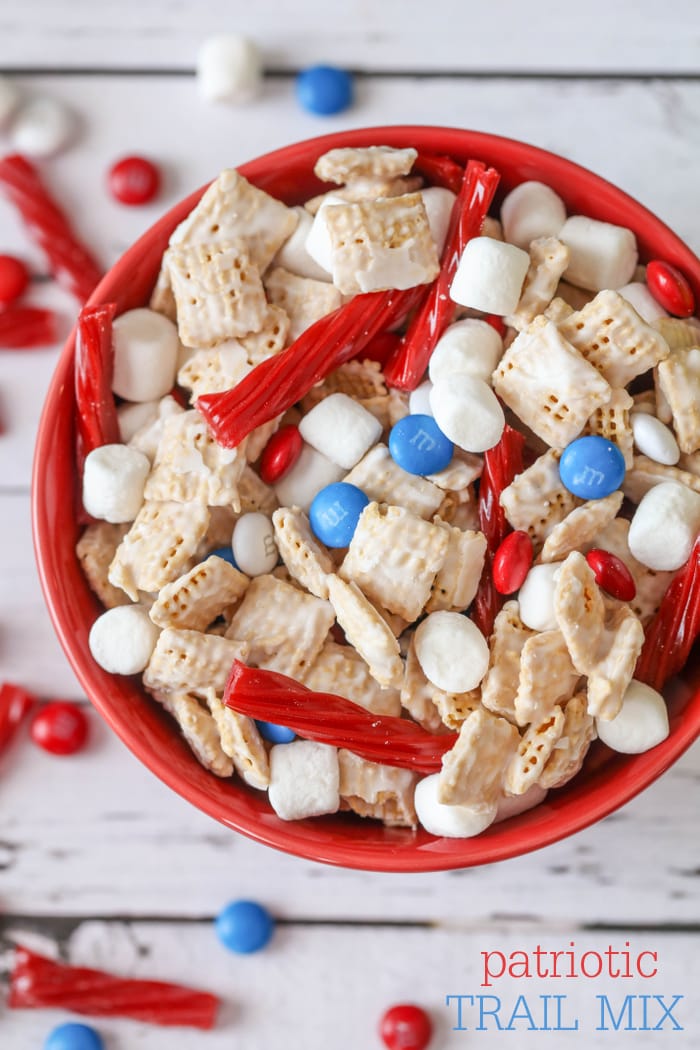 Ever have people complaining they are hungry at the party but food is not quite done? Enter trail mix! Simple and great idea.
Frosting and a Smile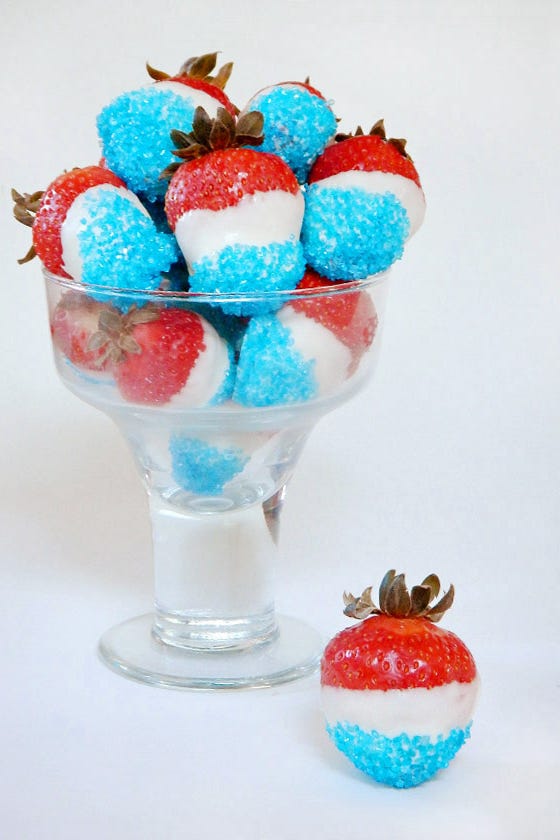 These are exactly what they sound like- an alcohol infused treat! You could go with the buzz-inducing option, or the kids and I like to make these without the booze and they are still delicious!
Natasha's Kitchen
Mmmmm…. Tres Leches cake is SO GOOD. Picture says it all!
Cakes Cottage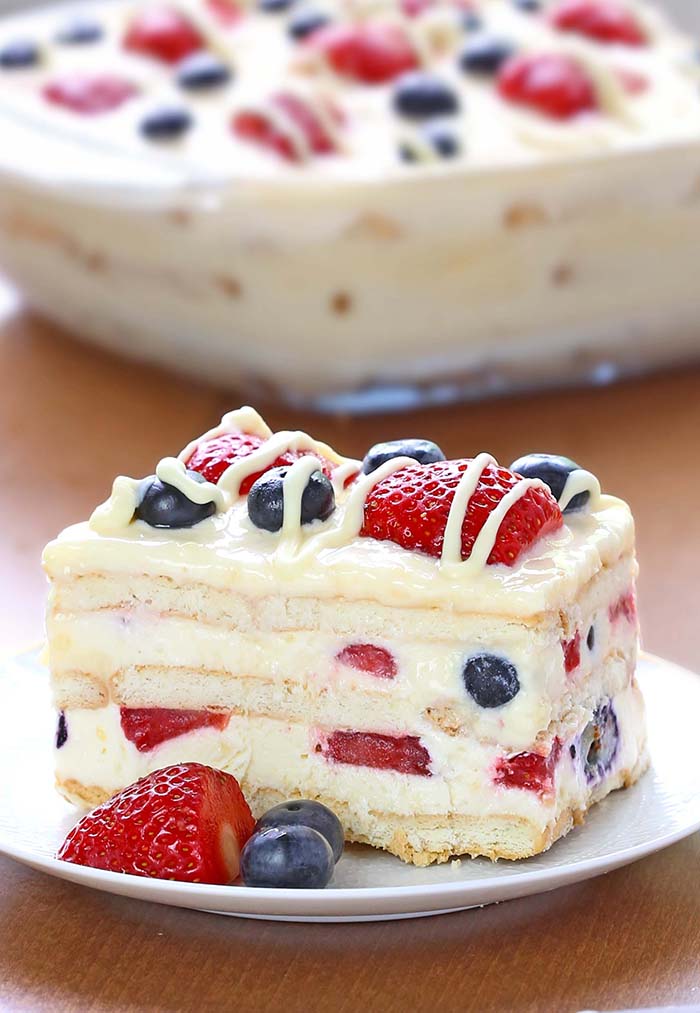 This Icebox Cake looks so yummy and you can avoid using the oven!
Hopefully this collection has got your mouth watering and inspired some ideas for desserts to celebrate Independence Day.
What dessert are you planning for the 4th of July?