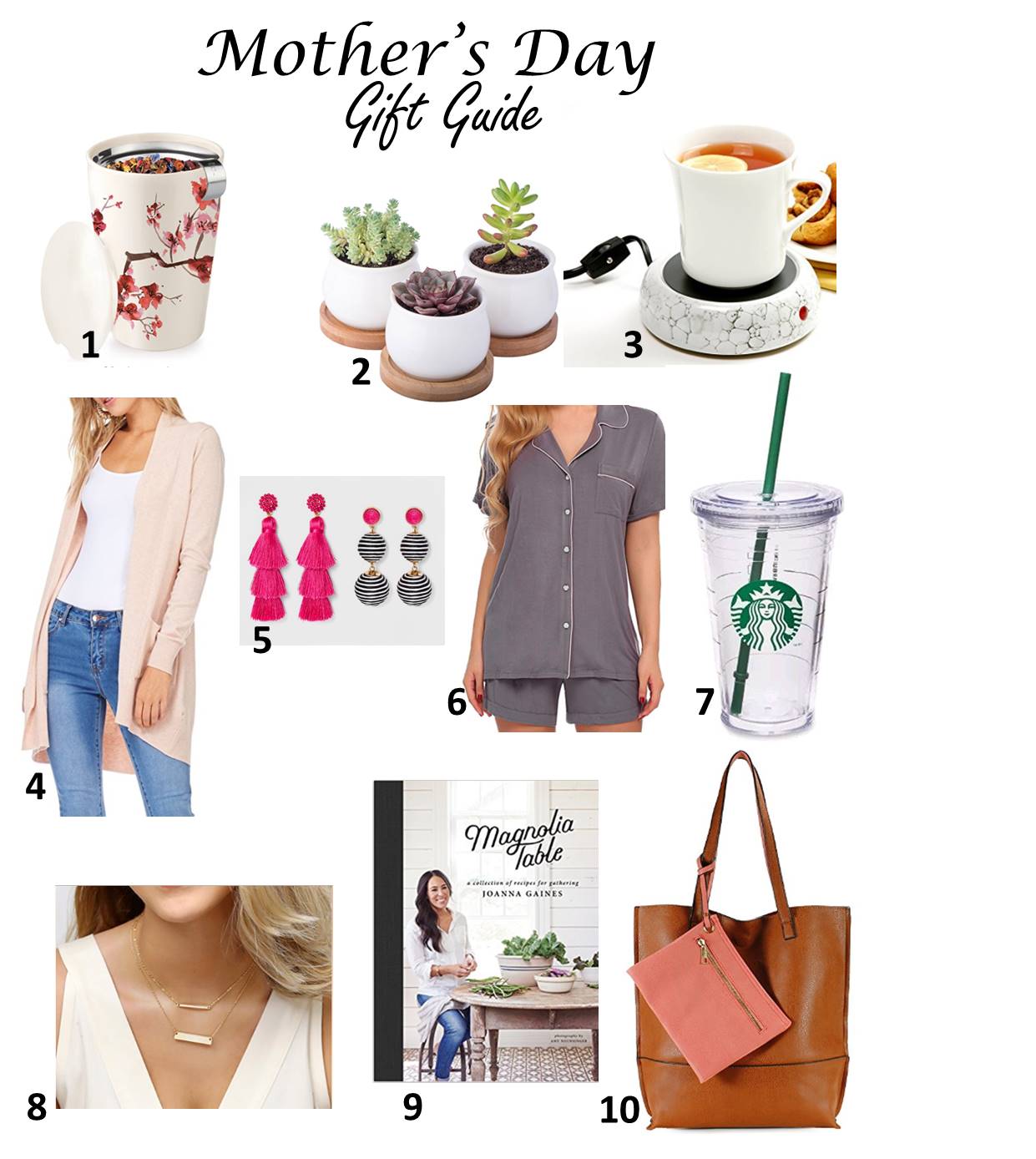 Wow May came quick! With spring now in full swing and school days dwindling down Mother's Day is fast approaching. If you are anything like me, the craziness of May with baseball practices and end-of-school activities has gotten me a bit behind in looking for great Mother's Day gifts for some of the women most important to me: Mothers! I rounded up some of my top picks for gift ideas that can either be picked up in store right away or ordered online with Amazon Prime and still be delivered in time for the big day. Either way be sure to make all the moms and mom figures in your life feel special not just this Sunday but every day. Did I mention these are all under $50? Win!
Click on any of the links below and enjoy!
1.Ceramic Tea Infuser and Lid
: Tea drinkers anyone? Love the beautiful design on this tea infuser.
2. Succulents and Planters
: So many of the mamas in my life love plants! Green thumb or not succulents in planters are a great gift for anyone who enjoys some greenery in the home.
3. Norpro Decorative Cup Warmer:
 I know I am not alone when I say that my coffee is reheated AT LEAST 5 times throughout the day. This gift is wonderful for the coffee drinking mamas, it keeps your coffee HOT! Where was this all during last winter?
4. Cozy Cardigan:
 If you know me then you know I have a small obsession with cardigans. They are the perfect addition to any outfit and are great for chilly nights.
5. Statement Earrings Gift Set: Statement earrings will always make a mama feel good! Dress them up for a night out or wear them more casually with a simple white tee and jeans.
6. Pajama Set:
 What mother does not want to lounge and sleep in the comfiest pajamas ever?! Cute, soft, and completely perfect for any time of night… or day *wink*. Sets come in multiple colors.
7. Starbucks Gift Cards
 or Starbucks Cold Cup
: Ok, notice a drink and beverage theme here? lol With summer almost here a cold cup is great for iced beverages. And if all else fails, many moms would be excited to receive a gift card to their favorite coffee shop so they can grab a beverage of their choice when #momlife is getting a bit chaotic. White Chocolate Latte anyone?
8. Personalized Necklace Name Plate Bar
: A customizable bar necklace that reads 'Mom' or 'Mama' or 'Nana' is always a wonderful gift that will keep the special lady in your life treasuring her necklace.
9. Magnolia Table: A Collection of Recipes for Gathering
: If the mom in your life likes the show Fixer Upper and enjoys cooking she may love receiving Joanna Gaines's new cook book. Fresh biscuits please!
10. Reversible Tote Bag :
 A tote to hold all the things? Yes please. Reversible so the tote can look like I have two totes? Sign me up! Although be careful with this gift, us moms are already holding everyone else's things in our purse, be sure to promise you won't add to the load just because mom has a larger bag!
11. Not pictured: KobraTech Cell Phone Tripod Mount and Remote
 Great for the photo clicking mama so she can be in the photos too! Works with many different phones and attaches to a tripod.
12. Not pictured: Stella Artois 2-Pack Glass Chalice
 Have a lady who enjoys relaxing with a beer? These glass chalices are a beautiful way for anyone to enjoy a cold beverage.
13. Not pictured: Instant Pot 6 Qt Makes dinner a breeze!
Hopefully this list of gifts gave you some creative ideas for getting something special for the moms in your life. Be sure to tell all the mamas that they are special every day and that what they do does not go unnoticed. Happy Mother's Day to all the moms and mom figures out there and have a blessed day!
What are you getting the moms in your life this special Mother's Day?