Thanks to the very popular Korean Netflix show Squid Game, dalgona candy is becoming more well known globally and has even become a popular challenge on social media apps. With only 2 ingredients needed, this dalgona sugar candy is easy to make, and even more fun to eat! No special tools required for this yummy treat.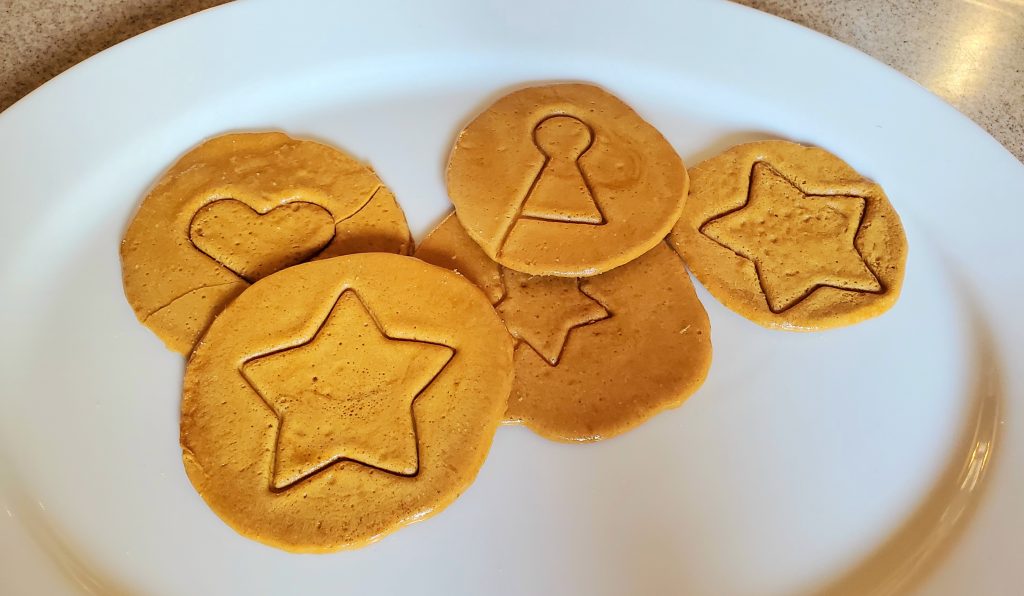 What is Dalgona Candy or Poppgi?
Dalgona candy, also know as ppopgi, is a popular street food in South Korea that was common around 60 years ago but has recently become popular again due to the highly acclaimed Netflix show Squid Game. It is a toffee-like candy made with only sugar and baking soda, and is something my mom ate growing up in Korea. In fact my mom made these for my kids way before Squid Game made them popular, and it was always fun attempting to break the shapes out without it cracking.
My mom shared with me that when she was a young student in South Korea, there was usually someone making and selling dalgona outside her school. Students would buy the dalgona candy in hopes of taking the sides off the pattern without breaking it, just like in Squid Game. If the student was successful in not breaking the pattern, he or she would receive another dalgona candy free of charge. Of course, she said it was a next to impossible task to do this successfully lol.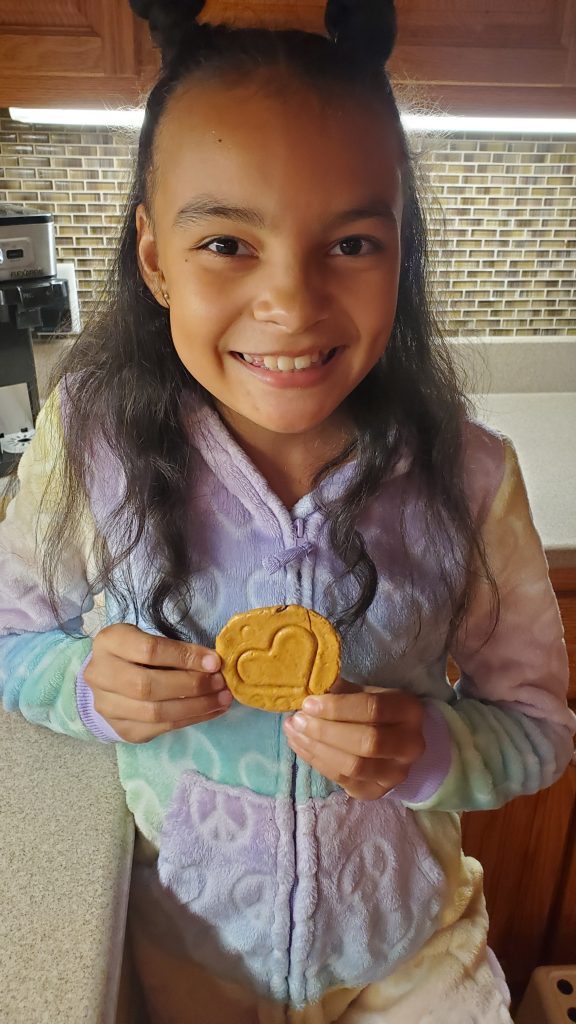 Tools and Ingredients
Everything needed to make these dalgona candies is available in most kitchens and pantries. Ingredients are only sugar (white or brown, I prefer white) and baking soda (NOT baking powder). That's it! The tools needed include a metal ladle, a spatula, a wooden chopstick, something flat such as a bowl or measuring cup, and cookie cutters. Or, you can order this dalgona making kit on Amazon which includes all of the tools needed to make dalgona candy.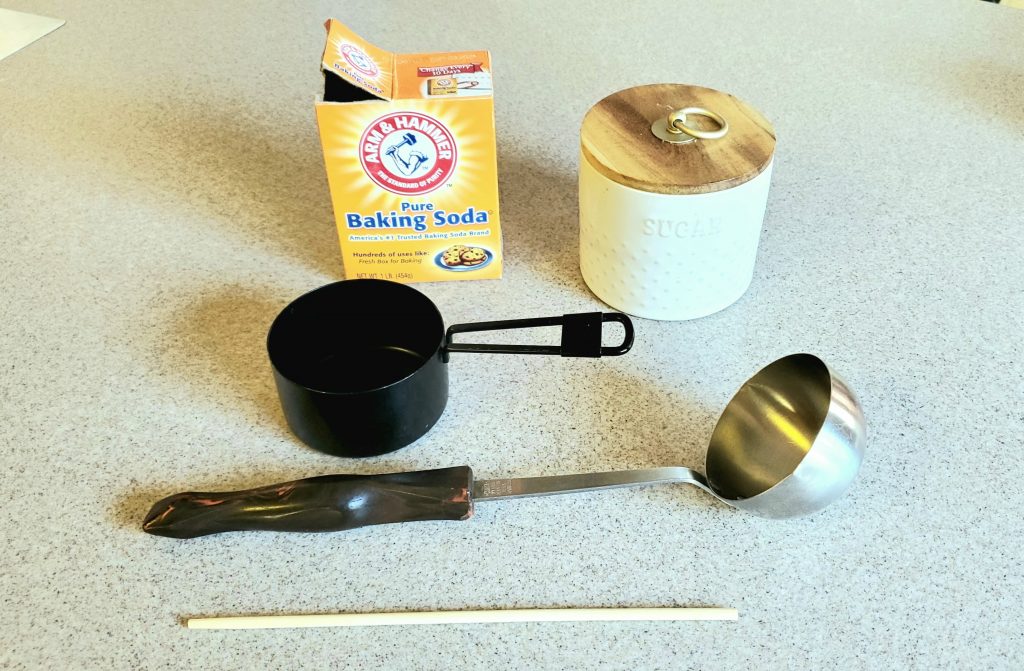 If you choose to order the dalgona making kit, it includes stainless steel scoop, press plate, shape frames, bottom plate, and dragger. I like having the kit as it keeps everything together for when we are ready to make some dalgona candy.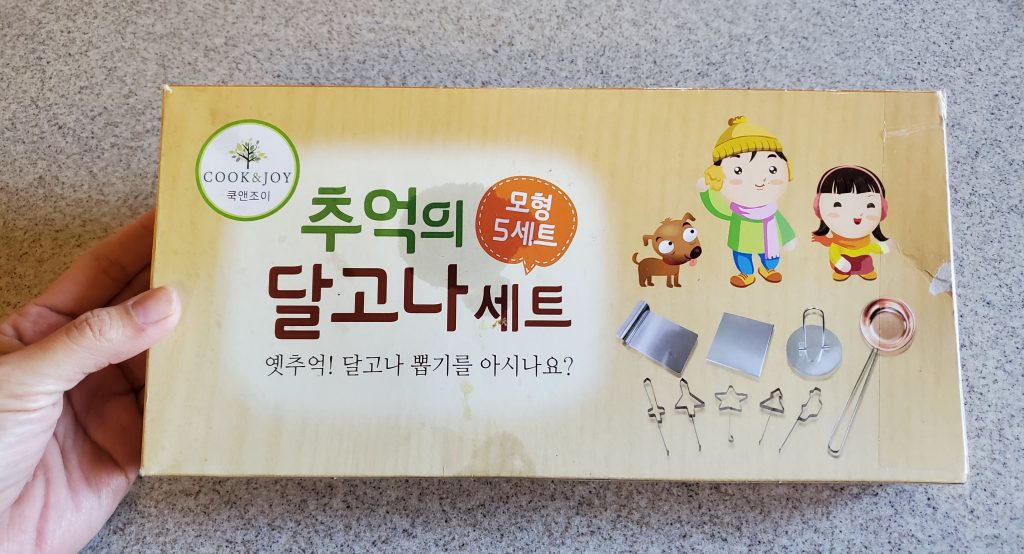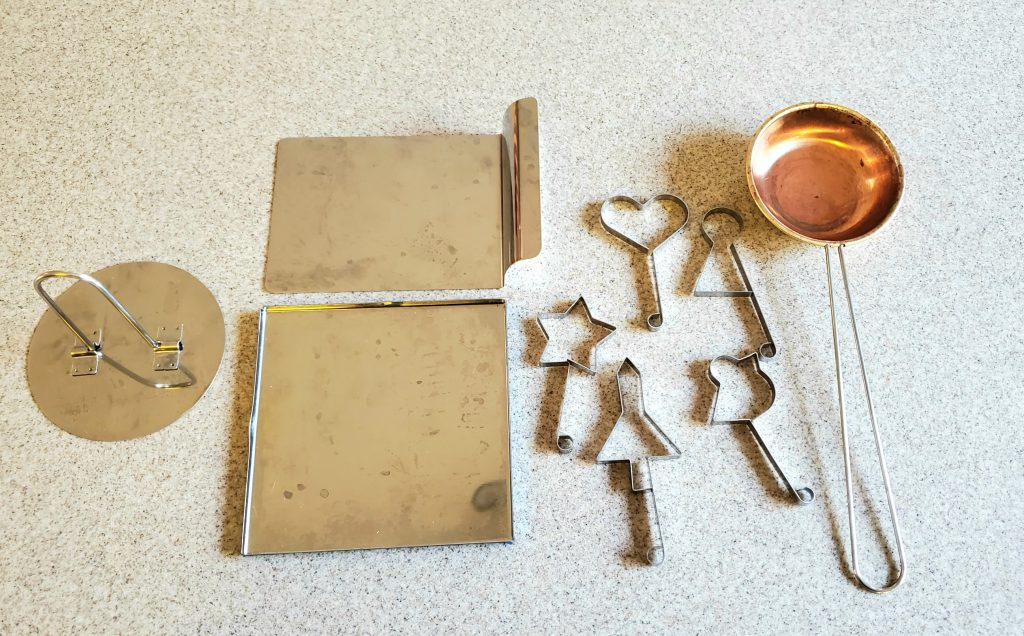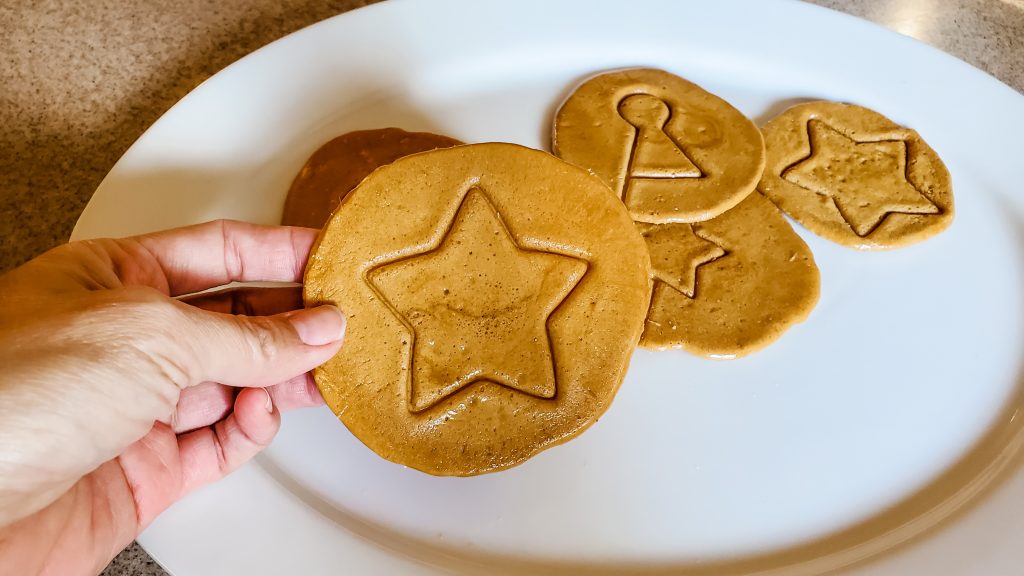 Steps to Making Dalgona Candy
Have all the tools and ingredients ready to go as the process happens very quickly!
Add 1 1/2 Tbsp of sugar into metal ladle
Place ladle over low to medium low flame and begin melting sugar while stirring with a wooden chopstick, about 1 minute.

it is VERY easy to burn the sugar so pay close attention while it melts. Move the ladle close to and away from the flame as needed
When all sugar is melted and no clumps are left, move ladle away from the flame, add a pinch of baking soda to the melted sugar and begin stirring the mixture.
The mixture color will change to a light caramel color, at which point poor the mixture onto parchment paper.

You can use your spatula to get the remaining mixture out of the ladle

Let mixture cool for about 15-20 seconds, then use the lightly oiled dalgona press, or the bottom of a round stainless steel measuring cup or bowl, and evenly press down on the cooled mixture for 8 seconds, until it is about 1/4″ thick.

If it does not cool slightly the mixture will stick to the press. If the mixture cools too long, it will harden and will not be able to press it nor press a shape into it
Carefully lift press, then press a shape frame or cookie cutter down into the mixture, and remove the cutter immediately after shape is made. Do not push it all the way through the mixture, you are only stamping it.
Let it completely cool and it is done!
Trial and Error
To be honest this recipe does take some trial and error. I almost always mess up the first one or two dalgona candies by either burning the sugar or pressing too early and having the mixture stick to the press. After a few tries though I get into a rhythm and get the timing right. So if yours does not turn out right away do not give up!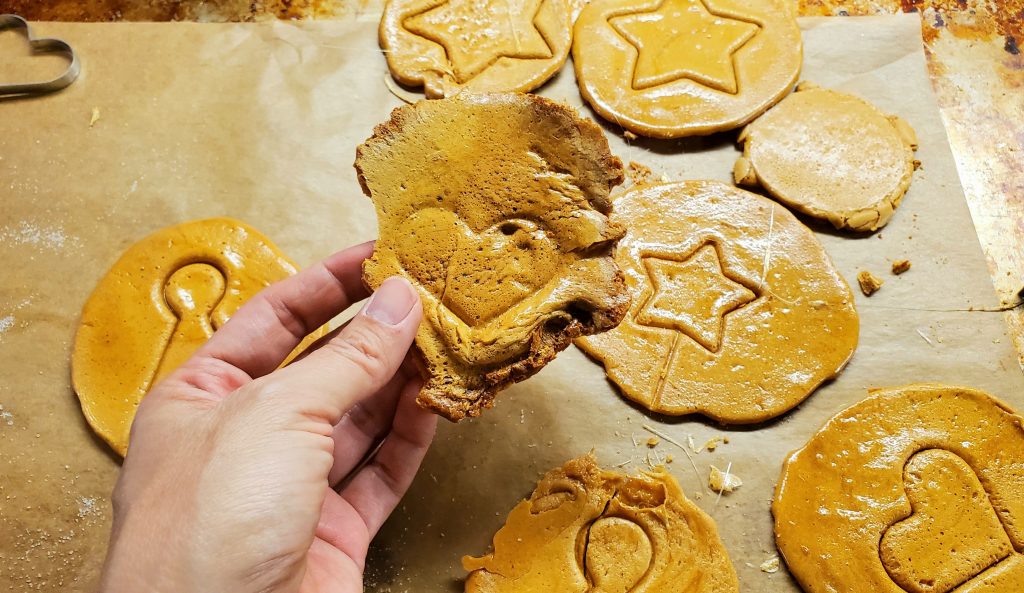 Have fun with this simple yet tasty candy, and good luck on getting the shape out without breaking it!
Other delish Korean recipes you may like: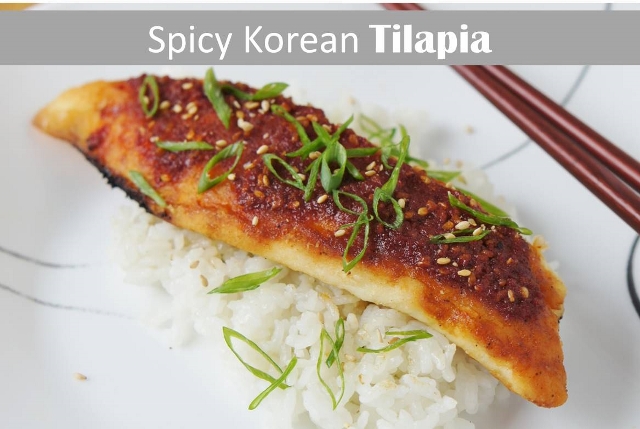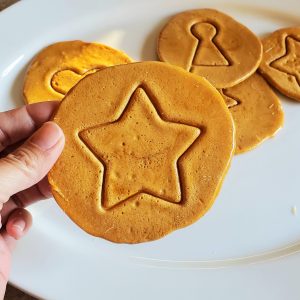 Dalgona Candy
Dalgona candy, or ppopgi, is a Korean toffee-like candy made using only sugar and baking soda.
Equipment
Baking sheet

Metal Ladle

Wood Chopstick

Parchment Paper

Spatula

Flat bottomed tool such as metal bowl or measuring cup

Cookie Cutters
Ingredients
1 1/2

tbsp

Granulated sugar

can also use brown sugar

2

pinches

Baking powder

Vegetable spray
Instructions
Gather all tools and ingredients and have near stove, cooking process is very fast. Line small baking sheet with parchment paper and add a sprinkle of sugar, place beside stove.

Add 1 1/2 tbsp sugar to ladle and hold over medium-low flame.

When sugar begins to melt around the edges, stir melting sugar using wood chopstick until sugar is completely melted, about 2 minutes.

When sugar is completely melted and has turned a golden brown color, take ladle off heat and add 1-2 pinches of baking soda to melted sugar.

Continue to quickly stir mixture until sugar color changes to light brown and becomes thick.

Poor mixture out onto the prepared parchment paper, using the spatula to scoop out remainder of mixture. Let rest for about 15 seconds.

Spray the underside of the flat utensil, such as bottom of metal bowl or metal measuring cup, then press down on mixture evenly to about 1/4" thick for about 8 seconds.

Carefully lift flat utensil off mixture, then press a cookie cutter into the mixture like a stamp, careful not to push cookie cutter all the way through.

Allow to cool completely then enjoy!
Notes
Gather all ingredients and tools beforehand as process of melting the sugar and pouring it is very fast.
It is very easy to burn the sugar if not watched carefully. You can move the ladle closer or further away from flame to keep from burning the sugar.
I like to have a pot of hot water on the stove to dip the ladle, spatula, and chopstick in to get the cooled mixture off quickly, especially if I am making more than one dalgona (which is always lol)
This process is absolutely trial and error. I typically mess up the first 1 or 2 dalgona candies before I can get the hang of timing everything. Don't give up if you are not successful in making these right away!