This Spicy Korean Tilapia dish is so easy and quick that it is perfect for a weeknight dinner, yet tastes ah-may-zing. The sweet and tangy spiciness of the sauce balances well with the mild tilapia and if the heat is too much you can always pair it with white rice. However, if you are anything like my husband and I, we like to add even more of the sauce on top of the fish with each spoonful, making each bite incredibly flavorful, spicy, and addicting.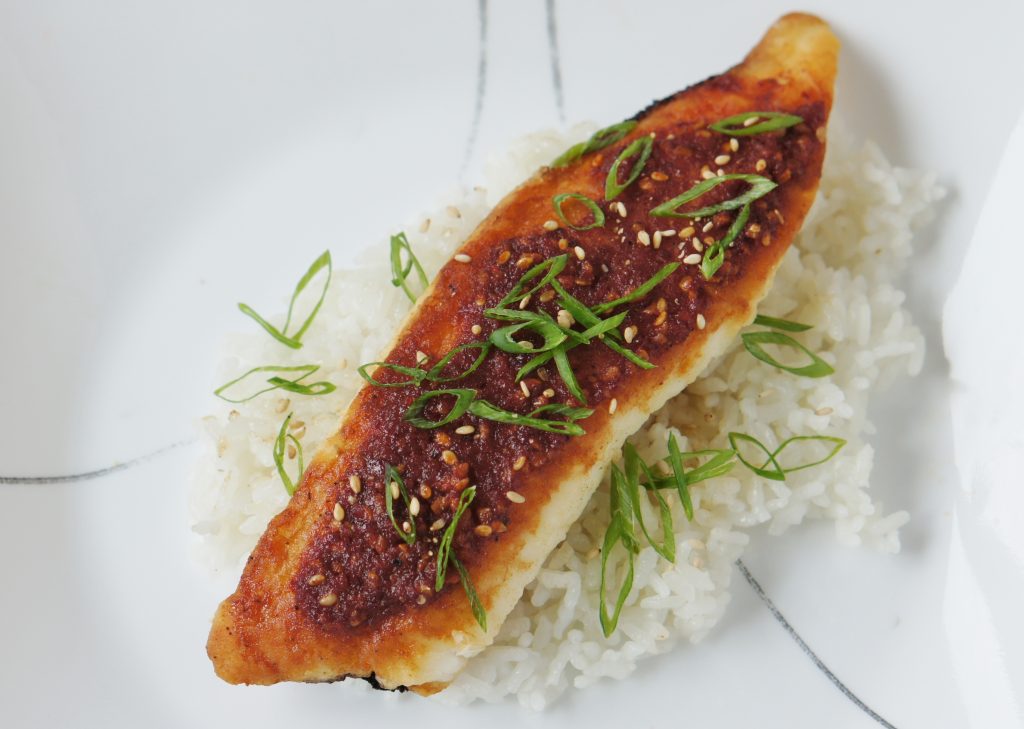 Making the spicy Korean tilapia is simple and takes no more than 10 minutes start to finish with all the prep work going into making the sauce. You can prepare this dish two ways- by pan frying and broiling. Both ways result in a fish that is flaky yet still moist and very flavorful. I personally prefer to pan fry first as it creates a nice crust on the fish before adding the sauce on top. I sometimes also like to put it under the broiler for a few minutes after pan frying to add some char to the tilapia, creating even more of a crunchy outside.
Although I used tilapia here, any mild white fish could be used for this dish and my guess is that this would be a great way to prepare salmon as well. When I try it with salmon I will definitely update you with the results! The star of the sauce is gochugaru, Korean red pepper flakes that are commonly used in many Korean dishes. It is incredibly spicy, very red in color, and can be found at any Korean grocery store. If you are unable to find it you could try using gochujang, a Korean red pepper paste that is now often available at regular grocery stores and even Target and Wal-Mart.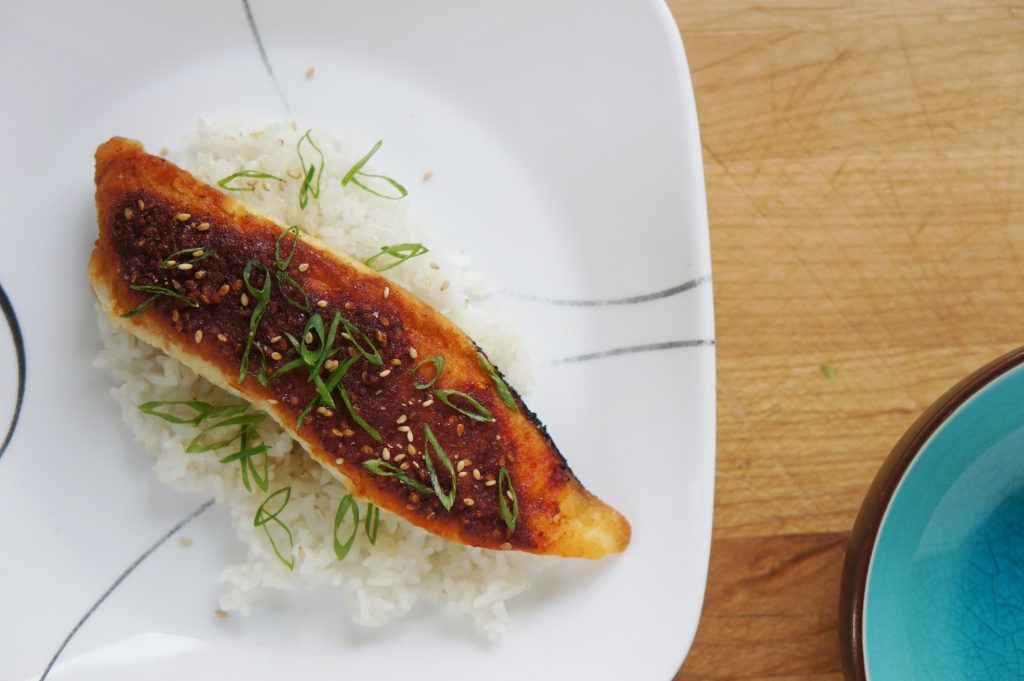 This has now become a weekly favorite that is perfect for a last minute meal and is both fulfilling and tasty. This has also been part of our No Meat May, which we have been eating along with some other dishes such as Shrimp Pad Thai, Kimbap, and Savory Asian Oatmeal. Give it a try and play around with the ingredients as this can be customizable to your taste!
How do you like to cook your fish?
Spicy Korean Tilapia
This dish is quick and very easy, making it the perfect meal for weeknights.
Ingredients
1

Tilapia fillet

or any white fish, patted dry with paper towel

1/4

Cup

Flour or cornstarch

1/4

Teaspoon

Garlic Powder

Salt and Pepper to taste
Spicy Sauce:
1

Tablespoon

Soy sauce

2

Teaspoons

Gochugaru

Korean red pepper flakes

1 1/2

Teaspoons

Honey

1/2

Teaspoon

Sesame oil

1

Teaspoon

Minced garlic

1/4

Teaspoon

Fish sauce
Garnish:
1

Green Onion

chopped

1/4

Teaspoon

Sesame seeds
Instructions
Combine all spicy sauce ingredients in a small bowl and set aside.

Heat a medium sized oven proof skillet over medium-high heat. On a plate combine the flour/cornstarch, garlic powder, and salt and pepper. Dredge the fillet in the flour on both sides, then shake gently to get off excess flour.

When pan is hot, add vegetable oil then place the fillet in the pan and cook for about 3-4 minutes until side is golden brown.

Meanwhile, preheat the broiler on high and position the rack a few inches below the heat.

Turn fish over and cook for another 2-3 minutes, or until the fish is cooked through. Spoon the sauce right on top of the fish while it is in the pan, covering the entire top of the fish.

Place the pan into the oven under the broiler and broil until there is a nice char on the fish, or until desired doneness, no more than a few minutes. Be sure to keep an eye on the fish as it is easy to burn under a broiler!

Take out of oven and serve immediately over rice. Garnish with green onions and sesame seeds. Feel free to add more of the sauce over the fish after serving.