Shrimp, Beef and Broccoli Stir Fry
Shrimp, beef and broccoli stir fry has officially become one of my husband's favorite dinners and has become a staple on our dinner table. It cooks up quickly, can be served over rice, noodles, or by itself, and tastes absolutely amazing! I would probably eat this every day of the week if I had the choice. In fact, maybe we'll have it tonight…
I came up with the recipe when trying to use up some frozen shrimp we had leftover from New Year's Eve. Beef and broccoli stir fry has always been a favorite of mine so I would have never thought to mess with such a great dish, however sometimes trying something different results in a new favorite!
What I love about this recipe is that it is so versatile. You can leave out the shrimp, substitute chicken for the beef, or omit meat all together if you choose. In addition, I often add whatever vegetables I have available in the fridge such as red and green bell peppers, zucchini , and even baby corn, making this a great way to use up leftover veggies.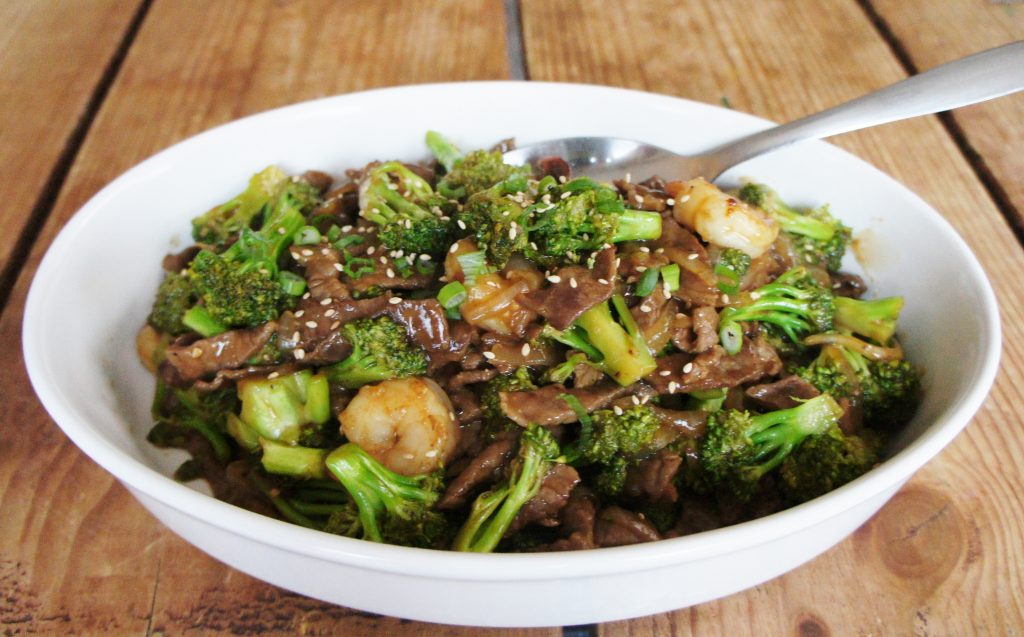 For me though, the classic beef and broccoli stir fry with the addition of shrimp is where it's at and is always a delicious choice. I bet when you try this dish it will be a hit for you too! Who needs takeout when you can have the real deal?
I like to marinate the beef in its own sauce before cooking it and then adding the stir fry sauce later as I feel it gives it more flavor, however if you are pressed for time feel free to skip the marinade and just go straight to cooking the beef in the oil.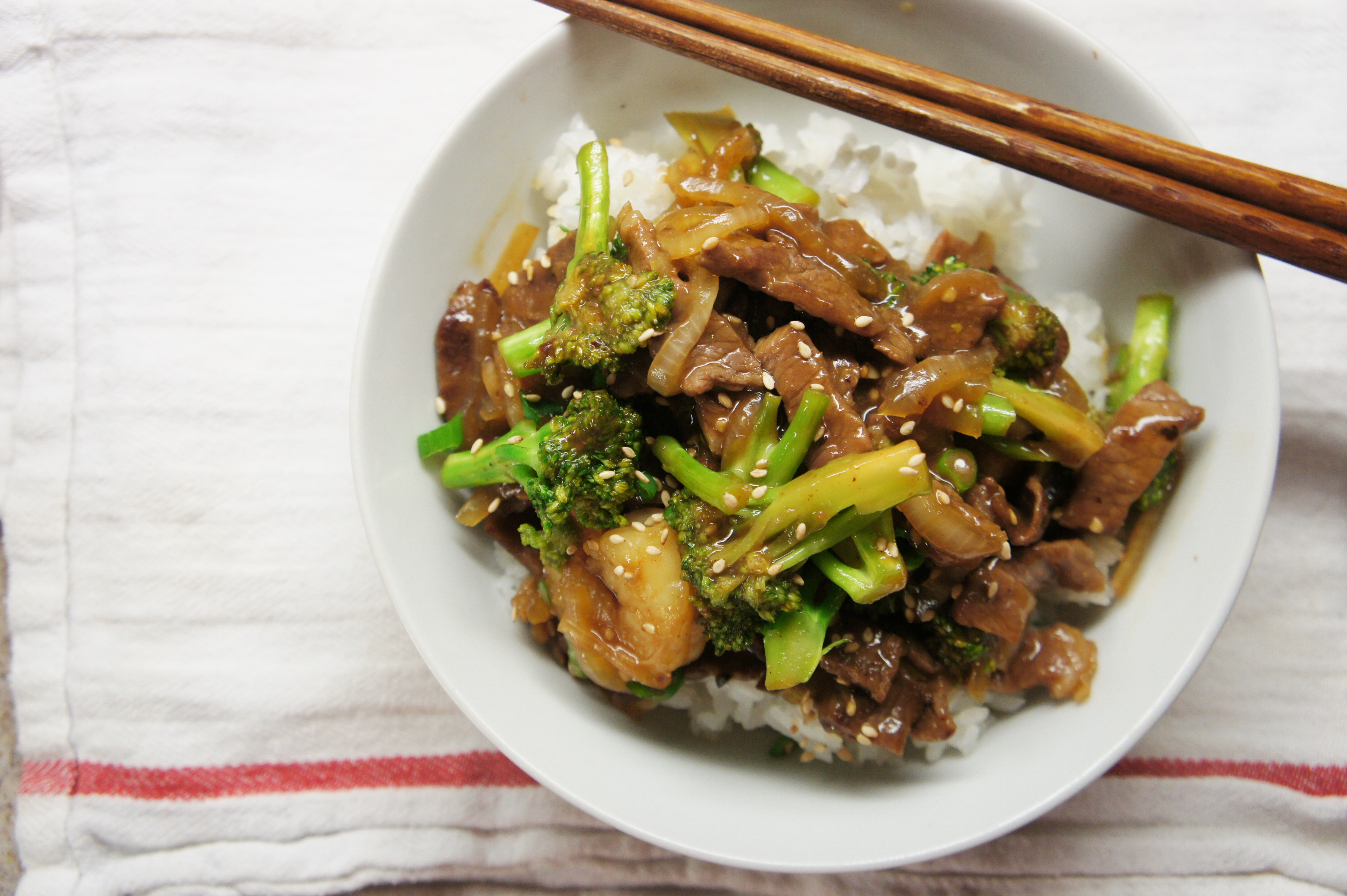 Shrimp, Beef and Broccoli Stir Fry
This is a perfect dish for anyone who wants a delicious dinner that takes little time and is versatile enough to use up leftover vegetables from the fridge.
Ingredients
BEEF MARINADE:
2

tbsp

soy sauce

2

tbsp

cornstarch

1/4

tsp

ground pepper

1/2

tsp

garlic powder

1

tbsp

brown sugar

2

tbsp

water
STIR FRY SAUCE:
1

tbsp

cornstarch

1/3

cup

soy sauce

2

tbsp

brown sugar

2

cloves

of garlic

minced

1

tsp

sesame oil
MAIN INGREDIENTS:
1

lb

sirloin steak

cut into thin strips

2

tbsp

vegetable oil

1

lb

shrimp

deveined and shelled

4

cup

broccoli florets

1

small onion

thinly sliced

1

green onion

thinly sliced

Sesame seeds to taste

Salt and pepper to taste

Red pepper flakes optional
Instructions
In a medium bowl whisk together beef marinade ingredients: soy sauce, cornstarch, ground pepper, garlic powder, brown sugar, and water. You can either let the beef marinade for up to an hour in the fridge or begin to stir fry right away.

In a small bowl whisk together stir fry sauce: cornstarch, soy sauce, brown sugar, garlic, and sesame oil. Set aside.

Heat a large frying pan over medium-high heat and add 1 tbsp of vegetable oil. Add beef and cook until no longer pink, about 3-4 minutes. Remove from pan and set aside.

In same pan heat 1 tablespoon vegetable oil over medium-high heat and add shrimp. Cook stirring occasionally until pink, then add onion and broccoli and stir 2-3 minutes or until tender.

Whisk then add stir fry sauce into pan and stir well. When sauce begins to thicken add beef and stir until well combined, about 1-2 minutes.

Serve immediately over rice or noodles and garnish with sesame seeds, green onion, and optional red pepper flakes.
Notes
Prep time: 10 mins
Cook time: 15 mins
Total time: 25 mins
Serves: 4 servings
What is a dish where you tried something different and ended up loving?