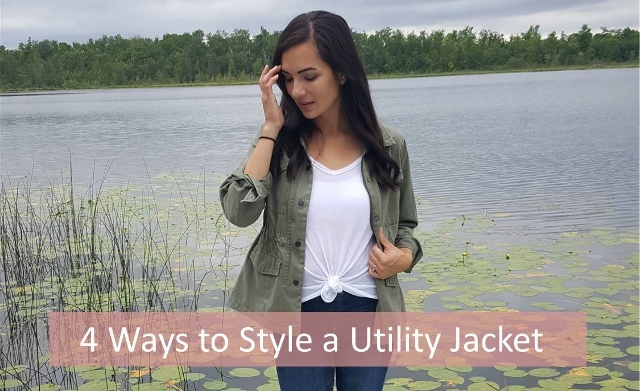 4 Ways to Style a Utility Jacket
One of my favorite parts of fall is wearing lightweight outerwear like utility jackets that are perfect for cooler weather. The utility jacket is a great staple to have in any wardrobe because it is versatile, lightweight, and keeps you warm.  In addition they come in multiple colors and prints which adds to the fun of putting outfits together! Here I am showing you 4 different ways to style a utility jacket for fall, and these could just as easily be worn in any season. Comment below and tell me which look was your favorite!
Utility Jacket + Basic White or Striped Tee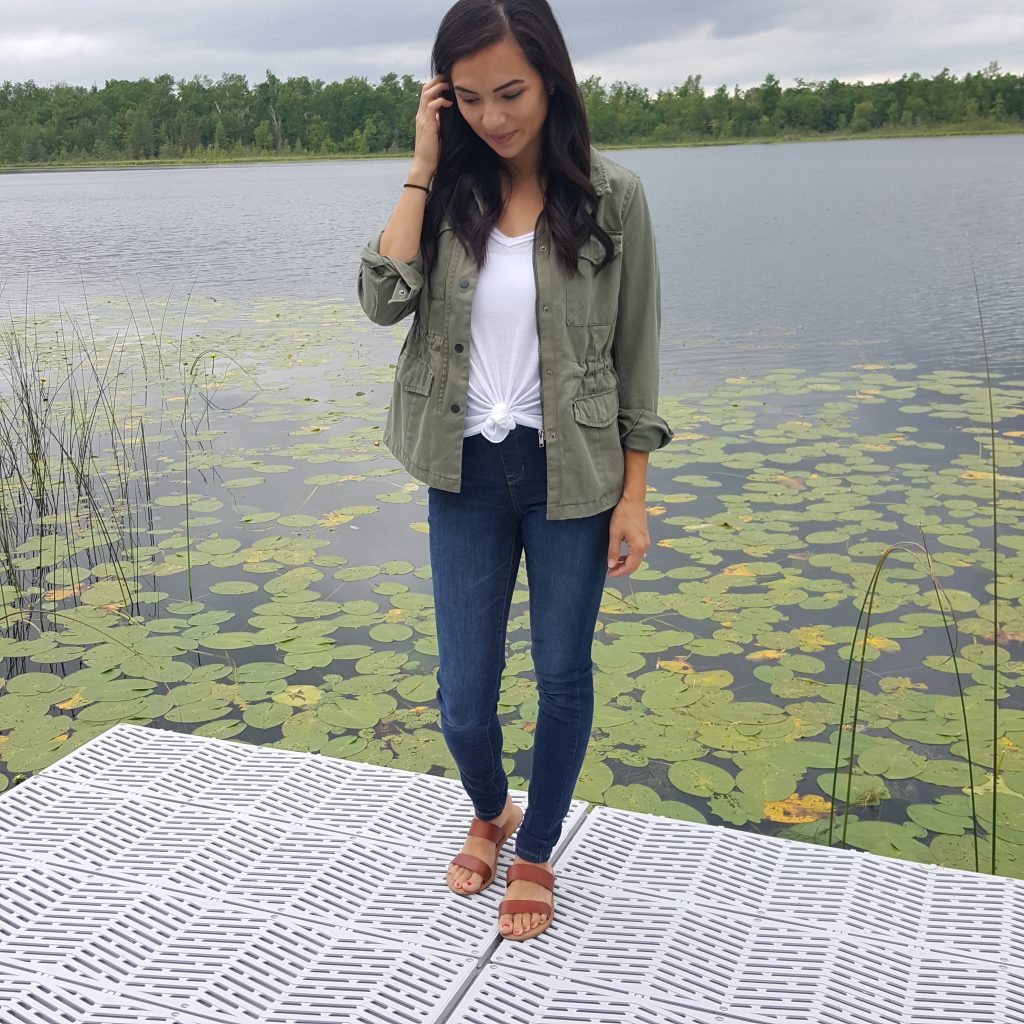 This is probably how I most often wear my utility jacket. As most of you know I am all about the basics, and a white or striped tee and jeans is one of the the most basic outfits you can wear.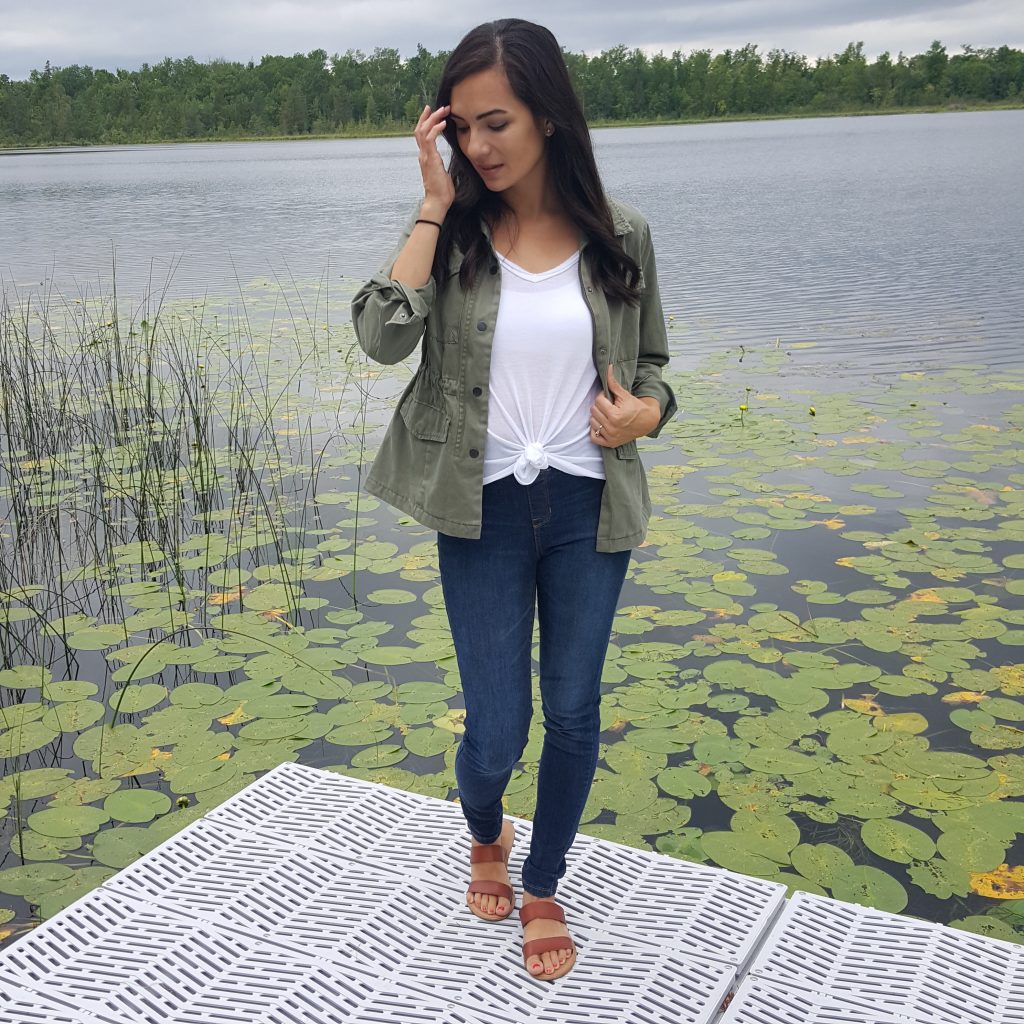 Utility jackets are also great for chilly rainy days! It had literally rained for three days straight when I finally threw my utility jacket on with an umbrella and ran out the door.
Who says an umbrella can't be a fashion accessory?!
Shop the above outfits and similar pieces here:

Utility Jacket + Leggings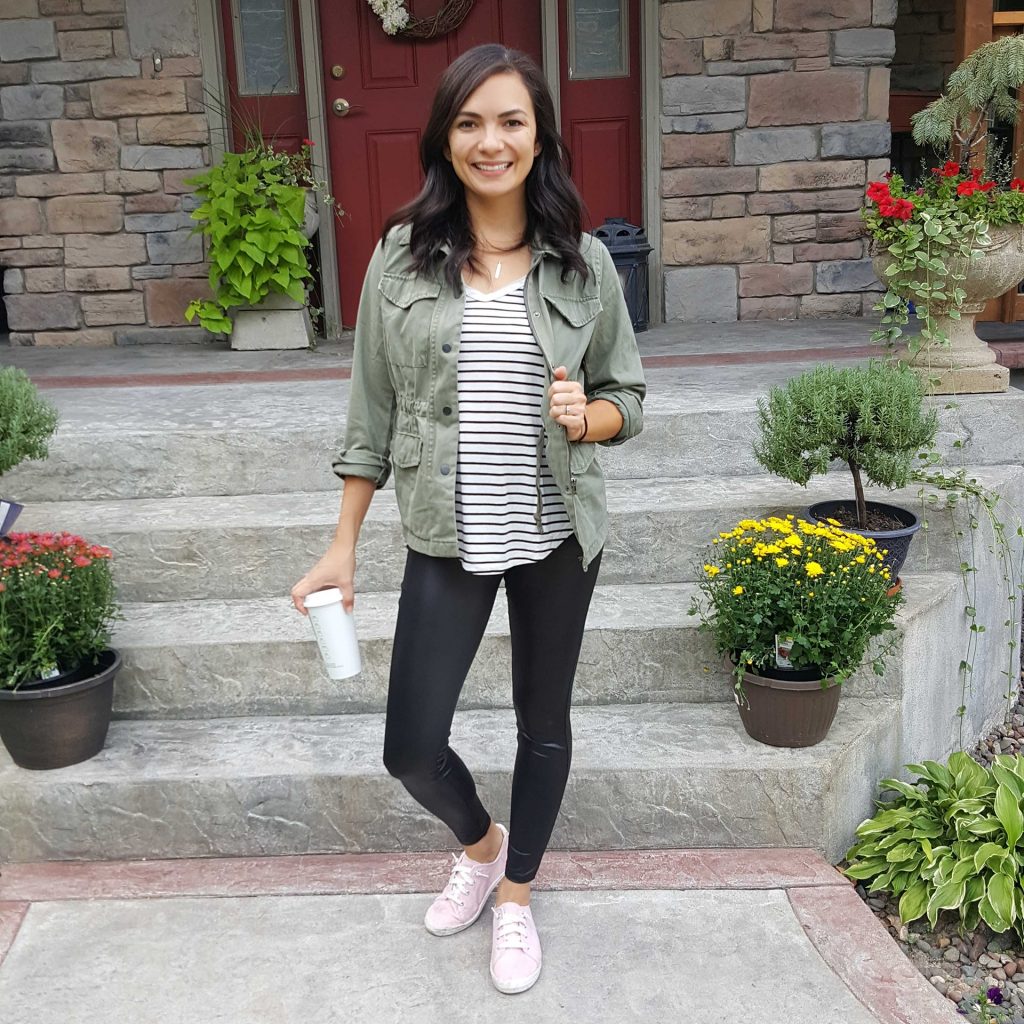 You want crazy comfy AND cute?! Throw a utility jacket over leggings and you instantly elevate what feels like pajamas into a cute every day outfit. Here I am wearing faux leather leggings but these would look just as great with regular black leggings.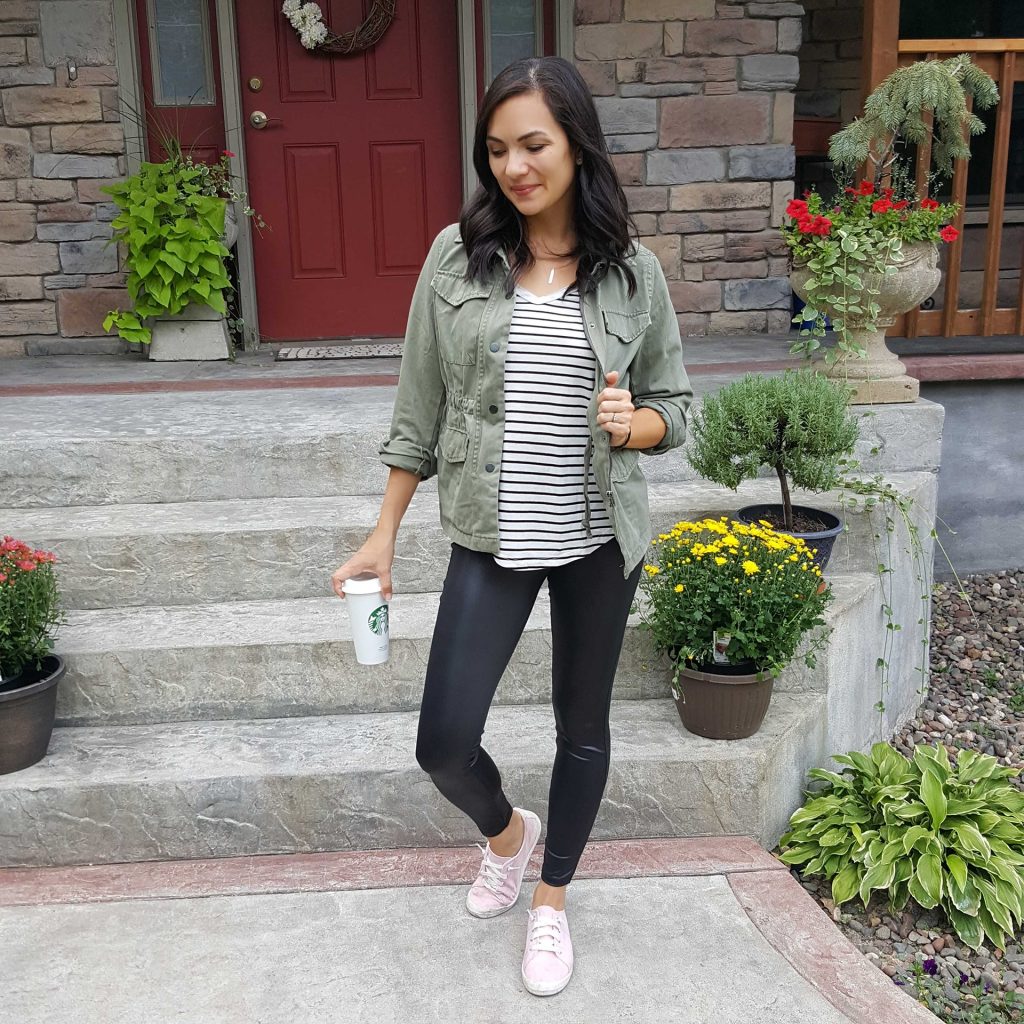 Shop this outfit and similar pieces here:

Utility Jacket + Maxi Dress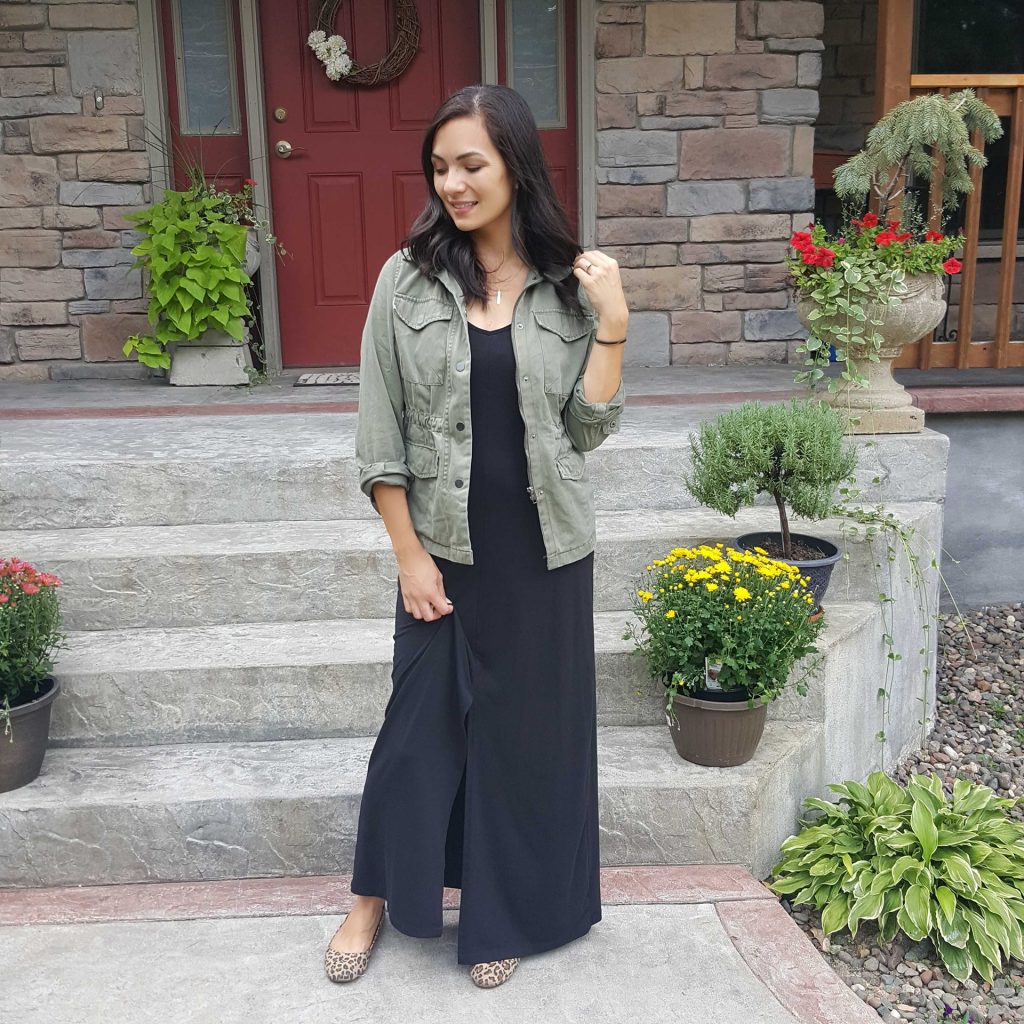 I love me some maxi dresses! I wear them a lot in the summer, and they transition well into fall because the length of the skirt keeps my legs warm and I can always throw on some tights or leggings underneath for extra warmth. However, many of my maxi dresses are sleeveless so throwing a utility jacket over them not only makes them more chic but also keeps my arms warm.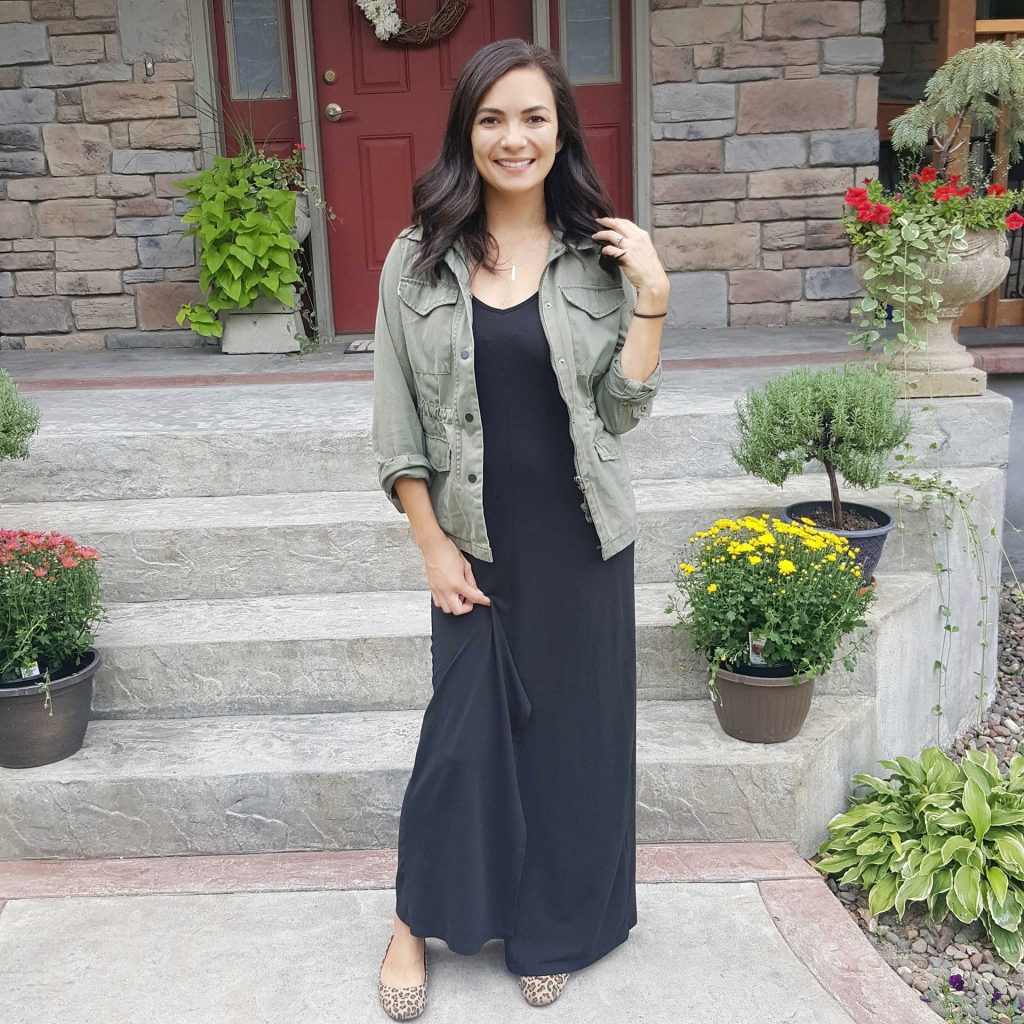 Shop this outfit here:

More Than Just Olive Green
The other great thing about utility jackets is they come in not just the olive green as you've seen above but also many other beautiful colors. I'm itching to grab a camo or pink utility jacket next!
Here I've rounded up some of my fave utility jackets:

Here are some different colored utility jackets that are equally as cute and versatile as the classic olive green jacket:

Some of my favorite places to find good quality utility jackets include Old Navy, Target, Nordstrom, Amazon, Walmart, and the Loft. However these jackets are popping up everywhere and in fact the one I am wearing here is from JCPenney!
Had so much fun putting these looks together with the very versatile and cute utility jacket! Hopefully this gave you some ideas and inspiration as to how to wear your own jacket and if you are on the fence about purchasing one I am here to tell you they are worth it!
What was your favorite way to style a utility jacket?
Here is another styling post you may enjoy: